One of the big stories of the past week has been the small-caps' massive outperformance. Over the past month, the Russell 2000 small-cap index (NYSEARCA:IWM) is up 8%, while the S&P 500 (NYSEARCA:SPY) is up 2%, and the Nasdaq 100 tech index (NASDAQ:QQQ) is flat.
The vast majority of the divergence has come since the election. Investors are clearly betting that Trump's victory will be good news for small-caps in comparison with the rest of the market. Is this a wise bet?
There are several reasons for small-caps to outperform in current market conditions. The first is due to sector weightings. Below I've reproduced the sector weightings for the small-cap index: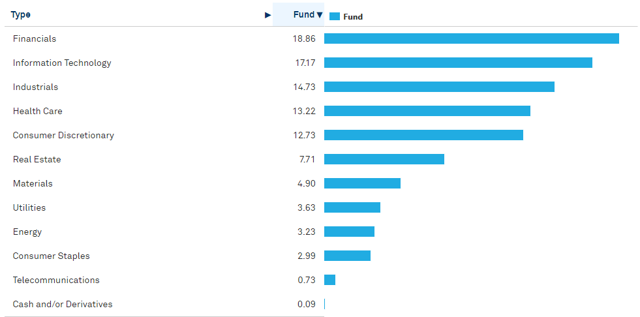 And here is the breakdown for the S&P 500: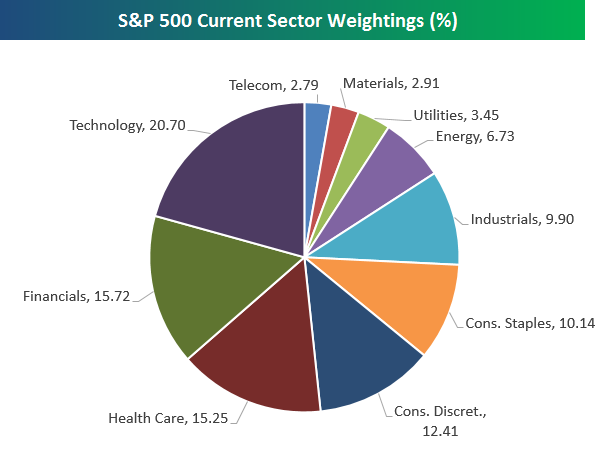 A few key differences emerge. First, the biggest sector - by a fairly wide margin - in the S&P 500 is information technology. A bunch of megacap tech companies dominate the S&P 500, and thus hold outsized weight on the index.
These companies have struggled recently as a group. Amazon.com (NASDAQ:AMZN) in particular seems to be singled out as a potential Trump administration target. The Nasdaq 100, which is even more heavily exposed to these companies, hasn't advanced at all over the past month.
Small-caps, by contrast, are most heavily exposed to financials. There are a lot of small banks out there, and the Russell 2000 owns many of them. Given the stunning rise in interest rates and associated move in banks, the Russell 2000 has cleaned up on the move in financials.
At third place in the Russell's sector allocation, we find industrials. Within the S&P 500, industrials are weighted at just sixth place. Industrials appear to be one of the other apparent winners under the new administration. Additionally, many of the Russell 2000 industrials are small operations that have most or all of their business within the US, avoiding currency issues, while large US industrials are getting hammered by the strong dollar (more on this in a minute.)
Finally, it's worth noting that consumer staples make up 10% of the S&P 500, but just 3% of the Russell 2000. It's not practical for most smaller consumer staple companies to stay independent. Due to the economies of scale particular to that sector, smaller firms tend to either grow or get acquired.
With the move out of higher-yield stocks, consumer staples have sold off. This has hit the S&P 500 but spared the Russell.
Strong Dollar Effect
As of 2013, small-caps generated fewer than 20% of their revenues internationally, while the S&P 500 member companies relied on international sales for almost a third of total revenues.
This is to be expected and should persist. It takes a good deal of organizational size and expertise to venture into foreign markets. Many smaller companies stick to their domestic knitting.
With the US dollar on the rise, it makes sense that companies selling entirely to US clients will fare better than ones having to face aggressive competition that have cost structures priced in Yen, Euros, or Pesos:

Say you're Boeing (NYSE:BA) for example. This isn't to pick on them; it's just an easy comparison. The other three top commercial aircraft manufacturers are Airbus (OTCPK:EADSY), Bombardier (OTCQX:BDRAF), and Embraer (NYSE:ERJ), which are based in the Eurozone, Canada, and Brazil respectively.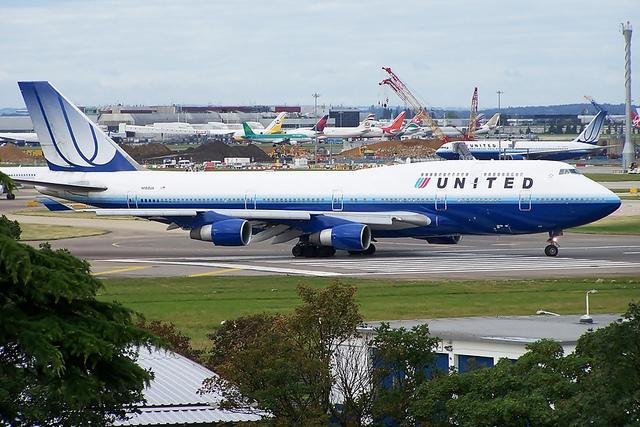 A Boeing 747. Source
Three years ago today, the Euro traded at 1.35. It's at 1.07 today, a roughly 20% decline. On the same date, a Brazilian Real was worth 43 US cents; today it fetches just 29. And the Canadian Dollar, then worth 96 US cents, today only brings 75.
I don't care what sort of cost-cutting measures you have in place (Boeing just announced more layoffs); if you're committed to US manufacturing, that sort of currency pressure makes life difficult. By contrast, the typical aerospace firm you find within the Russell 2000 is likely to be a supplier and not directly impacted by currency fluctuations. A Russell 2000 example company would be Aerojet Rocketdyne (NYSE:AJRD), a firm that primarily makes engines for space exploration vehicles, where currency issues should be modest.
Will Small-caps Continue to Perform?
A good chunk of small-caps' outperformance is due to Trump-related trends. Higher interest rates are great for financials and generally a negative for consumer staples.
Trump's infrastructure plans help industrials and materials - both of which are significantly overweighted in small-caps versus the larger index.
So if you think Trump's election has set off a sea change, there's probably a good deal more upside. If you're skeptical that Trump will be able to deliver on his promises, you should probably not be so keen on small-caps here.
It's worth remembering that small-caps aren't especially cheap here either. The IWM sector ETF trades at a stated 20.5x earnings and 2.1x book value ratio according to iShares. However, remember that these calculations exclude loss-making companies and companies with negative book value. So the real figures are significantly higher, considering the relatively large number of loss-making firms - such as biotech - in the index.
My take? Small-caps are something that belong in most people's portfolios. And buying them here, even after the rally, does offer some tangible benefits in comparison with the S&P 500. But at today's price, there's no need to race into the area, they're no bargain at present.
Disclosure: I am/we are long ERJ.
I wrote this article myself, and it expresses my own opinions. I am not receiving compensation for it (other than from Seeking Alpha). I have no business relationship with any company whose stock is mentioned in this article.