Cheniere Energy's (NYSEMKT:LNG) Sabine Pass has been showing very strong pipeline flows since the maintenance completed about two weeks ago. Cheniere currently has two trains online with two coming next year. Total capacity is 1.2 Bcf/d (each train is 0.6 Bcf/d). The latest flow showed ~1.57 Bcf/d or 0.37 Bcf/d higher than the capacity. The difference can be attributed to Cheniere's maintenance during October where flow was zero. LNG shipments, however, continued and that drew down its storage.
Looking at the strong flow, we don't expect this to die down until close to the middle of December. The difference is certainly positive for natural gas (NYSEARCA:UNG) demand.
Looking at overnight weather model updates, net changes to HDDs for the next three weeks were slightly positive, but not enough to see meaningful changes to injection. Genscape Weather had originally forecasted for a warm start to December, but tweeted today that there's a 20% chance of a cold start on the West.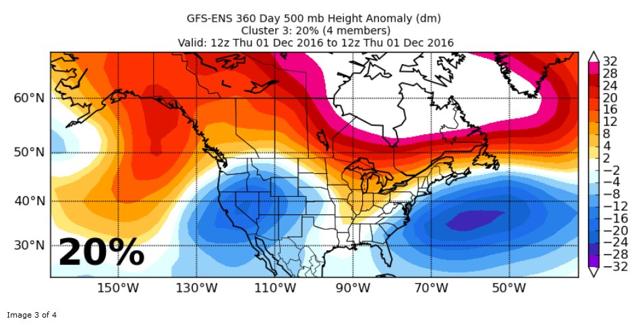 Source: Genscape Weather
Looking at the model updates from other forecasting services, the recent warming trend has stopped, and it has been three days consecutively that the overall direction in HDDs have trended upwards.
Natural gas prices have found support around $2.70/MMBtu and are trading up 5 cents on the day. The traders we talked to today are becoming less bearish as the recent CFTC position disclosure report also shows that net-long positions were reduced by 45% in just three weeks. As one trader said to us, "Just the possibility of cold weather could see prices go up in the short term. That's certainly interesting."
Overall, model runs remain very volatile with daily changes that could significantly impact prices. The recent warming trend has stopped however and most models show slightly colder temperatures for the next 15 days. We will update premium subscribers first on any major changes in the coming days and release a delayed article to the public. We have positioned ourselves as bulls already, and you can see how we are positioned here.
8-14-Day Outlook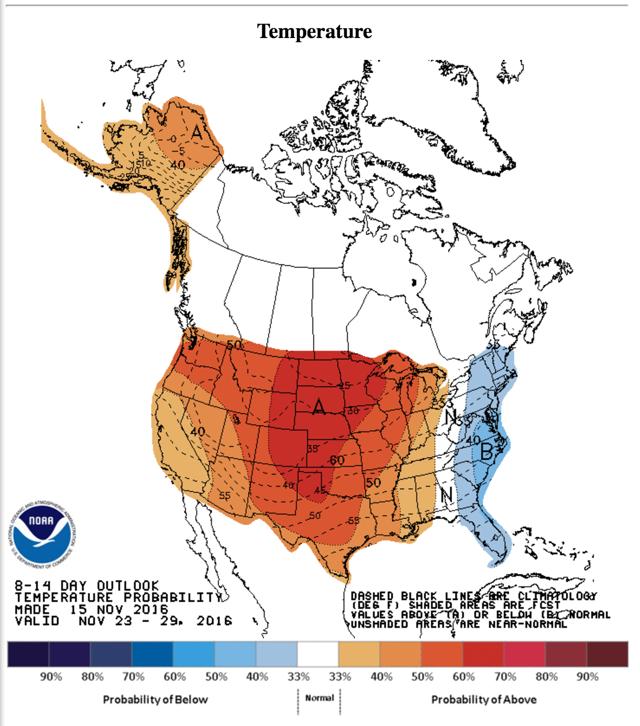 Disclosure: I/we have no positions in any stocks mentioned, and no plans to initiate any positions within the next 72 hours.
I wrote this article myself, and it expresses my own opinions. I am not receiving compensation for it (other than from Seeking Alpha). I have no business relationship with any company whose stock is mentioned in this article.