By Albert Grosman and Brian Lund, CFA
Passive Fund Flows Can Provide Opportunities for Astute Active Managers
The period from 2007 to September 2016 has been one of the worst on record for active small cap managers. While it's impossible to pinpoint a single reason for the category's recent struggles, we believe several interrelated market dynamics have made life more difficult for small cap stock pickers. Chief among these forces has been the divergence of flows between active, passive and private investment vehicles. Persistent outflows from active managers have made cash management difficult in a rising market, while inflows to both private markets and passive funds - many of which are not total-market index funds, but leveraged or sector-specific exchange-traded funds (ETFs) - have produced some distortions among public equities. For example, passive investors now own more money-losing companies than at any non-recessionary time in the past 20 years and are paying historically high multiples for sectors that active managers are underweight. These distortions are exploitable investment opportunities for astute active managers. Should the flows shift back to areas that valuation-focused managers are overweight, it would be even more beneficial.
Prior to the financial crisis of 2007-2009, the average actively managed small cap core (SCC) fund had a solid track record of outperforming the Russell 2000 Index, according to eVestment, which tracks institutional active managers' performance, and Morningstar. Since the crisis, however, the category has underperformed the benchmark, as seen in Exhibit 1, which shows the rolling five-year relative performance of the SCC category compared to the Russell 2000 Index. When looking at the trailing three years ended September 30, 2016, the category returned 5.6% on average compared with 6.7% for the Russell 2000 Index, according to Morningstar. The trailing 12 months were even worse, with the category up 13.5% versus 15.5% for the index.
Exhibit 1: Small Cap Blend Active Fund Relative Performance vs. Russell 2000 Index (Rolling Five Year Periods)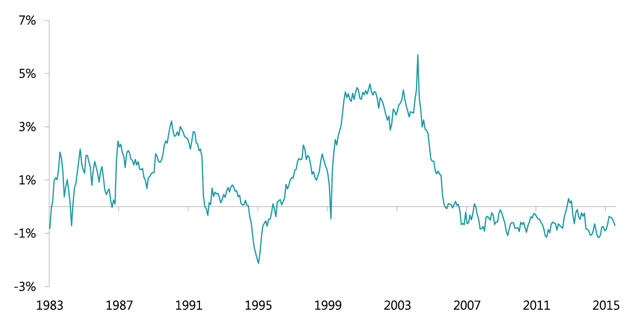 Source: Morningstar, ClearBridge Analysis, data as of Sept. 30, 2016.
Why Has Active Underperformed?
A few structural market developments help explain the underperformance of small cap active strategies since the financial crisis. First, new money flows have greatly favored passive over active vehicles. Since 2008, there has been essentially no trailing 12-month period in which active U.S. funds received inflows. In addition, almost two thirds of passive flows have gone to ETFs, not broad market index funds. As index fund pioneer John Bogle discussed in a recent article , only about 20% of ETF assets are invested in broad market funds. The rest have narrower focuses, such as high-dividend funds, which can push up valuations in a single sector or factor. Turnover in ETFs is also much higher than in index funds, running at 864% annually through September 2015, according to Bogle.
Exhibit 2: Monthly Trailing 12-Month U.S. Equity Flows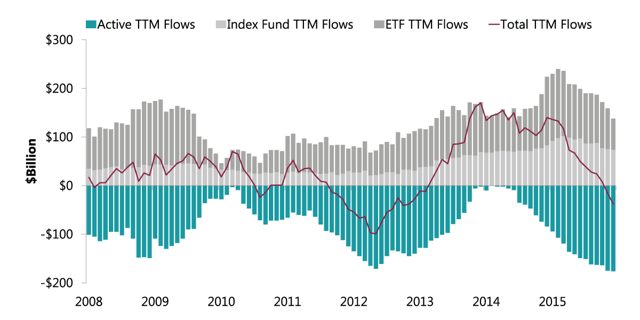 Source: Investment Company Institute, data as of Dec. 30, 2015.
Much of the active/passive debate focuses on the issue of price discovery, the notion that some sort of active management is required to vet the proper price of securities, so that the market remains efficient. Passive proponents often argue that even a small active portion of the market, say 10%, would be sufficient for price discovery. We believe, however, the issue is not how much of the market is active or passive, but what incremental investors are purchasing. If active managers are overweight a portion of the market and are receiving redemptions, they are likely selling down positions in overweight sectors that may have better fundamentals and/or valuations. Meanwhile, stocks in sectors that active managers are underweight are receiving net buying pressure from passive, sector-specific inflows, even though they may have more challenged fundamentals and/or valuations. This dynamic could, over time, create imbalances in the market through allocating too much capital to popular areas of the market, regardless of valuation.
Second, the number of companies in the stock market is shrinking. There are roughly 50% fewer publicly listed companies in the U.S. equity market now than there were in 1996, according to the World Bank. The cause may be a combination of the rising cost of being a public company, as well as the increase in private capital. The Securities and Exchange Commission (SEC) cites surveys showing that "the average cost of achieving initial regulatory compliance for an initial public offering is $2.5 million, followed by an ongoing compliance cost, once public, of $1.5 million per year." According to Preqin, an alternative asset data provider, private capital (private equity, venture capital, real estate, etc.) assets under management have risen almost six times to more than $4 trillion in June 2015 from $700 million in 2000.
The investable universe for many active managers declines as the number of companies shrinks and liquidity becomes an issue. Within the Russell 2000 benchmark, the median market cap for the bottom 20% of the index has fallen almost 40% in real terms. This dynamic is a function of the decline in the total number of public companies - fewer companies translates into larger companies at the top of the benchmark and a long tail of small companies filling out the remainder. Furthermore, liquidity is lower for smaller companies, making them harder to trade. Morningstar classifies the smallest 3% of the total market as micro cap. Active SCC funds hold only 4.5% of assets in these micro cap stocks, compared to 34.1% of the Russell 2000, as of September 30, 2016. This exacerbates the impact of the passive/active flow dynamics discussed previously.
Exhibit 3: Median Market Cap by Russell 2000 Index Quintiles, (Inflation Adjusted to 2015 Dollars)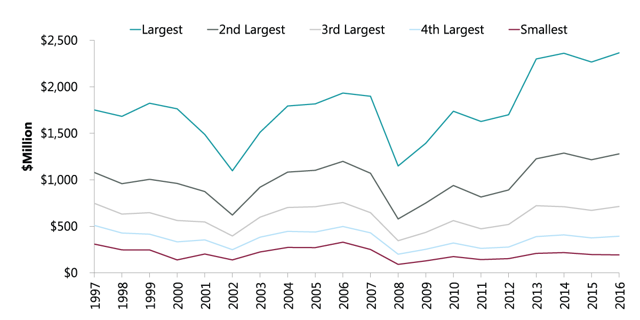 Source: Bloomberg, ClearBridge Analysis, data as of Aug. 31, 2016.
Finally, the number of money-losing companies in the Russell 2000 Index has risen. According to analysis of Bloomberg data, companies with negative operating income comprise about 20% of the index, which is the highest level in the last 20 years not including recessions or their immediate aftermath - higher even than the money-losing Internet company bubble of 1999. Money-losing companies are often under-owned by active managers, but have been blindly embraced by passive flows, driving money-losers up and adding to active managers' woes.
All of these factors have contributed to underperformance for SCC active managers in the past three years. Several of the top performing sectors were areas of perennial underweights for SCC active managers, including biotechnology (about 35% of the health care sector weight), utilities, and REITs (about 38% of the financials sector). The market has been in barbell form, with strong performance from high growth sectors like technology and health care, as well as low-beta, high-dividend-yield sectors like utilities, staples and financials.
Exhibit 4: Russell 2000 Sector Performance (Sept. 2013 - Sept. 2016)
| Sector | Returns | Monthly Beta to Russell 2000 |
| --- | --- | --- |
| Utilities | 11.8% | 0.50 |
| Technology | 11.6% | 1.04 |
| Health Care | 11.4% | 0.85 |
| Consumer Staples | 10.5% | 0.58 |
| Financial Services | 10.3% | 0.88 |
| Materials & Processing | 6.8% | 1.22 |
| Russell 2000 | 6.7% | 1.00 |
| Produce Durables | 2.5% | 1.10 |
| Consumer Discretionary | 2.0% | 1.21 |
| Energy | -25.0% | 1.42 |
Source: Bloomberg, ClearBridge Analysis.
The substantial rise in ETF assets under management may also exacerbate these trends. Sector and industry speculation, as well as market timing, may have a much greater impact on the market's short-term results than it used to, when whole sectors of the market couldn't be bought and sold as readily as they can with ETFs.
Current Headwinds May Soon Become Tailwinds
But there are reasons to believe that active investors may have better odds of outperforming now, after eight rough years.
First, multiples have expanded in some of the high-performing sectors that active managers are currently underweight. Both the health care and utilities sectors in the S&P SmallCap 600 are at two-decade high enterprise-value-to-EBITDA valuations currently. (We use the S&P 600 Index here rather than the Russell 2000 because it has had better sector continuity over this period.)
Exhibit 5: Trailing 12 Month EV/EBITDA for S&P 600 Health Care and Utilities Sectors (1996-2016)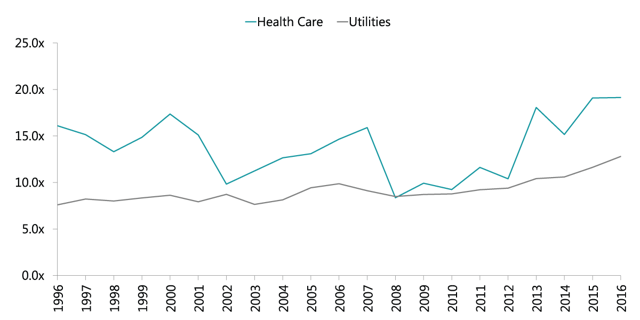 Source: Bloomberg, data as of Sept. 30, 2016.
Second, the percentage of companies in the Russell 2000 Index that have lost money in the last calendar year is higher now than since the crisis in 2009. Both the number of companies (30% of the total) and the percentage of the index's market cap that money-losing companies comprise (19%) are near non-recessionary 20-year highs, according to ClearBridge analysis of Bloomberg data. We believe this is not sustainable and that price declines in money-losers will be a tailwind for active managers, especially if price declines reverse performance-chasing in rapidly traded passive vehicles. Historically, money-earning companies have generated much higher returns than money-losing companies, but according to James Furey of Furey Research Partners this gap has narrowed as more and more capital has flowed to ETFs, such as the iShares Russell 2000 ETF.
Finally, funds may return to the public market from the private market, as returns there begin to disappoint. Over the past 20 years, institutions (following the Yale Endowment model) have found it beneficial to shift funds from public equity investments to private equity (PE), hedge funds and venture capital (VC). This is because trailing returns had been higher in the private market and because institutions could benefit from these funds' use of leverage and their low volatility, as private capital products are not marked to market daily. As money has crowded in, however, returns have declined, according to a paper from the Center for Economic and Policy Research . A wash-out in alternative strategies may bring assets back to lower-cost active managers.
Exhibit 6: Private Equity Fund Relative Performance by Vintage Year (2002-2012)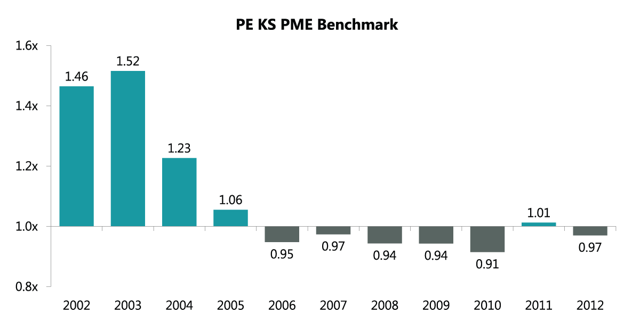 Source: PitchBook Data, data as of Dec. 31, 2015. The KS PME is a measure of relative performance by private equity funds compared to a public equity benchmark index - in this case, the Russell 3000 Index. This PME data compares the entire PE universe by fund vintage year to the public equity index's performance from that vintage year through the end of 2015. For example, a value greater than 1, as seen in PE funds closed from 2002-2005 means that those funds outperformed the Russell 3000 Index over the period from when the fund closed to the end of 2015. A value less than 1, as seen in PE funds closed from 2006-2010, shows underperformance relative to public markets.
Fund flows to passive and private investments may be already causing valuation anomalies in the public equity markets that active management can exploit. As multiples expand in sectors that index funds have to buy and that hot-money ETF funds target to fast-trading investors, divergences between price and value are being created. Excessive liquidity in VC and PE may be reducing the premium that investors normally demand for money-losing companies in public markets, yet passive funds blindly buy money-losers and money-makers alike. Over time, inefficiencies will become clear, and active management could see a return to its former market-beating ways.
Sound Investment Process Prevails Across Cycles
The ClearBridge Small Cap Strategy has prospered in this difficult environment, delivering significant outperformance over the past five years on an annualized basis. We believe the increased flow of capital into passive may be creating some distortions in the marketplace, particularly in small caps. Such distortions will create larger gaps between the price of certain stocks and the value of those corporations, which our process is designed to identify. We are finding anomalies in the market right now by focusing on expectations embedded in stock prices and identifying cases where we believe the value of the company is higher. We think probabilistically about the future, not overly relying on our personal views of what should happen, but rather the odds of what could happen, and how valuations would change in each scenario. Careful portfolio construction that diversifies across a variety of factors can produce returns with moderate volatility, so that our individual stock selection efforts can have the maximum impact on relative returns.
Disclosure: I/we have no positions in any stocks mentioned, and no plans to initiate any positions within the next 72 hours.
I wrote this article myself, and it expresses my own opinions. I am not receiving compensation for it. I have no business relationship with any company whose stock is mentioned in this article.
Additional disclosure: All opinions and data included in this commentary are as of October 2016 and are subject to change. The opinions and views expressed herein are of Albert Grosman and Brian Lund and may differ from other analysts, portfolio managers or the firm as a whole, and are not intended to be a forecast of future events, a guarantee of future results or investment advice. This information should not be used as the sole basis to make any investment decision. The statistics have been obtained from sources believed to be reliable, but the accuracy and completeness of this information cannot be guaranteed. Neither ClearBridge Investments, LLC nor its information providers are responsible for any damages or losses arising from any use of this information. Past performance is no guarantee of future results. Performance source: Internal. Benchmark source: Russell Investments. Russell Investment Group is the source and owner of the trademarks, service marks and copyrights related to the Russell Indexes. Russell® is a trademark of Russell Investment Group.