Cisco Systems (NASDAQ:CSCO) reported earnings after close. While the stock price showed strength into the results we heard murmurs from many people hoping earnings would disappoint, creating a buying opportunity. Given the decent quarter but weak outlook we expect these patient investors will be rewarded with Cisco selling off sharply in after-hours trading (down 5% when I checked). Let's look at some of the headline numbers:
Adjusted EPS beat $0.61 vs. the street at $0.59, also beating a narrow guidance range of $0.58 to $0.60. The beat came on solid revenues particularly from Security and NGN Routing which had strong performances. Gross margins improved to 63% from 60% on product mix and the removal of the divested SP Video CPE Business. Good.
Cash and cash equivalents ended the quarter at $71B with $10.4B of that cash in the U.S. Cisco could be one of the largest beneficiaries if the new government decides to offer companies a tax holiday allowing them to repatriate their cash. We expect the beneficiaries of this would be Cisco shareholders who could expect to see rising buybacks/dividends as a result. Good.
Guidance for the second quarter came in at $0.55 to $0.57 against the street's $0.60 estimate. Revenue guidance for Q2 is lower by 2% to 4%, y/y. Uh-oh.
Lower revenue and Q2 EPS below expectations will not be well received by investors, but for the patient investor the fact of the matter is blips don't matter. Cisco has not increased its revenues much since 2012, but it has increased its earnings substantially. Over these years revenues increased by 7% and EBIT increased by 20%. Typically margin expansion is a lot cheaper to obtain than revenue growth. Beyond this EPS gets an extra boost from a share-count reduction as a result of the company's massive buybacks. Look past the short-term hiccup and let Cisco compound for you.
This is exactly why Cisco has earned a place in my model income portfolio. The foundation of the portfolio is just 10 stocks, but I'm looking to grow this to 30-plus companies with many more on the watch list. The average yield of these 10 stocks is 3.5% and each company has an exceptional brand. Additionally while each of these companies is U.S. listed, they are multi-nationals that give exposure to global markets.
These stocks are pillars of this portfolio and of the market as a whole, but these are not the only types of stocks that can earn a home in my income portfolio. Stocks that are non-U.S. listed, have weaker brands, or have lower dividends will still be considered, but they need to offer more in terms of yield, dividend growth and/or capital appreciation.
Some loose metrics are used to help narrow down the investment universe, listed below:
· Average portfolio yield of at least 3%
· Each stock must have a M* rating of 2 or more stars
· Each stock must have a safety score of above 50
· Strong dividend history or strong likelihood for one
· Strong credit rating and manageable debt schedule
Cisco meets all of our criteria and contributes to our goal of an average portfolio yield of at least 3%. Cisco also scores very high on dividend safety, at 88/100.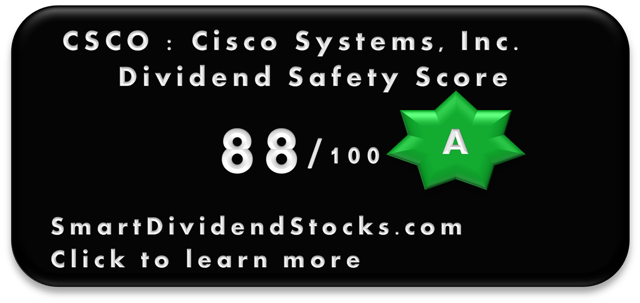 Leverage, payout and growth are all solid, and Cisco also received an M* rating of two stars (slightly weaker than we like to see) and has a strong credit rating and reasonable debt schedule/metrics.
Given that Cisco meets all of our initial screening criteria we spend more time looking at its dividend metrics to determine if it is worth adding to the income portfolio. Below is a rough outline of our process in determining dividend growth and sustainability by looking at history and current key financial metrics, with a mind on the outlook.
Use of Cash: The use of cash test provides a visual overview of the various cash uses that a company has been allocating cash towards. It shows the relative size of the cash uses versus the outstanding cash balance available to the company. It is a quick and simple way to view how the company has used its cash over the past 10 years and is indicative of what the company may do in the next 10 years with its cash reserves. We examine dividend payments to all shareholders (including payments to preferred dividend holders) as well as net repurchases which includes equity issued via stock option plans etc., as well as interest payments on debt. This offers a more wholesome view of how the company allocates capital.

Source: Smart Dividend Stocks
While Cisco only started paying a dividend in recent years, it has been a consistent purchaser of itself for many years. Even without much top-line growth since 2012, as legacy business declines are offset by growth in other segments, the company has remained a cash flow giant.
This quarter Cisco paid a $0.26/sh dividend costing them a use of cash outlay of $1.3B. It also repurchased 32M shares for $1B. This quarter's repurchase brings the total number of shares repurchased to 4.6B, nearly half of the company's shares prior to buybacks. The aggregate of these repurchases were done at $21, much lower than today's price. Cisco has the ability to purchase another $14.4B of shares under the existing program, or about 9% of current shares outstanding.
Unlike many of the older tech companies that we look at, such as IBM (NYSE:IBM) and Intel (NASDAQ:INTC), CSCO has primarily been funding its repurchases out of cash flows rather than debt. Given the likelihood for interest rate hikes has increased this may end up being a blessing for the company. Nonetheless, we think being under-levered during a low interest rate environment is not the optimal capital allocation policy.
10-Year Dividend Yield and Payout Ratios: Higher dividends are great but not if they come at the expense of dividend sustainability. Assessing the payout ratio is a key metric in determining the sustainability of a dividend and is calculated as dividend per share dividend by earnings per share (DPS/EPS).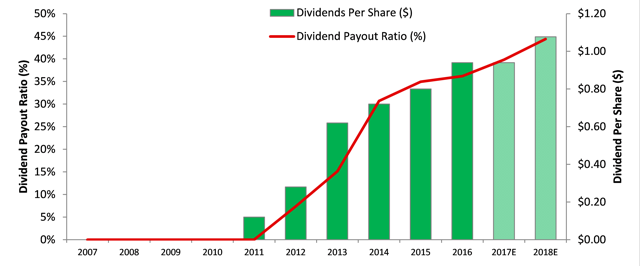 Source: Smart Dividend Stocks
Cisco began paying dividends as it came out of the financial crisis. As the dividend increased so did the payout ratio, now at the 40% level. The dividend annualized at the Q1 rate is $1.04/sh giving investors a 3.3% dividend yield. Given the likely sell-off in the morning it is likely the yield will be closer to 3.5%, a small solace for investors. Of course, with a long-term mindset the ebbs and flows of market reactions on a quarter by quarter basis should not matter too much, especially when you can benefit from ongoing dividend increases and buybacks spreading earnings over a lower share base.
Credit risks: One of the largest risks to dividend sustainability is a leveraged company facing large debt payments and/or putting its credit ratings at risk, which would lead to higher interest charges.

Source: Smart Dividend Stocks
Cisco's debt profile is front end loaded, with $18B of debt due by the end of 2020. Most of this debt holds very low interest rates and we do not anticipate interest expense savings if it were to be refinanced. While $4B-plus per year of debt becoming due would be a real issue for many companies, Cisco's $11B or so of free cash flow can handle it.
Cisco is reasonably levered at about 1.6x net debt/EBITDA and has an interest coverage of around 20x. It has a credit rating of A1 from Moody's, indicating the credit agencies see no risk, which makes sense given Cisco's strong cash flows and reliable history.
Thank you for reading this article all the way to the bottom! To get these articles as soon as they are published head back to the top of the article, hit the follow button, and select real-time alerts.
Disclosure: I/we have no positions in any stocks mentioned, but may initiate a long position in CSCO over the next 72 hours.
I wrote this article myself, and it expresses my own opinions. I am not receiving compensation for it (other than from Seeking Alpha). I have no business relationship with any company whose stock is mentioned in this article.