Introduction
Many great investment ideas can be found analyzing stocks that are avoided or even shorted by many investors, who are concerned about some issues the companies are facing. Sometimes they get it right and the fundamentals of the company deteriorate, with the stock price spiraling down. Other times their thesis is wrong, or the company puts in place some actions that change the picture. Sometimes the issues fade away thanks to external events.
I usually focus on stocks with a good market capitalization and that look cheap according to valuation multiples such as P/E and P/FCF. I try to understand whether the situation can improve and I try to identify the catalysts that could unlock the stock price.
In this article, I will update my view on 3 stocks I have already written about. At the end of the article, I included an updated watchlist for investors interested in this theme.
You can find the previous article of the "Cheap Stocks vs. Value Traps" series at this link.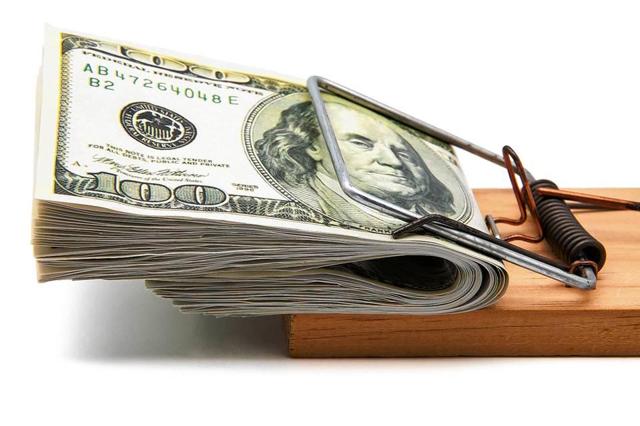 Gilead Sciences, Inc. (NASDAQ:GILD) - No buybacks but lower risk of price regulation
TTM P/E = 7.1
TTM P/FCF =6.2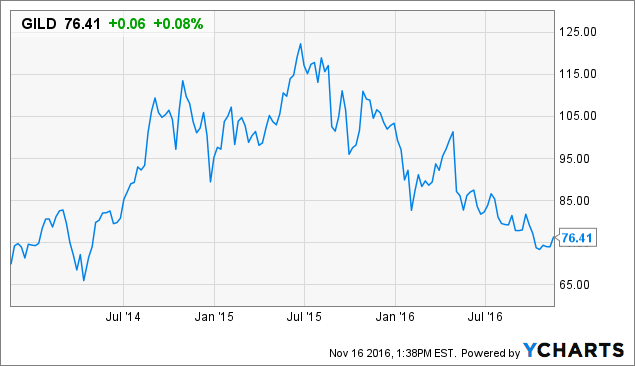 Gilead Sciences is a growth investor's darling in the biotech industry that owes its recent success to its drugs for HCV. The stock has fallen as a consequence of increasing competition in the HCV business, fears of pricing regulation and a decreasing number of patients to treat. I have already shared my thoughts about potential catalysts such as NASH, Epclusa and acquisitions. Therefore, I will focus only on the recent developments.
Like many Gilead shareholders, I was disappointed by the recent results in the HCV segment, which reported a QoQ decline of 31%, even higher than the 20% decline reported in the previous quarter. Sequentially, HCV product sales were down about 15%.
On the other side, GILD's TAF-based products are showing a very good performance, which has partly offset the decline in HCV drugs. Non-HCV antiviral product sales rose 21% on a QoQ basis, accelerating from the 10% growth reported in Q2. Sequentially, the segment's sales rose by 17%.
The sales decline in the HCV segment was expected, considering factors such as competition from AbbVie (NYSE:ABBV) and Merck (NYSE:MRK) and the declining number of patients in the United States. What has been puzzling me is the fact that the company has basically stopped buying back shares.
Let's take a look at the chart below. Shares outstanding have constantly declined since 2014, and the company accelerated its buybacks in early 2016, with the stock price at 52-week lows. The number of shares outstanding has declined by more than 14% in a bit more than two years and honestly I was expecting repurchases to accelerate or at least to remain constant.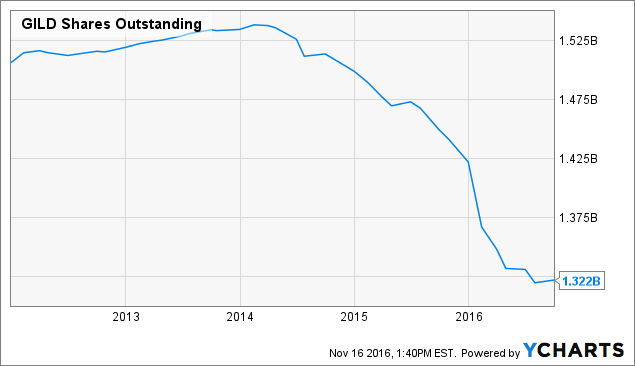 GILD Shares Outstanding data by YCharts
In February 2016, Gilead's Board of Directors authorized a $12.0 billion stock repurchase program (the 2016 Program). Gilead started repurchases under the 2016 Program in April 2016, and during the second quarter of 2016, the company repurchased 12 million shares for a total of just $1 billion. In particular, GILD has drastically reduced buybacks since August.

The company was buying back shares during the rally from $70 to above $120 between 2014 and 2015, while now that the stock is trading at 52-week lows and a TTM P/E around 7 it is piling up cash. It's not necessarily a bad sign since it might mean that GILD's management is looking for acquisition targets and therefore saving financial resources, but I would not count on that because it usually keeps the bar very high when it comes to acquisitions.
Nonetheless, after the elections the general situation in the biotech industry has significantly improved, since after the election of Trump the risk of price regulation in the pharmaceutical industry is much lower. This makes me more positive on Gilead's prospects and, although I would prefer the company to repurchase shares more aggressively, I think the risk/reward at these multiples remains favorable.
Fossil, Inc. (NASDAQ:FOSL) - Michael Kors's earnings call confirms a short-term catalyst
TTM P/E = 17.6
TTM P/FCF = 8.4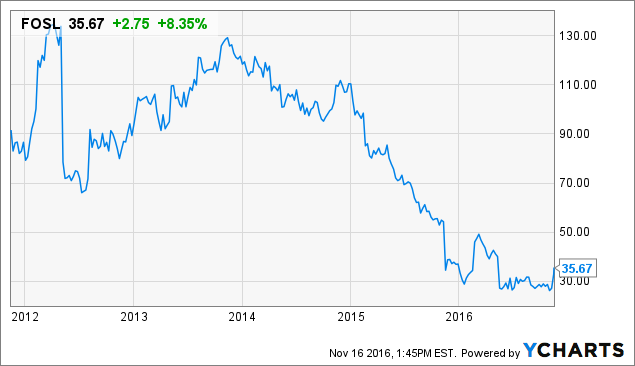 I have exposed my bullish view on Fossil in a recent article. In the last two years, FOSL has suffered because of a mix of macroeconomic factors and industry issues. Declining sales of Michael Kors (NYSE:KORS) branded products, a strong dollar, weak tourist spending and competition from smartwatches all weighed on the company's sales, which have declined from $3,510 million in 2014 to $3,076 million for the trailing twelve months. Nonetheless, the company has remained free cash flow positive and is trying to offset declining watch sales through the launch of several lines of wearables.
I think the launch of hybrid smartwatches (fashion/tech) is a strong short-term catalyst that will unlock the stock price in the next quarters. Therefore, I deemed it necessary to comment on the recent information from Michael Kors' last earnings call.
First of all we have to consider that Michael Kors' branded products account for a large share of Fossil's revenue (around 25%). As I said in my article on Fossil, the launch of Michael Kors Access and the new line of Fossil smartwatches can act as catalysts to unlock the company's sales and stock price.
In the last earnings call, KORS's CEO John Idol declared: performance in our Michael Kors ACCESS smart wear collection, as well as our fitness trackers, which debuted in September are exceeding our expectations. Importantly, our ACCESS product line is engaging both our loyal watch customers as well as attracting new customers in a younger demographic.
Mr. Idol also added:
We're very pleased with what's happening with our smartwatch business. We are probably the number two player out in the marketplace today, clearly, with Apple being number one. And the response has been extraordinary. We are selling out of product. We're actually in a position where we're not able to fill all the demand that is happening around the globe."
We have basically two important pieces of information. The first is that, despite the initial skepticism from many investors, MK branded smartwatches are selling well. Idol is saying that Michael Kors is the second best-selling smartwatch brand after Apple (NASDAQ:AAPL). The second is that, since MK's smartwatches are attracting new customers, they are not cannibalizing classic watch sales. This was actually my main concern about the company's prospects in the smartwatch industry.
Mr. Idol's words are a further confirmation of my bullish thesis. Therefore, I decided to add shares to my stake in FOSL. I expect a series of upgrades by sell-side analysts and significant upward revisions of Q4 earnings.
Harman International Industries (NYSE:HAR) - Samsung swoops in
TTM P/E = 20.8
TTM P/FCF = 18.15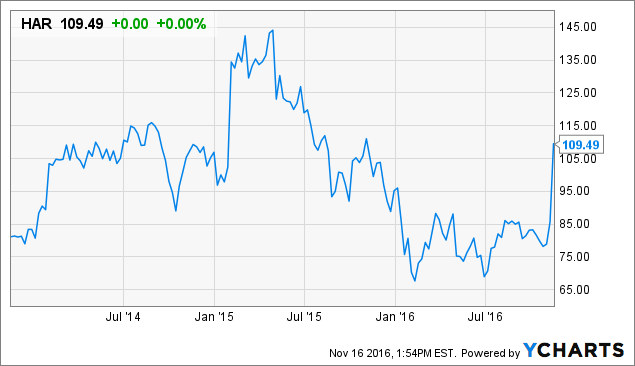 How beautiful it is to wake up and read that one of the stocks in your portfolio is the target of an acquisition.
I have published my bullish view on Harman in August (link) and disclosed my position several times. Harman is the leader in the field of in-car software solutions for infotainment and operates in the fields of high-end audio hardware and software, professional solutions for entertainment and telematics. At 15 times earnings the stock was a no-brainer, so I suggested a long with a 2-4 years investment horizon. The stock experienced a significant correction from the top reached in April 2015. The reason is that investors were concerned about the effects of declining car sales on Harman's results, since about 70% of the company's sales depend on automobiles.
I don't think this is a problem, given the trend in in-car infotainment systems. The in-car infotainment industry is experiencing increasing penetration of such devices and software in less expensive cars (Technavio). Harman has historically served higher-end car makers such as BMW (OTCPK:BMWYY) and Mercedes (OTCPK:DDAIF), but has recently won business with Fiat Chrysler Auto (NYSE:FCAU), Hyundai (OTCPK:HYMLF), Subaru, Toyota (NYSE:TM), General Motors (NYSE:GM) and many other automakers that belong to lower-end segments compared to historical customers such as Audi (OTCPK:AUDVF), BMW and Mercedes-Benz. Even if car sales dropped, the decline would probably be offset by the increasing penetration of infotainment systems in the lower-end segments of the car industry.
After the news of Samsung (OTC:SSNLF) buying the company for $112 per share in cash, I closed my position with roughly 30% profit. It clearly doesn't make sense to wait for months just to gain 2% more on a merger arbitrage. The only good reason to hold a stock that has been a takeover target is the expectation that other potential acquirers may try to one-up the first bidder. Clearly, Harman's assets can be valuable for basically all the players in the automotive industry, and would be attractive for other tech giants such as Apple and Alphabet (NASDAQ:GOOG) (NASDAQ:GOOGL), which are interested in growing in this sector. Anyway this is not a good reason to hold the stock. Apple is not used to big acquisitions and $8 billion is more than 2 and a half times what it has ever paid for an acquisition ($3 billion for the acquisitions of Beat Electronics in 2014). Google is more used to big acquisitions (consider Motorola, bought for $12.5 billion) but trying to assess the likeliness of a competing offer is almost an exercise in futility. I prefer to enjoy my 30% return in just three months and I think that investors who have been long HAR since before the news should take profit now.
Watchlist
The following is a watchlist of stocks that are at the center of "Cheap vs. Value Trap" debates. I included only the stocks that I find interesting to follow. I disclosed my position and indicated some of the main reasons behind the low multiples. I have been covering some of them for a while, and I may start to cover several others in the next few weeks.
| | | | | |
| --- | --- | --- | --- | --- |
| | TTM P/E | TTM P/FCF | Disclosure | Main threats (or supposed threats) |
| | | | | |
| U.S. | | | | |
| Bed Bath & Beyond (NASDAQ:BBBY) | 9.16 | 9.76 | Long | Online competition |
| Apple Inc. | 13.18 | 11.53 | Long | Declining i-Phone sales |
| Fossil, Inc. | 17.63 | 8.35 | Long | Smartwatches |
| Gilead Sciences | 7.10 | 6.17 | Long | Substitute drugs for HCV, Price regulation |
| Michael Kors Holdings | 10.80 | 8.68 | Long | Heavy discounts from dep. stores, slow growth |
| Macy's (NYSE:M) | 17.07 | 12.00 | No Position | Online competition |
| Harley-Davidson, Inc. (NYSE:HOG) | 15.01 | 14.66 | No Position | Declining brand attractiveness, cyclical weakness |
| Westlake Chemical Corporation (NYSE:WLK) | 17.43 | 46.62 | No Position | Low oil prices |
| Harman International Ind., Inc. | 20.89 | 18.15 | Closed | Expected weakness in auto sales |
| GameStop Corp. (NYSE:GME) | 6.07 | 30.05 | No Position | Shift to digital downloads of videogames |
| Best Buy Co. (NYSE:BBY) | 13.12 | 8.04 | No Position | Online competition |
| Biogen Inc. (NASDAQ:BIIB) | 18.11 | 21.61 | Long | Price regulation |
| | | | | |
| Europe | | | | |
| | | | | |
| Hugo Boss AG (OTCPK:BOSSY) | 17.59 | 16.83 | Long | Cyclical weakness in affordable luxury |
| Dialog Semiconductor (OTCPK:DLGNF) | 11.44 | 14.17 | No Position | Declining i-Phone sales |
| AerCap Holdings N.V. (NYSE:AER) | 9.02 | 9.68 | No Position | Aircraft leasing glut, weak emerging markets |
| easyJet Plc (OTCPK:EJTTF) (OTCQX:ESYJY) | 8.17 | -46.24 | No Position | Brexit, cyclical weakness |
Thanks for taking the time to read the article. If you liked it, click on the "Follow" button at the top of the page. You will get these articles as soon as they are published.
Disclosure: I am/we are long BBBY, AAPL, FOSL, KORS, GILD, BIIB, BOSSY.
I wrote this article myself, and it expresses my own opinions. I am not receiving compensation for it (other than from Seeking Alpha). I have no business relationship with any company whose stock is mentioned in this article.
Editor's Note: This article discusses one or more securities that do not trade on a major U.S. exchange. Please be aware of the risks associated with these stocks.