The Fed has been struggling between a rock and a hard place, so has only used jaw boning to the market about another interest rate hike.
The Fed has been happy with economic performance and job growth although I disagree. The last jobs report came in at a meager 161,000 but they had to pad the number with a whopping 197,000 from the birth death rate (magic) model, without that would have been -36,000 job losses.
The biggest challenge the Fed has faced is to get wage growth higher and inflation to their 2% target.
The latest number, September 2016, the PCE price index went up 1.2 percent, following a 1 percent increase in August. Octobers figure will be reported November 30th.
The Fed is only about half way to it's target and in comes Trump and inflation expectations soar. This chart from GMP Richardson shows that since Trump got elected, expectations popped from around 1.9% to almost 2.2%. The Fed must be very happy with Trump coming to their aid.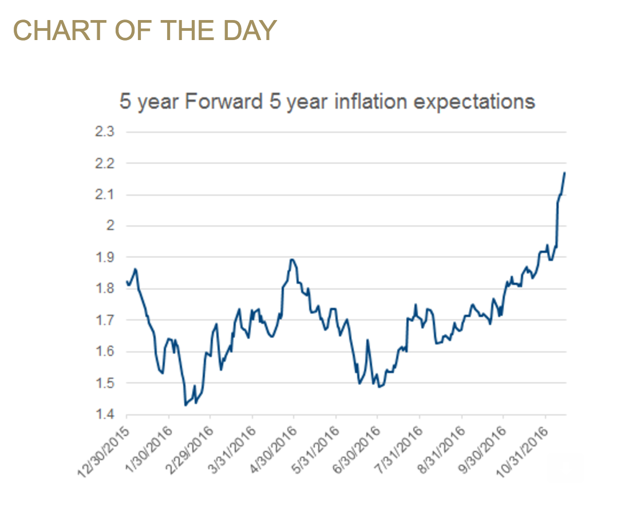 So what else does this mean?
I have been vigilant watching the bond and stock markets and expecting them to break to the downside. My Oct. 5th Chart of the Day pointed out a drop below 128 on the 10 Year T Bond as bearish.
Previously I commented on the REPO market and lately the jump in LIBOR rates (mentioned in my Nov 1st Instablog), causing pressure on the Bond market.
Last week, after the election the Bond Markets tanked and fell through key support. See iShares 20 year Treasury Bond (NYSEARCA:TLT), I was also watching 128 level there for a break down. This is a weekly chart of the 10 year Treasury Bond, so the 'X' marks where we are this week. Actually it briefly dropped below 126 today. I was watching the 128.5 area for a break down on this chart. I see 122 to 125 as next support. A drop below that and we are back to 2011 levels.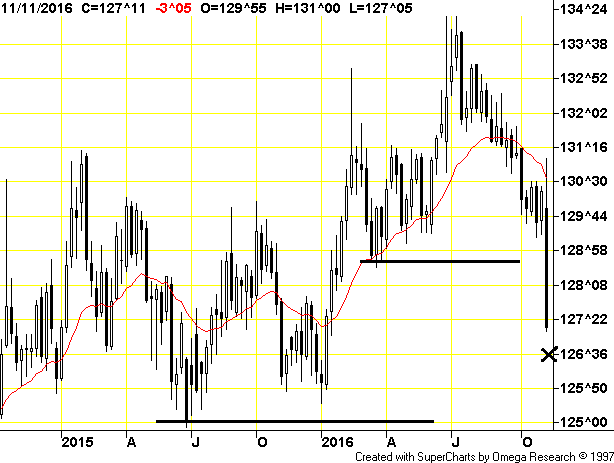 The Bond Market is much larger than equity markets and CNBC estimated the 2 day route in Bonds after the election amounted to over $1 trillion in losses. This is quite significant and will unravel the gains many Pension Funds had this year.
The stock market was a different beast and we got a Trump rally. This did not surprise me as I predicted a Trump win October 31st , but thought we would get a knee jerk reaction down before a rally, at least one that lasted 1 or 2 days in the U.S., but it was only seen in over night trading. Below I show the S&P 500 represents (NYSEARCA:SPY) with the two support lines I was watching. We broke support around 2120 and I was watching for a test of around 2030. if we consider the election night sell off over seas in the S&P futures we would have seen a drop close to 2030 and a bounce back, but it does not show on this chart of U.S. trading.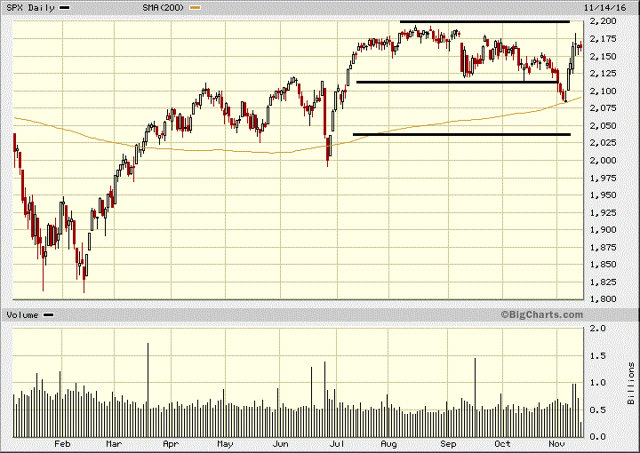 The question now - can we break out to new highs with a break above 2200 or will this rally just fizzle and we head back down? So at this point I am watching 2200 and 2110 area again. The best chance of a rally is between now and year end, a typical Santa Clause rally. If we don't see a break above 2200 in the next 6 weeks it would be very bearish. Even so, I still see markets in a topping pattern with a significant correction long over due.
GOLD (NYSEARCA:GLD)
Gold reacted in it's own way, but I believe this current low is an aberration and that is where the present opportunity lies.
Post election we seen an over night spike in Gold around $50 like the spike down in equities. And just as the banksters bought up the equity sell off, they shorted the Gold rally.
The $50 spike was just hot short term speculative money that came into the Gold market. After equity markets rallied and everyone realized the Trump win was not an end to markets as we know of, the hot money started coming out of Gold and the price moved down.
Banksters took advantage of this last Friday with thinner Veteran Day trading and the Bond markets were closed, so they whacked Gold down with massive paper trading. At King World news, Andrew Macguire does a great job analyzing the short term trading.
This did not really change anything, Gold just came down to lower support in the $1220 to $1280 range that I have been watching for a reversal signal. I highlighted that in my Oct., 9th newsletter issue where I show a possible bottom just above $1200.
This chart shows support at $1200 to $1220 that is very strong and significant as major support and resistance over the past 3 years. I believe this will hold and is a great buying opportunity. CCI also points out that this is the first over sold condition in 2016.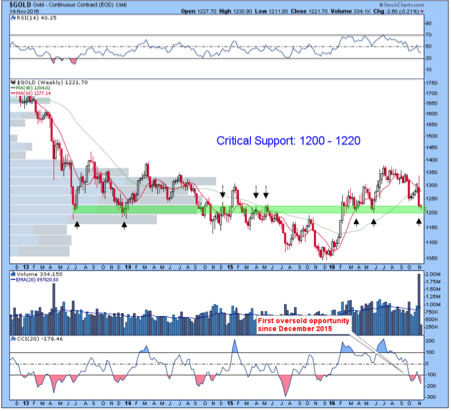 Summary
At Playstocks chart of the day, the December Comex Gold chart shows the huge spike in volume last Friday, more so than the chart above. That really is unprecedented, it sure looks to me like a significant wash out and bottom.
This past week I have bought back all my stopped out positions in Gold and Silver stocks, such as Kinross (NYSE:KGC), NewGold (NGC), B2Gold (NYSEMKT:BTG), Coeur (NYSE:CDE) and Avino (NYSEMKT:ASM).
It will almost be a repeat of last December, same song, different dance - see my article Aberration in the Gold Market
I am avoiding Bonds, but not initiating any new shorts at this level.
I expect another ¼ point rate hike in December like last year and the same trade - a relief rally for Gold and perhaps equities, depending what they price in between now and then..
I expect the rate hike and the drop in the Bond Market to slow the economy more and with that a significant correction in equities after this current rally runs it's course. For now I am riding some equity positions but will be looking to take profits and go short if I see a good topping pattern and or reversal
I still view Oil as the bottom is in, but a new up trend is not in place yet.
Disclosure: I am/we are long GLD.
I wrote this article myself, and it expresses my own opinions. I am not receiving compensation for it. I have no business relationship with any company whose stock is mentioned in this article.