A high-expense guide in the Q3 report, a Donald Trump victory, and continued video ad metric reporting hiccups have caused Facebook (NASDAQ:FB) stock to take a sharp decline from its late October highs. In short, we think all 3 concerns have been overly baked into the valuation, and think the stock offers a compelling upside thesis here.
We have already addressed the high-expense guide from the Q3 report, and reiterate that this is a flashback to 2014. Facebook seems to be on a cycle of heavy investment followed by big rewards. Fiscal 2015 was a big investment year, 2016 was a big rewards year, and 2017 is guided to be another big investment year. With catalysts such as mobile video ad growth, Messenger build-out, Instagram/WhatsApp monetization, Workplace, and Marketplace on the horizon, we think 2017 investment will be followed by sizable 2018 rewards. Prudent investors will consider entering the stock now to fully reap those rewards.
With relation to Trump, we don't see a Trump presidency having any material impact on Facebook usage, ARPU growth, or ad reach. If anything, Trump has elevated the sociopolitical discussion on social media platforms, consequently growing Facebook's daily engagement. While a handful of bears may have some theory for why Facebook engagement will go down under a Trump presidency, early numbers show otherwise.
With regards to the video ad metric reporting hiccups, we believe this is a video advertising pandemic, not a Facebook-specific problem. In other words, we see this as a definition issue that is a byproduct of a new and largely undefined space, not a fraud issue specific to Facebook.
One must understand that mobile video advertising via social media is a relatively new and rapidly transforming phenomena. The underlying dynamics of online video advertising are quite different than those of display ads, and the advertising world has yet to really agree upon how to measure video ad impressions. For example, there currently doesn't exist a universally agreed upon method for calculating how much time people spend watching online videos. The lack of common understanding as to what constitutes a "view" has led to widespread miscommunication between advertising platform and advertiser, and is ultimately responsible for Facebook's first video ad metric hiccup.
From this standpoint, hiccups in ad metric reporting should be expected, especially from a platform that is handling nearly 1.8 billion monthly active users and over 4 million active advertisers. The optimism here comes from the fact that Facebook is doing its very best to be transparent with its advertisers, providing detailed ad campaign feedback and being forthcoming with miscalculations. Facebook is doing all it can to foster transparency and build trust, forming a "Measurement Council" and also expanding its third party verification efforts with ComScore and Nielsen. These initiatives will prove to be long-term tailwinds for the platform's video ad growth.
Overall, we have identified three reasons why we think the stock has sold off dramatically since late October, and we do not think any of them are material downside catalysts. The stock is now trading at a rather pedestrian 22x forward earnings multiple for what we and most analysts see as well over 30% growth. The company also has $9 per share in cash, so if you net that out, the ex-cash forward multiple is just under 21x. In our opinion, the stock is now trading at a dramatic discount to the company's organic growth potential, and we think this creates a compelling buying opportunity ala late 2014.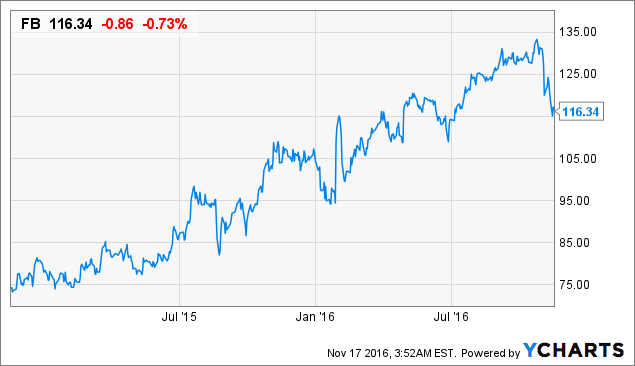 Disclosure: I am/we are long FB.
I wrote this article myself, and it expresses my own opinions. I am not receiving compensation for it (other than from Seeking Alpha). I have no business relationship with any company whose stock is mentioned in this article.