While going through the German real estate market news this morning, I was surprised to come across an article discussing the new listing of Dream Global (a Canadian REIT that owns properties in Germany) to the German stock market.
Having written an article on Dream Global (OTC:DUNDF) in the past, I consider this development to be great news for shareholders and believe that it reinforces the initial buy thesis which I described here.
In my last article on Dream Global, I explained how difficult it is to find bargains in the German real estate market today. The fixed income market bubble created a massive capital flow from bonds to real estate which compressed cap rates and increased prices. Prices have literally gone through the roof. Total investment in commercial properties increased by a whopping 40% in 2015 compared to 2014. The trend has continued this year and the fight for good deals is very intense.
This increased demand for German real estate assets is also supported by its well-performing economy and its real estate fundamentals which remain strong. The unemployment rate is at a record low of 4.2%. Vacancy rates are low as well and the ridiculously low mortgage rates incentivize investing in properties versus other asset classes in many cases.
The Result: German REITs currently trade at a substantial premium to net asset value and bargains are rare…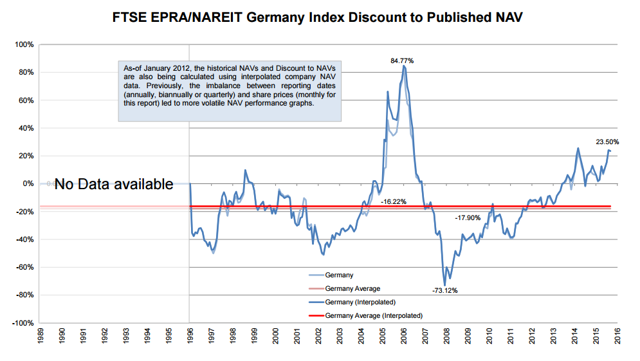 The August 2016 NAV report from EPRA (European Public Real Estate Association) shows that the current average premium of German real estate securities is 23.5% relative to the NAV. Keep in mind that German REITs are required to report the fair value of their properties on their balance sheet according to IFRS and hence these numbers are reliable.
In comparison to this premium, the NAV per unit of Dream Global is CAD $11.27 and its share price currently stands at $9.13. The resulting discount to NAV is about 15-20%, despite its underlying assets being the same as the German REITs trading at a premium. What happened to the "law of one price" of the Efficient Market Theory?
The closest comparables to Dream Global are Altria REIT and Hamborner REIT which are both German Office REITs investing in the same markets. Certain analysts would argue that DIC Asset should be used as a third comparable, but I disagree as I don't consider it to be a pure-play Office REIT since a large portion of its income comes from management fees originating in its fund management business. Its discount to NAV can hence be explained to a certain extent as the fee income is likely to be riskier than the rental income.
The August EPRA NAV report shows that both comparables were trading at close to a 20% premium to NAV as shown below: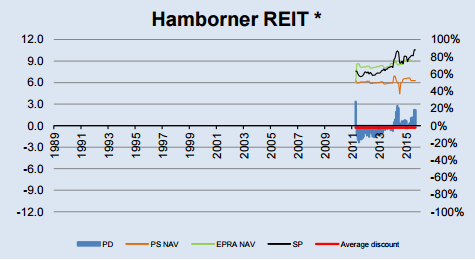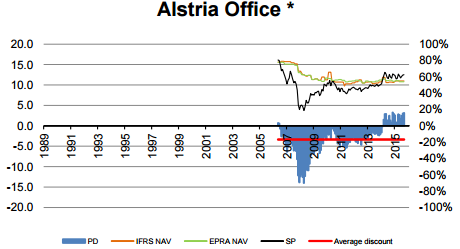 Hamborner and Alstria however recently declined in value and are both now trading at approximately par to NAV.
While Dream Global is clearly cheaper than its peers based on its NAV (15-20% discount vs. Par), it is really based on its FFO multiple that Dream Global appears to be considerably undervalued.
Both Alstria and Hamborner trade at approximately 20 times FFO compared to Dream Global trading at about 12 times.
There are certainly good reasons that can explain a portion of the differential, but I cannot find a rational explanation that could justify such a large discount based on FFO multiple when the properties are of fairly comparable quality. I am not arguing that Dream Global deserves the same valuation as these German REITs, but the gap should be smaller. Dream certainly does not deserve to trade at an almost 2 times smaller multiple.
Assuming an 18x FFO multiple, the share price would be about 50% higher than today. Now we have the chance of seeing this upside actually getting realized as a new catalyst has appeared.
The new Listing in Germany is a Great Catalyst
As I explained in my last article, the main explanation for this large valuation differential is because of its trading venue. So far, Dream Global was uniquely traded on the Canadian stock market and hence attracted a majority of Canadian investors. These investors do not have the same appetite and understanding of German assets as local investors do. Therefore, the shares have remained cheap relative to German peers.
However, now that Dream Global started trading in Germany, I expect it to rapidly start attracting local investors desperate for yield and used to much higher valuations than that of Dream Global. This is why Dream Global undertook this action: They realize that their share price has the potential to increase if traded in Germany.
The listing of Dream Global on the Frankfurt Stock Exchange and the credit rating from Moody's are important steps in bridging the valuation gap between our trading price and the valuation of our German peers. We believe that both initiatives are significant milestones for the REIT and should make it easier for European investors to gain exposure to Dream Global, improve the trust's cost of capital and enhance its financial flexibility. Jane Gavan, CEO of Dream Global REIT
In conjunction with the listing in Germany, Dream Global also announced that it intends to make available a currency option to its registered unit holders, allowing them to receive distributions in euros starting next year. After this, German investors will have no reasons anymore to ignore Dream Global compared to other German Office REITs. The assets are the same, the shares are traded in Germany and even dividends can be paid in euros.
Summary of Buy Thesis and Final Thoughts
Summarizing the buy thesis:
Dream Global is one of the cheapest ways to buy German real estate as it trades at a large discount relative to peers.
The valuation gap is expected to reduce itself following the new listing in Germany.
The 8.8% dividend yield appears to be sustainable and is well supported by strong German real estate fundamentals.
Dream Global remains a great play for anyone interested in investing in German property. Not only does it pay an abnormally high dividend yield relative to its German peers, but it also has appreciation potential with a clearly identified catalyst.
If you enjoyed this article, scroll up and click on the "Follow" button next to my name to see updates on my future articles in your feed.
Disclosure: This article is for informational purposes only. It is not a recommendation to buy or sell any security and is strictly the opinion of the writer. Readers are expected to conduct their own due diligence or seek advice from a qualified professional.
Sources: Dream Global Q3 2016; Listing report; EPRA NAV report
Disclosure: I/we have no positions in any stocks mentioned, but may initiate a long position in DUNDF over the next 72 hours.
I wrote this article myself, and it expresses my own opinions. I am not receiving compensation for it (other than from Seeking Alpha). I have no business relationship with any company whose stock is mentioned in this article.