This article is a follow-up to "Pricing for The High-Yield BDC Sector: An Introduction," which discussed why people invest in BDCs and historical yields and spreads that are important to the timing of BDC purchases.
I fully understand that most retail investors do not have access to research that properly assesses business development company ("BDC") risk and appropriate valuations. This series of articles is my attempt to help BDC investors properly value investments in a sector that is notoriously opaque. BDC pricing can be volatile and provides opportunities for investors that have identified proper values based on risk versus returns. Throughout this series of articles, I will discuss some of my pricing methodologies, including general market timing for purchases and assessing relative risk and dividend coverage, which are primarily responsible for driving a wide range of values for BDCs. It is important to realize that BDCs do not report consistently, so investors need to look beyond changes to net asset value ("NAV") per share and dividend coverage from net investment income ("NII").
To be a successful BDC investor:
Identify BDCs that fit your risk profile (there are over 50 publicly traded BDCs, please be selective).
Diversify your BDC portfolio with at least 5 companies.
Establish appropriate price targets based on relative risk and returns (mostly from dividends).
Be ready to make purchases during market volatility, and look for opportunistic buying points.
Closely monitor your BDCs, including dividend coverage potential and portfolio credit quality.
BDCs are not priced based on book value!
Book value = assets less liabilities = net asset value = NAV.
There is a common misconception among newbie BDC investors that price-to-NAV is an appropriate measure for pricing BDCs. I completely understand why investors are confused, as it is a popular measure for evaluating many sectors. However, not for BDCs. In accordance with ASC 820, companies are required to categorize investments, based on the priority of the inputs to the valuation technique, into a three-level fair value hierarchy. The fair value hierarchy gives the highest priority to quoted prices in active markets for identical investments (Level 1) and the lowest priority to unobservable inputs (Level 3). For example, the investments recorded on Main Street Capital's (NYSE:MAIN) balance sheet are categorized based on the inputs to the valuation techniques as follows:
Level 1 - Investments whose values are based on unadjusted quoted prices for identical assets in an active market that Main Street has the ability to access (examples include investments in active exchange-traded equity securities and investments in most U.S. government and agency securities).
Level 2 - Investments whose values are based on quoted prices in markets that are not active or model inputs that are observable either directly or indirectly for substantially the full term of the investment. Level 2 inputs include the following:
Quoted prices for similar assets in active markets (for example, investments in restricted stock);
Quoted prices for identical or similar assets in non-active markets (for example, investments in thinly traded public companies);
Pricing models whose inputs are observable for substantially the full term of the investment (for example, market interest rate indices); and
Pricing models whose inputs are derived principally from, or corroborated by, observable market data through correlation or other means for substantially the full term of the investment.
Level 3 - Investments whose values are based on prices or valuation techniques which require inputs that are both unobservable and significant to the overall fair value measurement (for example, investments in illiquid securities issued by private companies). These inputs reflect management's own assumptions about the assumptions a market participant would use in pricing the investment.
The following table is from Ares Capital (NASDAQ:ARCC), showing the breakdown by FV measure:

It is typical for BDCs to have 90-95% of all assets with Level 3 measurements.
Why is this important?
Valuing Level 3 assets is usually more of an art than science, and these values can change considerably based on technique, assumptions and views from management. Occasionally, BDC management mentions that all valuations are done by an independent third-party valuation firm, but it is important to understand that many of the inputs and assumptions are provided by management, and then they are usually presented with a range that management can choose from. I have often noticed the exact same loans spread among multiple BDCs, and they all have different "marks" indicating fair value versus cost. Over time, it becomes clear which BDCs are aggressively marking assets that could be overvalued.
Higher-quality BDCs mark their assets to market, which means they constantly change valuations based on general market conditions. This is important, because it paints a realistic view. We saw plenty of higher-quality BDCs mark down assets in Q3 and Q4 of 2015 and then mark them back up in 2016.
Whenever I see comments from readers that a BDC is over- or underpriced, the reasoning is almost always due to a premium or discount to NAV. Clearly, these are uninformed investors who are using pricing methods from other sectors (with fewer Level 3 asset valuations) and applying them to BDCs. However, I also found this false assumption supported by other analysts and contributors on Seeking Alpha. I guess we would all like believe that a BDC could simply sell its assets and pay off the liabilities, leaving a pile of cash that represents NAV per share. This is not the reality, and any investor who believes that is true for all BDCs is not appropriately informed.
NAV per share changes constantly with the potential for large swings in only 90 days, as shown in the table below.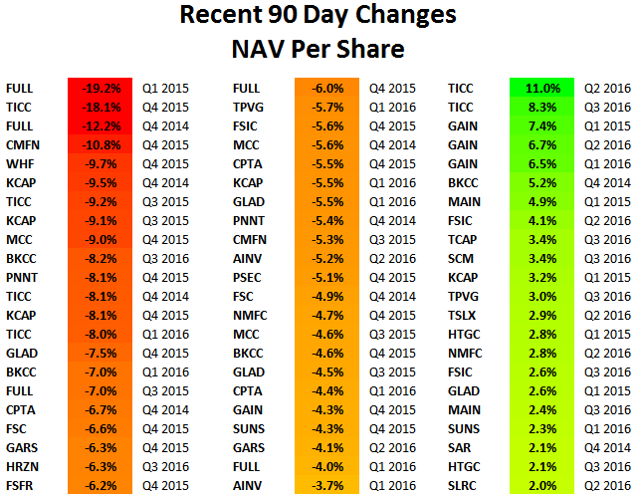 Poorly managed BDCs, such as KCAP Financial (NASDAQ:KCAP), TICC Capital (TICC), Fifth Street Finance (FSC) and Medley Capital (NYSE:MCC), have had some of the largest continual NAV declines from portfolio credit issues that also resulted in dividend cuts. Oil-exposed BDCs, such as Apollo Investment (NASDAQ:AINV), Gladstone Capital (NASDAQ:GLAD), PennantPark Investment (NASDAQ:PNNT) and FS Investment Corp. (NYSE:FSIC), have also had meaningful declines, but only AINV has cut its dividend, as these companies have higher-quality management that waived and/or reduced management fees to protect shareholders. Subsequent to the NAV declines, MCC changed its fee agreement to include capital losses, and FSC will likely follow suit in the coming quarters.
I'm getting a bit off point, but basically, NAV is always fluctuating and often based on general market conditions that have nothing to do with credit quality. BDCs can have aggressive (or conservative) valuations that might lead to large changes in NAV per share down the road.
Current Price-to-NAV
The only time that price-to-NAV is a meaningful indicator is when BDCs issue additional shares. As you can see, most BDCs are still equity capital-constrained, which is a good thing, in my opinion.

Hercules Capital (NASDAQ:HTGC), Triangle Capital (NYSE:TCAP) and MAIN are clearly not priced based on NAV. They are internally managed, with much fewer conflicts of interest, and are priced on what they can pay to shareholders. Other BDCs, such Golub Capital BDC (NASDAQ:GBDC), Goldman Sachs BDC (NYSE:GSBD), TPG Specialty Lending (NYSE:TSLX), TCP Capital (NASDAQ:TCPC), Monroe Capital (NASDAQ:MRCC), New Mountain Finance(NYSE:NMFC) and Fidus Investment (NASDAQ:FDUS), are also slowly earning the trust of shareholders, and most of these have high water mark fee structures that take into account capital losses for increased shareholder alignment. Other BDCs have this feature as well, and will likely be priced higher in the coming quarters.
BDCs such as MCC, Garrison Capital (NASDAQ:GARS), Capitala Finance Corp. (NASDAQ:CPTA), CM Finance (NASDAQ:CMFN) and THL Credit (NASDAQ:TCRD) have all cut dividends recently, and mostly related to portfolio credit issues. Prospect Capital Corp. (NASDAQ:PSEC) is having dividend coverage issues mostly related to declining interest income and portfolio yield, as discussed in "PSEC: Material Declines In Portfolio Yield And Distributable Income."
So how are BDCs valued?
My question to investors is, why do you invest in BDCs? Most investors choose BDCs as an income-oriented investment rather than for capital gains. Consequently, they are usually valued based on potential risk-adjusted returns to shareholders, which is measured by assessing capital preservation, which in turn is closely tied to the ability to sustain the dividend payment. For all previous articles on the timing of BDC purchases, pricing charts, dividend coverage tiers, risk rankings, suggested BDC portfolios, interest rate discussion, expense ratios, my upcoming/historical purchases and current positions, please see "Index to Free BDC Research."
In the following articles in this series, I will cover:
BDC pricing based on yield, multiples and total returns
Measures of dividend coverage and what to look for
Measures of relative risk and what to look for
Target pricing ranges for BDCs
Limit orders and timing
Personal note: I have updated my positions to reflect changes in my holdings, but please keep in mind that some of the positions are very small and mostly for research purposes. There are over 50 publicly traded BDCs, and I try to cover as many as possible, but I do not have the bandwidth to include each company for each article.
Disclosure: I am/we are long ABDC, AINV, ARCC, BKCC, FDUS, FSC, FSFR, FSIC, GAIN, GARS, GBDC, GLAD, GSBD, HCAP, HTGC, MAIN, MCC, MRCC, NMFC, PFLT, PNNT, PSEC, SLRC, SUNS, TCAP, TCPC, TPVG, TSLX.
I wrote this article myself, and it expresses my own opinions. I am not receiving compensation for it (other than from Seeking Alpha). I have no business relationship with any company whose stock is mentioned in this article.