Yangarra Resources Ltd. (OTCPK:YGRAF) is a Canadian oil and gas company that is trading below book value. The costs to operate are pretty low and earlier this year the company acquired some light oil properties to increase the proportion of liquids produced in the future. This primarily gas driller has been hit hard by the lower gas prices, so a change in production mix was in order.
Plus, now that La Nina has arrived, a colder than average winter would be a reasonable expectation. Although this La Nina appears a little on the weak side, there may still be a good chance for gas companies to benefit from above average gas usage this winter. So a company like this may be a reasonable speculation on a cold winter and the gas prices that go with it.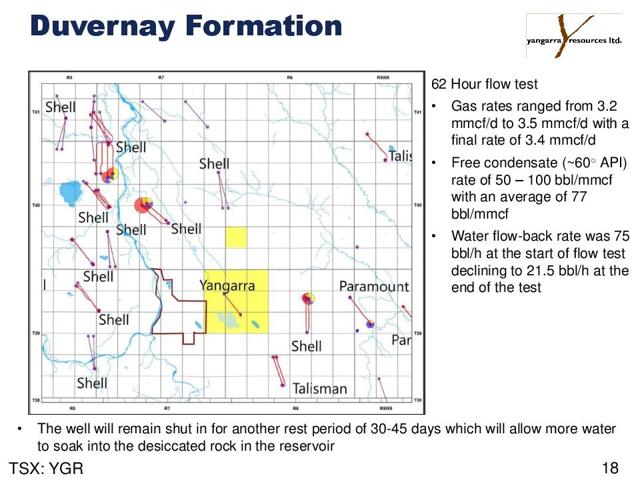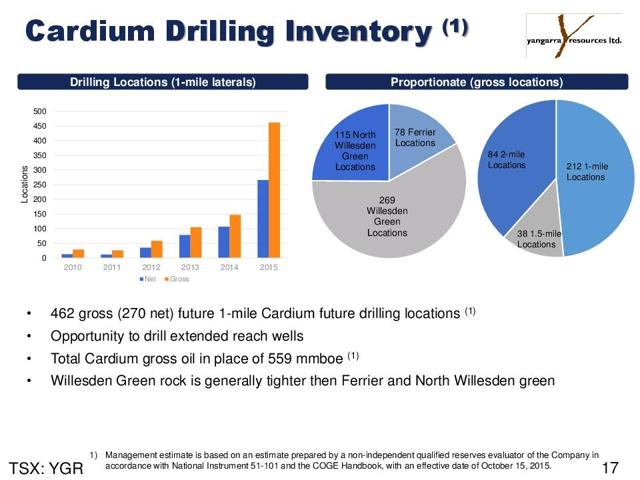 Source: Yangarra Resources, November, 2016, Corporate Presentation
As shown above, the first well drilled in more than a year has the potential to be about 50:50 liquids and gas when the gas is converted to BOE. For the third quarter, the oil percentage of production was about 21% (563 barrels of oil out of 2609 BOE). More oil and liquids, to the extent that the additional revenue exceeds any additional costs is definitely desirable.
"Given challenging commodity prices, Yangarra has not drilled any wells since October 2015. During the intervening period, the focus has been on acquiring and concentrating its Cardium acreage in central Alberta. The downturn has created opportunities to acquire highly prospective Cardium land that is seldom seen in Willesden Green and Ferrier and Yangarra has added approximately 20 gross sections through multiple transactions. Drilling is scheduled to start this month with six extended reach wells ("ERW") planned for the balance of the year."
Good management actually manages to expand at the bottom of a downturn in such a way that shareholders will benefit. The slide from the presentation will show what kinds of potential returns these leases may demonstrate. So if management decides to change their mind and drill more gas wells, it will be because the economics favor those new wells as desirable acreage becomes available. Management is trying (and probably succeeding) to acquire acreage with higher rates of return or more profitable production possibilities. So despite the stock sale earlier this year, the ability to acquire some distressed acreage at decent prices is brightening the future or the company.
Source: Yangarra Resources, November, 2016, Corporate Presentation
Not only are the rates of return attractive, but they are improving as operational changes continue to decrease costs in many aspects of the business. The company was all set to expand production when the commodity price decline gained traction. So management simply stopped drilling and waited out the price decline. The long term debt was really never a burden. However, management was more comfortable selling equity to raise money to restart the drilling process rather than increasing the debt load. Now, with costs decreasing and prices somewhat more stable, management will keep an eye on the commodity prices knowing that the option to aggressively hedge is there. But a one rig program is now underway. Plus management can wait out another period of extremely low commodity prices if necessary. The debt burden is still not that onerous, as it is about one-third of shareholders equity. At C$60 (roughly) each new well drilled significantly decreases the debt impact. Many large companies do not have that luxury.
Source: Yangarra Resources, November, 2016, Corporate Presentation
These latest two slides detail the changes that will make the "Well Economics" slide obsolete. But the big news is that the company does not have a lot of older high cost wells. So new wells have an outsized impact upon daily production and average production costs. This small company aims to increase production 15% to 25% over the next year or so. Management can easily accomplish that because of the small production base. But the advantage of not having to "average down" the cost due to a significant amount of older low cost wells is huge.
(Canadian Dollars unless otherwise indicated)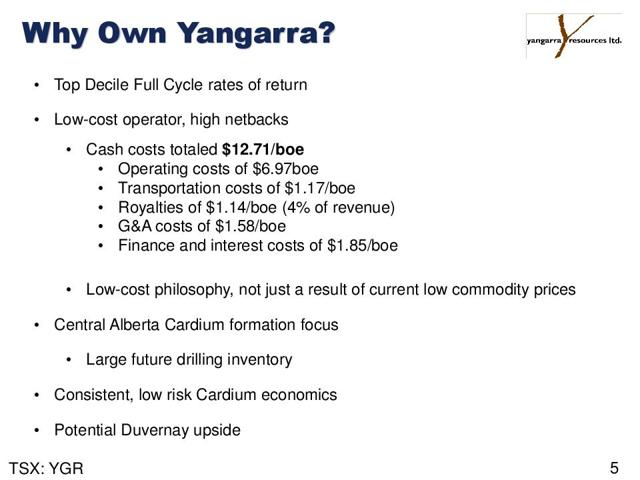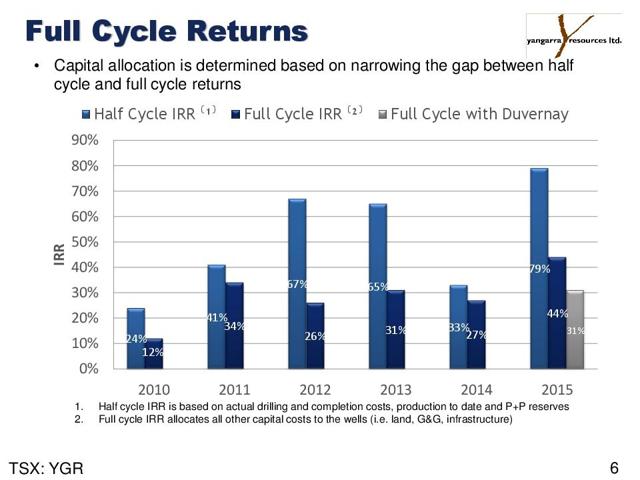 Source: Yangarra Resources, November, 2016, Corporate Presentation
As shown above the costs are low. Interest costs are significant and are usually quite a future competitive drag. But in this case debt is relatively low, and the company earlier sold stock so that much of the capital budget would be financed with equity. The debt will not increase. So should the wells produce as forecast and the profitability meets or exceeds forecasts, then the cash flow should sustain future increasing budgets. The debt effect will become spread over increasing production. Management has discussed a two rig program which would lead to faster production increases, but commodity prices are not cooperating. Since costs unexpectedly continue to drop, that two rig program may still happen.
Funds flow from operations was C$3.3 million in the third quarter. Normally that cash funds flow rate would be a little tight. But the banks had renewed the credit line earlier this year. Now with a one rig drilling program in progress, production should be higher than 3,000 BOED by the April redetermination date. The acquired acreage and the higher projected production should make the bank review process a lot easier and could even lead to a credit line increase. The higher projected production should bring the long term debt-to- cash flow ratio into more comfortable limits.
There is at least one new production well to increase production in the fourth quarter, and at least another six well program in progress that should add another well or maybe two before year end. Despite not drilling the quarterly results have edged closer to breakeven each quarter. So now that drilling has resumed this company has an excellent chance to report profits in the future.
(Amounts In Canadian Dollars Unless Otherwise Noted)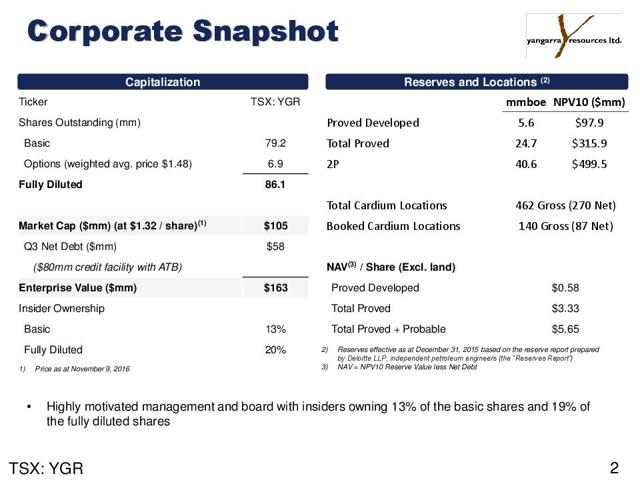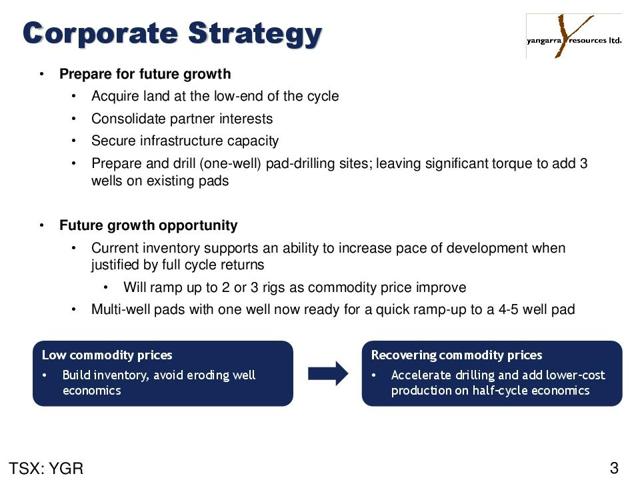 Source: Yangarra Resources, November, 2016, Corporate Presentation
As shown above, management has a significant ownership of common stock. So the management interest should be aligned with the shareholder interests. The bank line is reviewed every April and currently the company conforms to all the covenants. Right now the company is asset heavy and waiting for a chance to convert some of these assets into cash machines.
In the meantime, management will continue to opportunistically add acreage and production, and sell non-core assets as needed. The reserve value per share is enticing, but the fact that management is not really developing that asset at this time is also telling. No matter how reserves are valued, if they are not produced, the shareholders do not benefit. Plus reserves not produced are only worth what someone else is willing to pay. Since management has been purchasing bargains all year, expect those reserves to be worth bargain prices until industry conditions improve.
That being said, this company clearly has staying power and a management that is willing to execute when the time is right. Psychologically, a counter cyclical strategy like the one being executed in this case should prove to be very profitable in the future. There is always the risk of a sustained commodity price drop. Plus execution risks of the general corporate strategy are always present. The continuing operational cost improvements could stop at any time even though management does not currently see an end in sight. But this company has a superior long term strategy, the will to execute that strategy, and conservative finances. That kind of discipline should serve shareholders very well.
This small company is a lot financially safer to hold than many larger companies that I have written about. Any share dilution is likely to be recovered by a far safer growth strategy with less financial leverage, and careful execution of production increases. Shareholders could do far worse than this company. The stock could easily triple over the next five years if commodity prices just hold steady and management continues to execute some well laid plans.
Disclaimer: I am not an investment advisor and this article is not meant to be a recommendation of the purchase or sale of stock. Investors are advised to review all company documents, and press releases to see if the company fits their own investment qualifications.
Disclosure: I/we have no positions in any stocks mentioned, and no plans to initiate any positions within the next 72 hours.
I wrote this article myself, and it expresses my own opinions. I am not receiving compensation for it (other than from Seeking Alpha). I have no business relationship with any company whose stock is mentioned in this article.