The Consumer Price Index for All Urban Consumers increased 0.4% in October on a seasonally adjusted basis, the U.S. Bureau of Labor Statistics reported today. Over the last 12 months, 'headline inflation' rose 1.6%.
The October increase - while high - matched the consensus number, so it wasn't a surprise. For the second month in a row, sharply higher energy prices drove inflation higher. Gasoline prices were up 7.0% in October and are now tracking close to year-ago numbers. Also, shelter prices were up 0.4% for the second month in a row.
Inflation was muted in other areas. Food prices, for example, were flat for the month and down 0.4% over the last 12 months. Apparel prices were up 0.3%, following a 0.7% decline in September.
Core inflation - which strips out food and energy - increased 0.1% in October and is up 2.1% over the last 12 months. Year-over-year core inflation has remained between 2.1% and 2.3% since December 2015, as shown in this chart: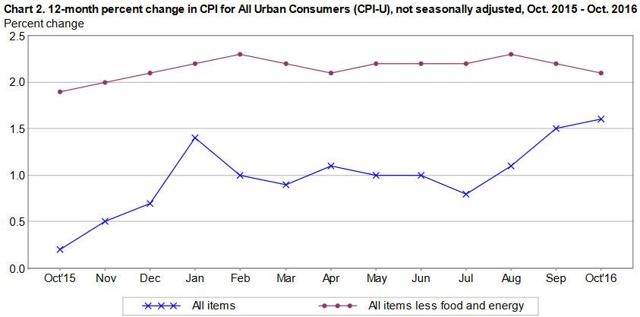 And so while the October headline number appears high, overall inflation remains moderate. This report shouldn't have much effect on the Federal Reserve's decision to raise short-term interest rates, which appears likely in December. Federal Reserve Chair Janet Yellen signaled that move today in remarks prepared for a congressional appearance. From the Reuters report:
"Were the FOMC to delay increases in the federal funds rate for too long, it could end up having to tighten policy relatively abruptly to keep the economy from significantly overshooting both of the Committee's longer-run policy goals," she said. "Moreover, holding the federal funds rate at its current level for too long could also encourage excessive risk-taking and ultimately undermine financial stability."
So Yellen is practically guaranteeing an increase in short term rates at the Fed's December 13-14 meeting. And the bond market's surge in interest rates over the last week has already priced that in.
Non-seasonally adjusted inflation. Holders of TIPS and I Bonds are also interested in non-seasonally adjusted inflation, which is used to adjust the principal balance on TIPS and set future interest rates on I Bonds. For October, the CPI-U inflation index was set at 241.729, an increase of 0.12% over the September number.
Why is that number so low? Seasonal adjustments balance out over 12 months; we saw higher-than-headline numbers back in April and May, and now the seasonal adjustments are tipping the other way. The 12-month number matches the 1.6% of headline inflation.
This means that principal balances for Treasury Inflation-Protected Securities will rise 0.12% in December. For I Bonds, the October number is the first in a string of six months that will determine the variable interest rate at the May 1 reset. Here is the trend over the last seven months: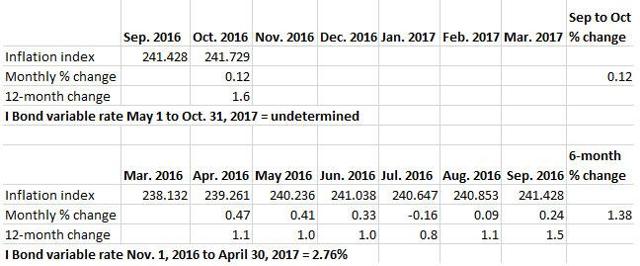 In conclusion, you may see headlines noting a 'surge' in inflation in October, but almost all of that increase was in energy costs. Core inflation remains in the 'moderate' zone - just above 2% - but there is nothing here that should cause the Federal Reserve to delay an interest rate increase in December.