The Aussie dollar has been quite a strong performer among major currencies this year, with a rebound of crude oil prices to the $50 mark. Since the U.S. election result, we have seen the USD strengthen and the AUD concurrently weaken:
Daily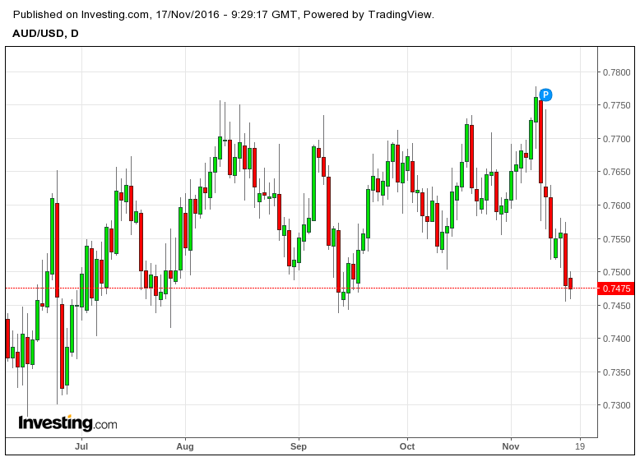 However, when we look at the weekly and monthly charts of AUD/USD, we see that the Aussie dollar is still well below its peak on a long-term basis:
Weekly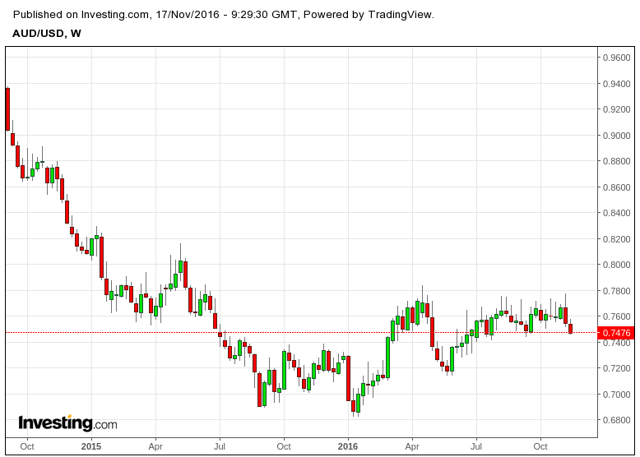 Monthly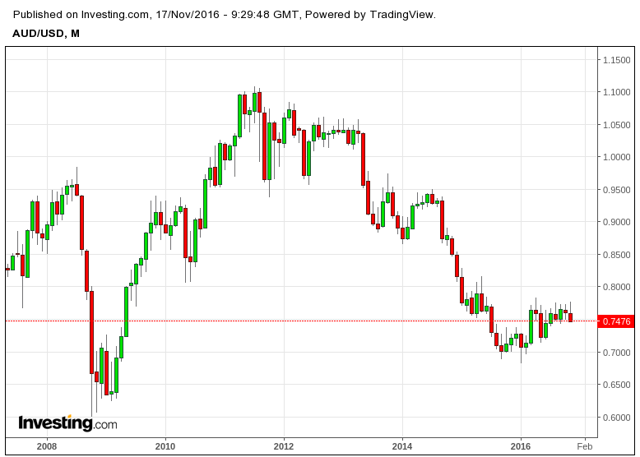 The fact remains that the Aussie dollar is still trading well below the long-term trend, as this currency took quite a massive hit during a period of falling oil prices. In this regard, while the AUD likely still has room to fall given a strengthening dollar, I see the long-term prospects for this currency as being biased heavily to the upside.
In light of a Trump presidency, there is a possibility that should Donald Trump follow through on a plan to undo the Iran nuclear agreement, OPEC output could drop by as much as 1 million barrels, which would lead to significant price rises in the commodity.
Moreover, it is also possible that the new administration could put pressure on Asian countries to lower purchases of Iranian oil sources - such countries have complied in the past in return for access to the U.S. banking system, and likely would again. Should Trump apply a protectionist stance to oil markets, we would see significant price rises and the AUD would rise accordingly.
Domestically, while a further interest rate cut to spur growth has technically not been ruled out - the RBA has adopted a policy of holding rates at current levels of 1.5 percent. Moreover, with the housing market rebounding in China - economic prospects for one of Australia's largest trading partners is looking increasingly optimistic. In this regard, Australian exports should thrive, and this is evidenced by price growth in commodities, such as iron ore and coking coal - up by 50 percent and 240 percent respectively.
In light of the above, I see a very bullish case for appreciation of the Aussie dollar long-term, allowing for a period of initial adjustment after the U.S. election result. While the AUD cannot rise indefinitely since commodity exports need to be sustained, the fact that the AUD/USD is trading well below its historical highs makes a very bullish case for the currency.
Disclosure: I/we have no positions in any stocks mentioned, and no plans to initiate any positions within the next 72 hours.
I wrote this article myself, and it expresses my own opinions. I am not receiving compensation for it (other than from Seeking Alpha). I have no business relationship with any company whose stock is mentioned in this article.