The USD has gained serious strength during the last few weeks. Mainly because of a stronger economy and rate hike expectations. The USD index has crossed 100 for the first time since 2015.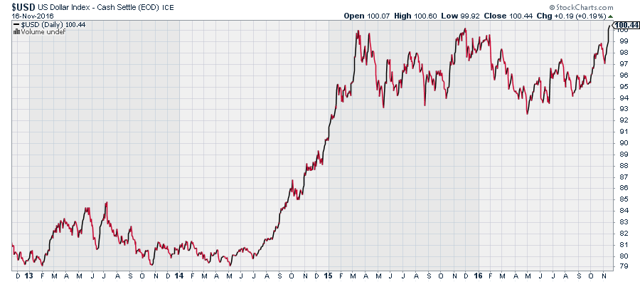 There are two main problems regarding a strong USD.
Foreign countries have increased their USD positions significantly due to low interest rates.
Commodities become relatively more expensive if the USD increases, which is bad for commodity importing countries and pushes commodity prices lower.
The graph below shows that USD denominated emerging market debt is about 10% of their GDP. The growth rate has increased after the recession.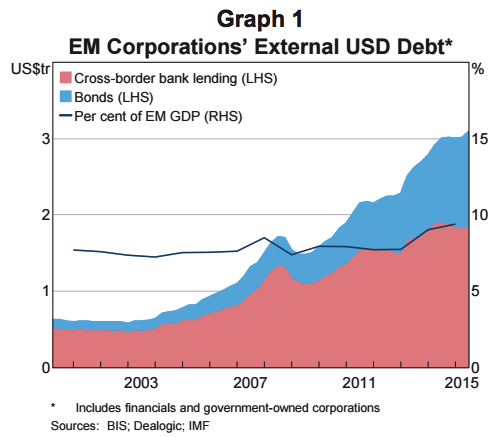 This means that emerging markets not only suffer because of more expensive debt, but also because commodity prices are likely to fall.
Oil prices have a very big correlation with the USD. Under current conditions, it is likely that oil prices fall below 40 USD.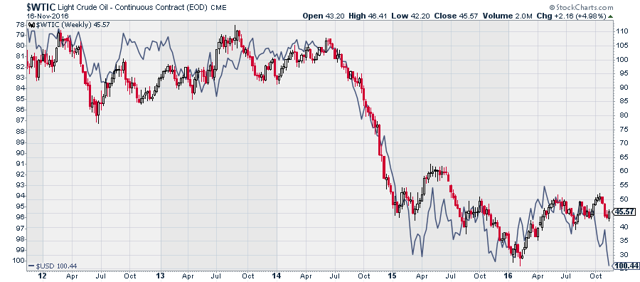 Copper miners like Freeport McMoRan (FCX) show the same pattern. Note the recent spike after the election. This could be a problem since the USD has gained so much strength.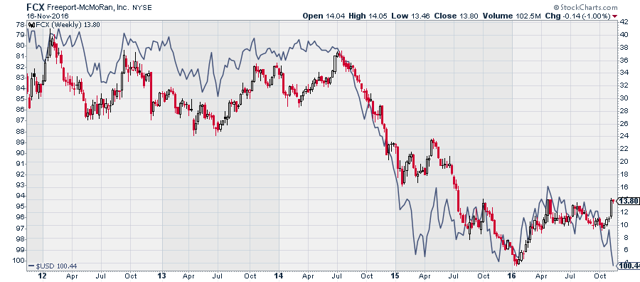 Lower commodities cause more deflationary pressure. Deflation supports a bull case for safe fixed income like government bonds (iShares 20+ Year Treasury Bond ETF TLT). The current TLT correction could be an interesting entry point because most commodities have not reacted to the strong dollar either.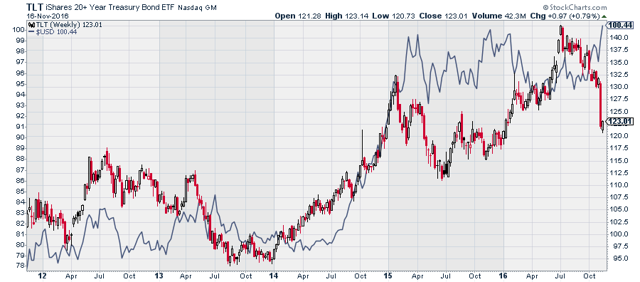 The interesting thing is that emerging market currencies have already reacted after diverging since July of 2016. We are seeing the same lagging effect as in the first two quarters of 2015.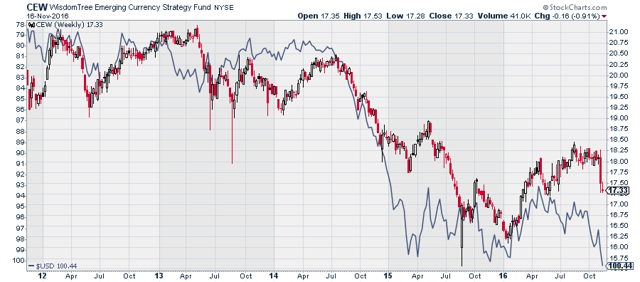 The graph below combines every major aspect of the USD. Lower commodities, lower currencies and a higher debt load. Brazil is one of the most leveraged emerging market countries and is one of the best tools to trade the USD. The rally that started in 2016 was supported by a weaker USD until the start of the summer. After October, stocks started to feel the pressure and might correct even further.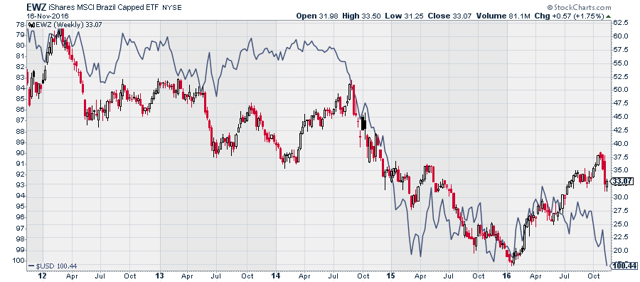 Overall, I am cautious when it comes to buying commodity and emerging market related assets. However, I am likely to buy US government bonds. I like the odds after a rather severe correction and the fact that commodities have ignored the USD rally - so far.
Many thanks for reading my article. Please leave a comment below if you have questions or remarks.
Disclosure: I/we have no positions in any stocks mentioned, but may initiate a long position in TLT over the next 72 hours.
I wrote this article myself, and it expresses my own opinions. I am not receiving compensation for it (other than from Seeking Alpha). I have no business relationship with any company whose stock is mentioned in this article.