A couple of days ago, I detailed how we were seeing a massive bubble in shipping stocks. The leader of this rally was DryShips (NASDAQ:DRYS), which had seen its shares go from under $5 to over $100 in just a couple of days, only to be halted at $73 a share on Wednesday morning. On Thursday, the company announced a massive share offering, one that will likely put an end to the rally in shares.
As the above link details, the company is selling a variety of convertible preferred shares, along with issuing a number of preferred and common warrants. Going into this issuance, the company had 1,137,712 common shares outstanding. However, as the graphic below details, investors will be massively diluted by this offering, especially if the price of shares trades substantially below $30 a share and all securities are converted.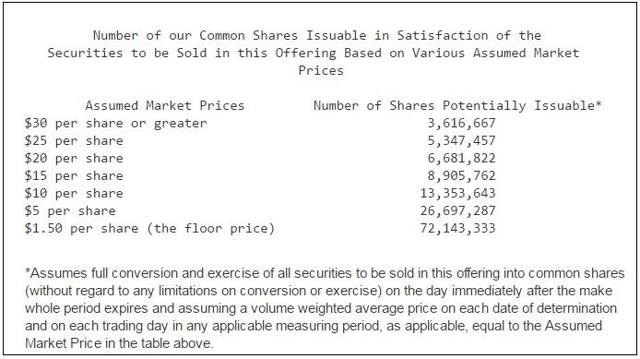 Even if shares trade above $30 a share, the outstanding share count will rise quite significantly. Should shares trade down to the less than $5 they were before this rally started, current investors could end up owning a small fraction of the stock. While DryShips will end up receiving $20 million in the offering, and potentially up to $100 million, this is a massive amount of dilution for investors.
DryShips' shares are expected to resume trading at 10:30 AM Eastern, and it will be very interesting to see how shares fare. Other shipping names have continued their massive rallies since DryShips was halted, although some like Diana Containerships (NASDAQ:DCIX) have come off their daily highs a bit already. Should DryShips' shares head lower, it will likely send the whole sector down, ending this massive bubble.
Disclosure: I/we have no positions in any stocks mentioned, and no plans to initiate any positions within the next 72 hours.
I wrote this article myself, and it expresses my own opinions. I am not receiving compensation for it (other than from Seeking Alpha). I have no business relationship with any company whose stock is mentioned in this article.
Additional disclosure: Investors are always reminded that before making any investment, you should do your own proper due diligence on any name directly or indirectly mentioned in this article. Investors should also consider seeking advice from a broker or financial adviser before making any investment decisions. Any material in this article should be considered general information, and not relied on as a formal investment recommendation.