Apple's (NASDAQ: AAPL) share price has struggled over the past month. They reported Q3 earnings and investors were nervous about the future of China and its growth. The president-elect Donald Trump has added more fuel to the fire with his trade views, and now China has an open threat to cut/close iPhone sales within the country, even though coincidentally all iPhones are made in China.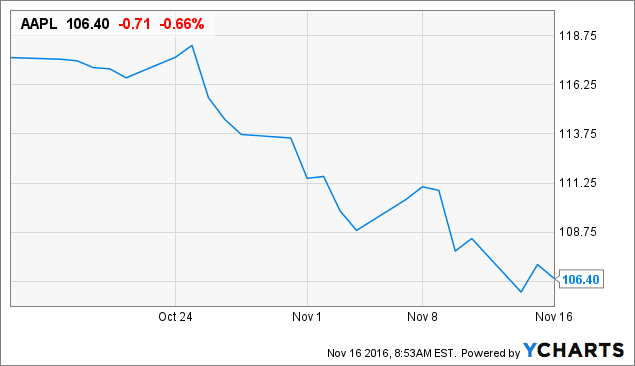 One possible positive note for Apple with Trump being president is his tax plan. Apple has more than $200 billion in cash overseas. The company has opted to let it sit there because of the hefty repatriation tax the U.S. has. Trump's tax plan isn't final, but big corporations could see a significant reduction in the repatriation tax burden.
The following is a list of big hedge funds that bought or sold Apple this past quarter. It will be interesting to see next quarter positions for these hedge funds with now information that Trump is president-elect, and his views on trade and taxes.
Notable Buyers
Ken Fisher (Fisher Asset Management): Ken had a minimal increase to his position at 57,000 shares. He now owns 11.3 million shares which equates to 2.4% of his portfolio. It is the fourth largest position in his portfolio.
Daniel Loeb (Third Point): This was a new position and he bought 2.5 million shares. The estimated average price bought at is $106, which would equate to $265 million.
David Tepper (Appaloosa Management LP): David Tepper is back at owning Apple with his recent purchase of 800,000 shares. He has been in and out of this stock over the past 4 years.
Steven Cohen (Point72 Asset Management): Steven Cohen increased his position by 1644%. He now owns 1.92 million shares. It's also worth noting he has call contracts that allow him to purchase up to 250,000 additional shares at a specific date.
Ray Dalio (Bridgewater Associates): This is a small position for Ray Dalio, but he increased his position by 186% and now owns 346,600. Ray has also been in and out of the stock over the past 5 years.
Notable Sellers
David Einhorn (Greenlight Capital): Einhorn decreased his position by 24% this quarter. He now owns 5.2 million shares valued at $567 million.
Joel Greenblatt (Gotham Asset Management): Greenblatt decreased his position by 41% or 319,404 shares. He still owns 459,757 shares, which isn't a major position within the portfolio.
To read more research on stock spin-offs, fund holdings, micro-cap companies, and special situations please consider following me (by clicking the "Follow" button at the top of this article next to my name) to receive notification when I publish research next.
Disclosure: I am/we are long AAPL.
I wrote this article myself, and it expresses my own opinions. I am not receiving compensation for it (other than from Seeking Alpha). I have no business relationship with any company whose stock is mentioned in this article.
Additional disclosure: This article is intended to provide information to interested parties. As I have no knowledge of individual investor circumstances, goals and/or portfolio concentration or diversification, readers are expected to complete their own due diligence before purchasing any stocks mentioned or recommended.