We never wrote anything like this. We wanted to say that the investor's mind-set may be challenged in the months ahead. What we see now and what we will see in the future could change immensely. We see from slow stock movements that investors have not quite swallowed the potential that we're headed for some serious change. That probably means volatility (NASDAQ:XIV)(NYSEARCA:VXX) in markets (NASDAQ:QQQ)(NYSEARCA:SPY). That probably calls for a different trading gameplan. A mind-set shift should be considered.
Why People Would Need To Adjust In A Volatile Environment
While we all like the stocks we like and get sold on our own fundamental calls the markets don't always listen. We know that. With the new administration coming into the White House serious global change is coming that many of us have not experienced.
We can't know the outcome or repercussions of all the rhetoric that came out from the elections.
It's clear isolationism will increase in the US and other countries could retaliate.
It's clear tougher immigration policies will increase and could cause backlash and animosity.
The entire global trade playing field is about to be reset by everyone's largest trading partner. That occurs January 20th. We don't think that is without risk.
Not adjusting or preparing an adjustment in strategy could be detrimental ahead of such a clear period of potential change. Sitting idly by as markets go up and down could be painful on some days and exhilarating on other days. That's not what we're here for though. We're here to make money and/or preserve capital.
A wild ride needs a different mindset.
What's that different mindset that's needed for volatile times?
Volatility requires more trading but with a gameplan.
I speak for myself but many can get caught up or sucked into the moves both up and down and think that's the real move only to see it soon quickly reverse.
We have not experienced this style trading environment in a while.
We think there are two main methods for dealing with a bronco.
1) Smaller portfolio and positions.
2) Put in key limit levels.
We are basically speaking to anyone who is typically bullish. Shorts, if successful are typically more trading oriented because they have to be.
Buy-and-hold investors typically have a longer time horizon but can be less-trading oriented. Volatile times can test that style investor's fortitude to wait out a down period. Down periods usually come with lots of seemingly real fundamental reasons to "get out."
If you had the fortitude or could afford to "wait it out" the move didn't hurt in the end. Real-time however those moves hurt and test our fundamental perspective. The reality is that those moves shake out many if not most investors. That's how people lose money. We're not saying anything new but rather just reminding what big volatile periods can feel like. Those periods look like they are just ahead.
1) Smaller portfolio and smaller positions.
If I were 100% invested I would make the decision to be 25-50% invested. If my position sizes were 5-10% of my portfolio I would adjust that to 2.5%-5% of my portfolio. This takes the pain potential down if I'm wrong. This causes me to sweat less during my day if the market goes against me. This gives me the ability to react and buy if I have confidence that the smoke has cleared.
If my career is not trading-oriented those down days shouldn't take my focus from my profession. That loss of focus is also a loss generator. We want to avoid that. Taking position sizes down helps that effort.
2) Putting in key limit levels.
This does amazing things. This causes "eyes-closed" trading. If your portfolio is already reduced you can exit at key levels above and buy back at key levels below.
We like to use multi-year levels on the chart that seem further than we think the market can go and use them to enter and exit.
We'll give you an example on the S&P 500 ETF SPY.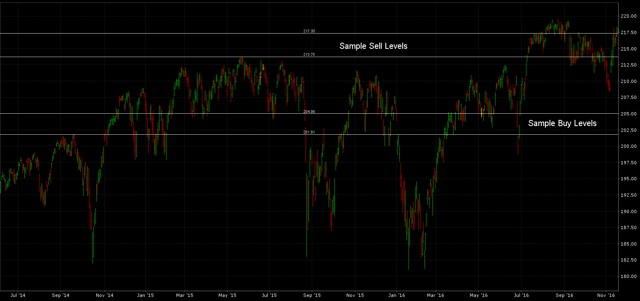 Source: Interactive Brokers
Let's say the market starts getting volatile which it could ahead of January 20th's inauguration and thereafter.
If I think it could get volatile I want to lower my exposure.
I want to plan ahead to buy low and sell high. That only can come if I first lower my exposure. If I don't my nerves will likely challenge me to sell low and buy high. I want to think ahead and avoid that possibility.
It may mean I miss some momentum on the upside but it helps me lose less money on the downside.
When I know fundamental upheaval is coming I can guess that will rattle markets. Therefore I don't mind giving up on upside in return for losing less on the downside.
Profiting less is still a good thing. It's still a profit. Losing less is also a good thing.
Now by resetting your mindset to buy and sell levels you reset yourself to be ready to benefit when it looks the worst for everybody else.
Because you planned ahead and reduced your exposure you are now in a fighting position to muscle through and benefit from volatility.
The above chart is a sample to say how you would create your own buy and sell points on whatever you were trading. We picked points that we saw had the most trading action (break-outs and break-downs). Those are typically the same locations that will attract trading in the future. We also picked points that we thought looked a little "too far." The market always goes further than we think and so we want to account for that somehow.
The news is going to sound terrible when the SPY gets to 205 or 202 and the news is going to sound amazing when the SPY then returns to 214 and 217.
Those are sample levels to describe how we use levels to build and reduce the portfolio.
You can always adjust those levels but when we get down to key levels like we show the market has the tendency to bounce quickly.
Instead of being on the constant defense and chasing which causes trading losses and despair, you'll be in a fighting position to benefit from everyone else's mayhem.
It's not easy to make this mind-set shift but it's a reality based on the potential swings we may see from the news ahead.
Conclusion
Markets likely require investors to make a mind-set shift. If coming fundamental change is any indicator volatility will force many to "chop" and get out because of the "pain."
We don't want "pain." We want a "plan." That plan is to foresee volatility and avoid it and maybe even benefit from it. Losing a $1 is much worse than missing out on a $1. We'd rather have smaller exposure and use that smaller exposure to build when everyone else is scrambling. We may miss out on upside but we save more of our capital and are in a position to benefit when we otherwise couldn't.
We're not sure on the timing of when this occurs but this is a public service announcement to at least consider a mind-set shift.
PRO TRADER: Get In Before We Raise Prices December 1st. Free Two-week trial
We plan on raising rates 15% on December 1st. We want to reward anybody who has signed up by then to be "Grandfathered" at the lower rates. Raising rates is something we periodically plan to do after the subscriber base jumps. This way we can manage the growth and give the attention needed to you as we grow together.

Catch multi-week moves in S&P, Gold, Oil, Bonds, Apple, Amazon, and more.

Last period was up 2.9% in less than one month of "enter and hold" on 20 ETFs.

We just started a new refresh period. Come see what we're doing.

Click here for a free trial or send us a direct message to find out more.
If you want Elazar's analysis on Seeking Alpha, scroll to the top of the article and hit "Follow." Elazar also writes real-time pieces as news is reported. If you want to be among the first updated check the box for "Real-time alerts on this author" under "Follow."
Disclaimer: All investments have many risks and can lose principal in the short and long term. This article is for information purposes only. By reading this you agree, understand and accept that you take upon yourself all responsibility for all of your investment decisions and to do your own work and hold Elazar Advisors, LLC and their related parties harmless. Any trading strategy can lose money and any investor should understand the risks.
Disclosure: I/we have no positions in any stocks mentioned, and no plans to initiate any positions within the next 72 hours.
I wrote this article myself, and it expresses my own opinions. I am not receiving compensation for it (other than from Seeking Alpha). I have no business relationship with any company whose stock is mentioned in this article.