Revolution Lighting Technologies (NASDAQ:RVLT) is an LED lighting company with a broad product portfolio that has been built through a series of acquisitions over the last 8 years. Revolution manufactures and sells indoor lighting, outdoor lighting, commercial lights, and lighting control systems through various channels. Much of their business is driven by commercial and institutional LED retrofit projects.
Revolution is run by Robert LaPenta (Chairman and CEO) and James DePalma (CFO and Director). LaPenta and DePalma have a long history in various semiconductor, technology, and electrical systems industries most notably with L3 Communications (NYSE:LLL) an aerospace contractor that LaPenta Co-Founded in 1997. LaPenta has a strong history of selling products to the government and military which is important for Revolution as they gear up to sell to the Navy.
Company Overview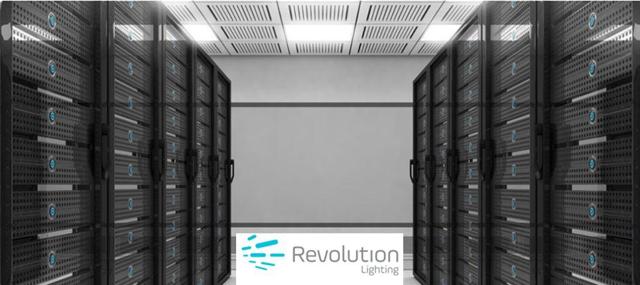 Revolution Lighting is a roll-up of several smaller LED companies that continue to operate as separate divisions within the company. The divisions of the company include previous acquisitions Energy Source, Value Lighting, Tri-State LED, E-Lighting, All-Around Lighting and TNT Energy. The value of combining all of these smaller LED companies into one umbrella is that you can have a full spectrum of products offered all from one single sales network. There are also significant manufacturing, distribution, and back office cost synergies that Revolution is able to leverage for acquired companies.
Revolution through its almost yearly acquisition over the last 4 years has been able to substantially grow its revenues from $26m in 2013 (when LePalma took over) to $175m estimated for 2016, about a 6x growth over 4 years. This revenue growth has all come at a price, dilution of shares. On a per share basis the revenues have only grown from 3.3 to 9.6, about a 3x growth over 4 years. Still pretty impressive growth no matter how you want to look at it. Revolution is barely a breakeven company right now from a net income perspective, but they do generate positive EBITDA which I believe is set to significantly grow going forward. LaPenta has stated a few times that he sees the EBITDA margins at +8% in the long term and said 2017 should be between 8 and 10%.
The company has been continually improving its financial performance over the last 4 years all while growing its revenues at a healthy pace.

Source: Gurufocus.com
Recent Quarter
Revolution recently released their 3rd Quarter 2016 results which disappointed investors causing a 13% drop in the share price the next day. Q3 EPS of $0.11 beat by $0.01 but the revenue of $50.2M (+33.1% Y/Y) missed by $1.55m. In press release and conference call Management highlighted the cost pressures that they are facing in LED lighting which are effecting the total line revenues. Per management, prices on LED lights have fallen between 10-15% this year depending on the category. Product cost pressures can be devastating for companies especially if they start to eat into gross margins. In Revolution's case they have been able to keep Gross Margins roughly flat around 32% over the last year and which management believes will continue. If you listened to the conference call and dug in a little to the details you would realize that the 3rd quarter results were actually pretty decent.
Although the company did not yet release 2017 official guidance, LaPenta did say on the conference call that "we are looking at EBITDA in the 10 percentage" which " gets you to $20 million of EBITDA". Assuming LaPenta is right that they can reach around $20m of EBITDA in 2017 the stock is trading at about EV/EBITA of 8.4 right now, pretty cheap.
Opportunities going forward
Revolution has some great opportunities in front of them right now.
Retrofit Opportunity Expansion: As the costs of LED lighting continues to decline the opportunity set expands for LED retrofits. The more retrofit projects that become IRR positive the more projects are actually completed which helps the LED industry in general but more specifically Commercial and Institutional Retrofit companies like Revolution.
Navy Ships and Buildings: Revolution recently passed the US Navy's LED tube testing requirements making it the second company to do so [Energy Focus (NASDAQ:EFOI) is the other company]. This could be a big opportunity for Revolution not only for the US Navy, but many other Navys and Military organizations are adopting the US Navy standard for LED tube lighting. It is still early with the Navy but it could become impactful for the business over the next 3 years. LaPenta has a lot of experience selling to the military during his time at L3 Communications that should transition well into selling to the Navy.
One of World's Largest Retailers: In the 3rd quarter Conference call LaPenta announced that they were selected by one of the world's largest retailers for a LED retrofitting opportunity. Revolution was selected as one of three or four finalists to do some test retrofits of a couple of this retailer's facilities to determine who would be selected for the larger retrofit program. It's unclear who the retailer is, but LaPenta said the opportunity could be "Enormous" for them.
Valuation
Revolution is a fast growing microcap company with a limited track record of profitability. That makes valuing the company largely a exercise in assessing the future growth and profitability the company will likely have over the next few years. 2016 was a pivotal year for the company as they began to turn positive from a net income standpoint and started to deliver EBITDA. Based on the assumptions that organic revenue growth will continue at 12.5% per year for the next 5 years and EBTIDA margins will creep from 8 to 12% over that period, I believe the shares of Revolution are worth $10.83 per share or 88% upside from the current share price. This takes into account the $68m in NOLs that the company currently has per their 3Q 10-Q filing.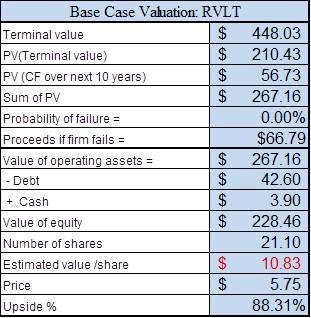 This valuation is a base case and does not include any material upside from any US Navy business or the larger retailer business that I described above in the opportunities section.
In conclusion Revolution Light Technologies is in a burgeoning sector, has a proven management team, and has some large opportunities in front of them. The risk reward for an investment in the company seems pretty solid here around $6 a share.
Disclosure: I am/we are long RVLT.
I wrote this article myself, and it expresses my own opinions. I am not receiving compensation for it (other than from Seeking Alpha). I have no business relationship with any company whose stock is mentioned in this article.
Editor's Note: This article covers one or more stocks trading at less than $1 per share and/or with less than a $100 million market cap. Please be aware of the risks associated with these stocks.