Yesterday I published a survey of the silver sector. Today I want to present another survey. This time I am discussing big gold miners and their 3Q 2016 results.
Introduction
Similarly to the "Silver edition", let me list the miners qualifying into my research: Barrick (NYSE:ABX), Agnico Eagle (NYSE:AEM), Yamana (NYSE:AUY), Buenaventura (NYSE:BVN), Goldcorp (NYSE:GG), Randgold (NASDAQ:GOLD), Newmont (NYSE:NEM) and Kinross (NYSE:KGC).
Because two big miners, AngloGold and Newcrest, do not publish their third quarter financial results, they are excluded from the survey.
Methodology
As in the case of the silver sector, I have gathered all data presented in financial statements of the above listed miners and created the joint statement of operations for the entire sector.
Big Gold - joint Statement of Operations
The table below shows the Big Gold joint statement of operations: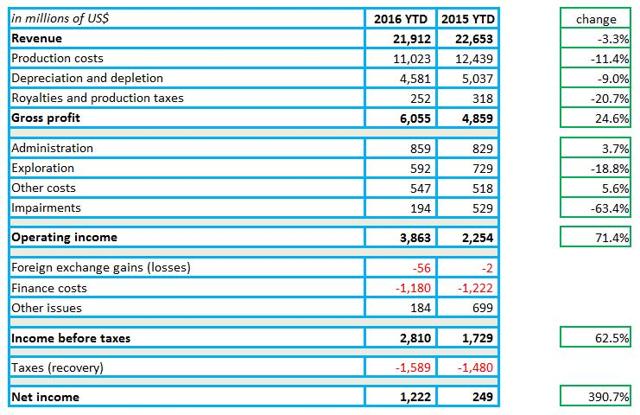 Source: Simple Digressions
Comment:
Contrary to the silver sector, during the three quarters of 2016 big gold miners produced and sold less gold than last year. In my opinion, lower sales and decreasing reserves are the main features of the big gold sector (I was discussing this issue in my previous articles, for example here).
Taking the so-called "an ounce of gold equivalent" as the main measure (silver, lead, zinc, copper and other metals sold are recalculated into gold ounces), in 2016 YTD the miners sold 17.4M ounces of gold equivalent while last year they sold 19.2M ounces (a drop of 9.5%). As a result, even higher prices of gold ($1,260 per ounce during three quarters of 2016 vs. $1,179 per ounce last year) were not able to cover the losses coming from lower production / sales.
Fortunately, big miners made progress - they cut their costs of production. What is more, these costs went down more than sales resulting in higher gross margin (defined as revenue less production costs). So, all in all, the miners went out of trouble and although they do not perform as well as their silver peers I have to say that they do pretty well now. Add to that lower depreciation (due to impairment charges) and you arrive at quite nice gross profit of $6.1 billion (an increase of 24.6%, compared to 2015 YTD).
The lower the statement of operations the better. Let me take an operating profit. For better comparison, I have excluded impairment charges (typical one - off events) from its calculations. After this adjustment it looks like during the three quarters of 2016 big gold miners delivered an operating profit of $4.1 billion, which was $1.2 billion higher than last year (an increase of 45.8%). Progress once again.
Administration expenses went up by 3.7%, only. At this point big gold miners were better than their silver peers (an increase of 14.4%). However, the problem is that silver miners build and expand their businesses while gold miners do the opposite (for example, they sell operating mines). Shrinking businesses should demonstrate lower fixed costs but in the case of big gold miners this rule is broken. I do not like it.
Another negative factor - exploration expenses. Since big gold miners are selling their operating mines they, as a rule, should spend more on exploration to rebuild their shrinking reserves. Lower exploration spending (a drop of 18.8%) does not support this thesis.
Taxes. Big gold miners record very high taxes, compared to their silver peers. Roughly, their tax rate (defined as taxes divided by income before taxes) stands at around 56.5% (in the case of silver miners it is only 22.4%). I think this issue is worth another article so…let me leave it at this point.
Mining economics
Similarly to the silver edition, in this section I would like to show the economics of mining demonstrated by big gold miners. To remind my readers, all measures are calculated using an ounce of gold equivalent. The table below shows the results. For better comparison, in the right column (marked in grey) I have plotted the results delivered by the silver sector:

Source: Simple Digressions
As the table shows, big gold miners are less effective than their silver peers. The biggest differences are, as follows:
This year gold miners' sales went down, compared to 2015; silver miners did the opposite (higher sales)
Gold miners cut their costs of production but less than silver miners
As a result, this year a gross margin delivered by one ounce of gold equivalent sold by gold miners went up by only 17.8%, compared to 2015. In the silver sector, one ounce of silver equivalent delivered a 61.2% higher gross margin, compared to 2015.
Summarizing - the silver sector is much more effective than the big gold one.
Debt issue
Compared to last year, the big gold sector reduced its debts significantly. At the end of the third quarter of 2015 big gold miners hold debt of $27.2 billion; at the end of the third quarter of 2016 their debt went down to $22.1 billion. As a result, currently the net debt (defined as debt less cash) stands at $14.7 billion. Although this figure is far away from the net debt reported by silver miners (actually, the silver sector has more cash than debt) it is not by any means a "bad" figure. I assume that this year big gold miners should deliver free cash flow of around $5 - $6 billion. If I am right it means that, theoretically speaking, their net debt could be paid off within three years. Quite quickly.
Summarizing - although big gold miners still carry some debt I do not think it is a serious issue.
Cash flow
Once again, contrary to the silver sector, the big gold sector only slightly increased its cash flow from operations. As usually, I prefer the so-called cash flow from operations excluding working capital issues to the classic cash flow from operations. Simply put, I think that working capital issues (receivables, inventory and payables) distort the "real" or "clean" amount of cash delivered by mining operations.
Taking into account this measure, this year big gold miners delivered $7.9 billion in cash flow from operations (up 20.4%, compared to last year).
Free cash flow went up from $3.0 billion in 2015 YTD to $3.9 billion in 2016 YTD (an increase of 30%).
Finally, similarly to the silver sector, let me list all big gold miners, taking an increase in cash flow from operations (excluding working capital issues) as the main criterion: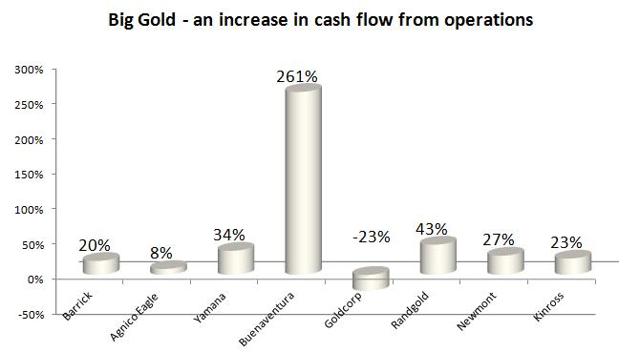 Source: Simple Digressions
As the chart shows, Buenaventura (by the way, this company is quite poorly covered on Seeking Alpha), a Brazil-based miner, is a leader (a growth of 261%). However, looking at the company's metal sales I arrive at a conclusion that Buenaventura is not a typical gold miner. Gold sales account for 37.6% of total sales, only: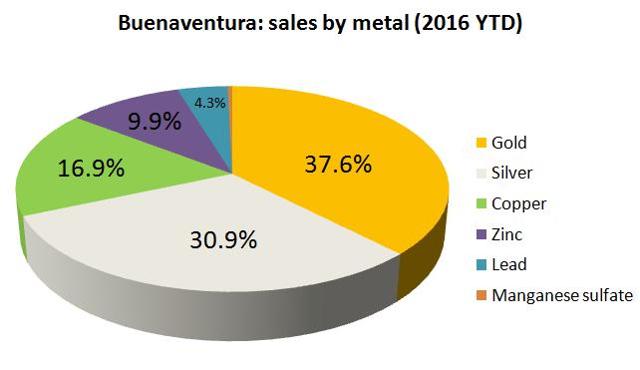 Source: Simple Digressions
Well, I think Buenaventura fits more for my silver sector review than this one…
Summary
The big gold sector performs not as good as its silver peer. The big picture is quite gloomy. The sector faces serious problems as, for example, shrinking reserves or falling production / metal sales. Fortunately, this year big gold miners show some improvement - margins and cash flow from operations are up, the debt level has been reduced substantially. I realize that the silver sector performs much better than the gold one but…you know, everything is mirrored in the prices. Simply put, very well performing silver plays are more expensive than big gold companies. For example, Pan American Silver, an excellent silver miner, is currently trading at a multiple EV / EBITDA of 10. However, most of big gold miners are trading at multiples of around 7 - 8. So the choice is this: buy growth (silver) at higher prices or buy stability (big gold) at lower prices. I, personally, choose growth. And you?
Final note: soon I am planning to issue the third and last part of the precious metals survey. This time it would be a survey of a junior sector (silver and gold junior miners). Intuitively I feel that this planned survey would be the most interesting….stay tuned.
Disclosure: I am/we are long GDXJ.
I wrote this article myself, and it expresses my own opinions. I am not receiving compensation for it (other than from Seeking Alpha). I have no business relationship with any company whose stock is mentioned in this article.