Introduction
In the last couple of weeks, metal prices have moved.
Copper has made an historic surge of 21.5% in the last two weeks, while gold fell 7.5% from its peak.
As Trump won the election, the expectation of intensified construction and increased investments in infrastructure have pushed copper prices higher while gold suffered as the world didn't come to an end. The short term moves in metal prices aren't that significant as they are influenced mostly by speculators, but an analysis can show us where the long-term risks and opportunities lie.
Copper
In less than a month, copper has gone from $2.09 per pound to the price of $2.52 as I'm writing this. At the same time, copper warehouse levels have decreased. Warehouse levels decreasing isn't a clear indicator for copper price movements as many times in the last 5 years copper prices have declined alongside declining warehouse levels.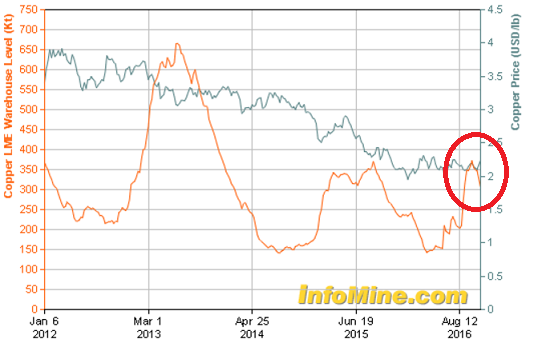 Figure 1: Copper prices and warehouse levels in the last five years. Source: InfoMine.
The move in copper is likely a result of Trump's promising of $500 billion in additional spending on infrastructure and a total of $1 trillion over ten years to rebuild roads, bridges, airports, hospitals, and schools.
U.S. copper consumption in 2015 was 1,976 tons, which is 8.5% of global consumption. As the majority of U.S. copper consumption is used for wire which is then used for construction and infrastructure, it is understandable that the hype around copper is growing. Additionally, state and local spending on infrastructure is at 30-year lows.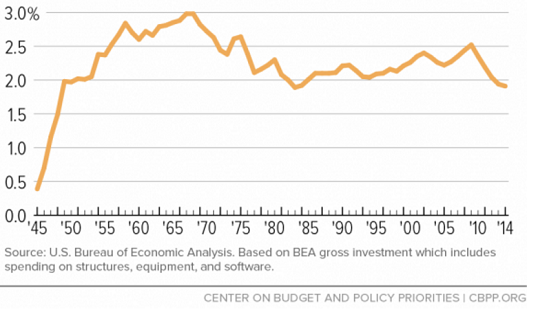 Figure 2: State and local spending as share of gross domestic product. Source: The Fiscal Times.
With total U.S. public construction spending at $270 billion per year, the announced spending of $1 trillion in the next 10 years would certainly increase demand for copper.


Figure 3: Total public construction spending. Source: FRED.
As such political plans are always uncertain and take time, the spike in copper prices might just be temporary, but it shows the potential copper has as small positive changes in demand quickly lead to a supply deficit and prices surge. You can read our article on copper fundamentals here to get a better picture on the risk reward situation copper offers.
My colleagues at Investiv have also written extensively about copper. You can read their research on the metal here.
Gold
Gold has again shown its riskiness and continues to define itself as a pure speculative play as its price has fallen sharply in the last two weeks.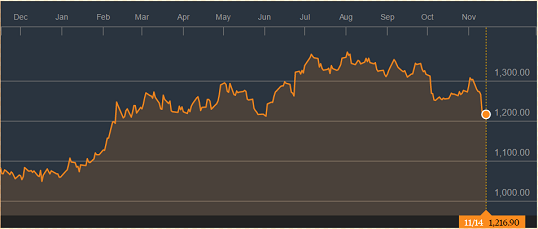 Figure 4: Gold price in the last year. Source: Bloomberg.
Another negative for gold is the continuous strengthening of the dollar and the potential for higher interest rates.


Figure 5: 10-year treasury and dollar index in the last year. Source: FRED.
A look at Q3 results from the three big gold miners will paint a clear picture for gold.
Barrick Gold (NYSE:ABX) had Q3 2016 revenues of $2,297 million and net profit of 175 million, or 7.6% net profit margin. Newmont Mining (NYSE:NEM) had revenues of $1,791 million with a net loss of $358 million, or a negative net profit margin of 19%, while the third of the big gold miners, Goldcorp (NYSE:GG) had revenues of $915 million with net earnings of $59 million, or a 6.4% net profit margin. Given that all companies realized an average gold price between $1,333 and $1,335 in Q3 with net margins of 6.4% and 7.6% for the profitable ones, the current gold price of $1,216 per ounce will result in no profits and could easily lead to the same scenario we witnessed last winter.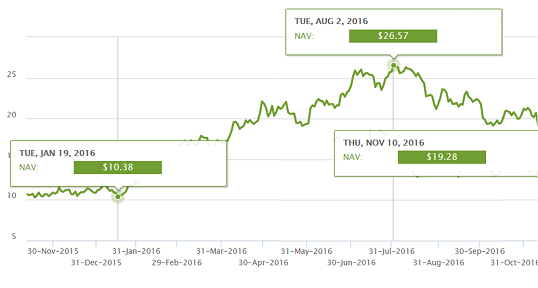 Figure 6: iShares MSCI Global Gold Miners ETF. Source: iShares.
If gold prices further retreat on a stronger dollar and higher interest rates, a trip to single digits shouldn't be a surprise for the iShares MSCI Global Gold Miners ETF (NYSEARCA:RING).
Other Metals
Iron ore has already doubled since its January 2016 lows, while aluminum prices have been steadily rising. Zinc prices have also been rising as zinc has entered its supply deficit phase.
If there will be increased demand from the U.S., we can expect higher lows and higher highs in all metals related to construction. If Chinese demand doesn't slow down and U.S. demand increases, we will be able to say that 2016 was the bottom of the metal cycle and also that it was the start of a new bull market for metals.
Conclusion
The metal movements in the last few weeks have confirmed copper's long term undervaluation as its supply is large at the moment but not flexible. This situation created the recent spike in prices and will probably influence future spikes.
Other metals, like iron ore and aluminum, will see increased prices on increased demand but in a more cyclical way as their supply is limited only by price and not by mining quantity restrictions.
As for gold, it represents the riskiest metal currently due to questionable fundamentals and economic values, except in periods of global turmoil. Low miner profitability even at these prices could indicate trouble ahead for gold miners. Therefore, investors should be exposed more to copper and zinc, followed by aluminum and iron ore, and lastly to gold. Of course, traders have a different perspective, but knowing the fundamentals will certainly help.
Investiv Contributor Sven Carlin
Disclosure: I/we have no positions in any stocks mentioned, and no plans to initiate any positions within the next 72 hours.
I wrote this article myself, and it expresses my own opinions. I am not receiving compensation for it. I have no business relationship with any company whose stock is mentioned in this article.