Opening Rant
In next episode of the drama series "As The Fed Turns," we discuss the meaning of "relatively soon." Does the phrase imply a December rate hike or does it imply sometime in 2017? Why does this come up today because Janet Yellen gave prepared remarks before the Joint Economic Committee of the U.S. Congress.
Hidden within these prepared remarks were many clues as to what the FOMC is currently thinking about for future monetary policy. The key focus many seem to be thinking about is the sentence that reads:
"At our meeting earlier this month, the Committee judged that the case for an increase in the target range had continued to strengthen and that such an increase could well become appropriate relatively soon if incoming data provide some further evidence of continued progress toward the Committee's objectives."
Some seem to think this statement implies a December rate hike. However, when I read the comment, I see they may raise soon, as long as the data warrants it.
She later states:
"Waiting for further evidence does not reflect a lack of confidence in the economy."
Thinking about this sentence implies to me that if the Fed does not raise rates in December, it is not because the Fed is seeing something investors are not, the Fed is just choosing to wait.
However, the important part of this document is towards the end. Janet Yellen writes:
"The FOMC continues to expect that the evolution of the economy will warrant only gradual increases in the federal funds rate over time to achieve and maintain maximum employment and price stability. This assessment is based on the view that the neutral federal funds rate - meaning the rate that is neither expansionary nor contractionary and keeps the economy operating on an even keel - appears to be currently quite low by historical standards. Consistent with this view, growth in aggregate spending has been moderate in recent years despite support from the low level of the federal funds rate and the Federal Reserve's large holdings of longer-term securities. With the federal funds rate currently only somewhat below estimates of the neutral rate, the stance of monetary policy is likely moderately accommodative, which is appropriate to foster further progress toward the FOMC's objectives. But because monetary policy is only moderately accommodative, the risk of falling behind the curve in the near future appears limited, and gradual increases in the federal funds rate will likely be sufficient to get to a neutral policy stance over the next few years."
Thinking about this paragraph implies there seems to be no rush to raise rates in Janet Yellen's view. She does not currently see a risk of falling behind the curve. In my opinion, as I wrote yesterday, "relatively soon" does not mean December. In fact, the job picture has in my opinion been decelerating of late, and we will get a BLS Job report the first week of December before the next meeting.
Forex
Let's explore the impact that a rising global yield curve has had on the FX markets and in turn other parts of the market.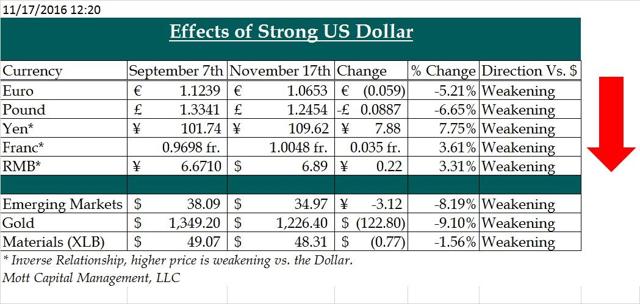 You can see the effects a rising US yields (NYSEARCA:TLT) have had on the Dollar (NYSEARCA:UUP) and how intense it has gotten over the past two months. A strong Dollar acted as a headwind for commodity prices, the material sector (NYSEARCA:XLB), and emerging markets (NYSEARCA:EEM).
A strong Dollar especially hurts those countries that peg their currency to the US Dollar. A strong Dollar also hurts multinationals here in the US by making our exports more expensive. Additionally, earnings and revenue numbers feel the effect of unfavorable exchange rates.
The Fed can raise rates 25 bps in December. However, it will unleash a tidal wave of further Dollar strength. In a world where 10-year German or JGB yields are 30bps or 0%, respectively, 25 bps is a big deal.
The US is not an island unto itself. We are one large global market. The ECB does not want higher yields, nor does the BOJ. As we discussed yesterday, if US rates increase, it will pull the yields of other regions along for the ride. If the Fed chooses to raise rates, the ECB and BOJ are likely to push harder on easing policies to separate their yield curves further from that of the US. Further, more aggressive easing will cause even further Dollar strengthening, which the equities market at some point will view unfavorably.
Summary
"Relatively soon" does not mean a December Fed rate hike. In fact, I think Janet Yellen's prepared remarks suggest she is preparing to defend why she chose not to raise rates.
If you'd like to get a full listing of the different items we currently have a rating or view on, you can find a list in our research area. Remember, if you like reading these commentaries, make sure you follow us with that little "+" button at the top of the page next to our name. If you like us, then sign-up, and start receiving our research in your inbox, where we cover even more topics.
Disclosure: I/we have no positions in any stocks mentioned, and no plans to initiate any positions within the next 72 hours.
I wrote this article myself, and it expresses my own opinions. I am not receiving compensation for it (other than from Seeking Alpha). I have no business relationship with any company whose stock is mentioned in this article.
Additional disclosure: Mott Capital Management, LLC is a registered investment adviser. Information presented is for educational purposes only and does not intend to make an offer or solicitation for the sale or purchase of any specific securities, investments, or investment strategies. Investments involve risk and unless otherwise stated, are not guaranteed. Be sure to first consult with a qualified financial adviser and/or tax professional before implementing any strategy discussed herein. Past performance is not indicative of future performance.