After a wild ride in 2016, Western Refining (NYSE:WNR) shareholders have received a fair buyout offer from fellow refiner Tesoro (TSO) for an implied value of $37.30 per share. This implies an enterprise value of $6.4b, inclusive of WNR's $1.7b in net debt and the $605m non-controlling stake in Western Refining Logistics (NYSE:WNRL). Given the volatility in the refining space and strategic rationale of the transaction for Tesoro, I think WNR's shareholders have received a fine deal. Shareholders have the option of receiving $37.30 in cash for 0.4350 shares of Tesoro, so let's take a look at the combined assets.
Legacy Assets: WNR, WNRL, and NTI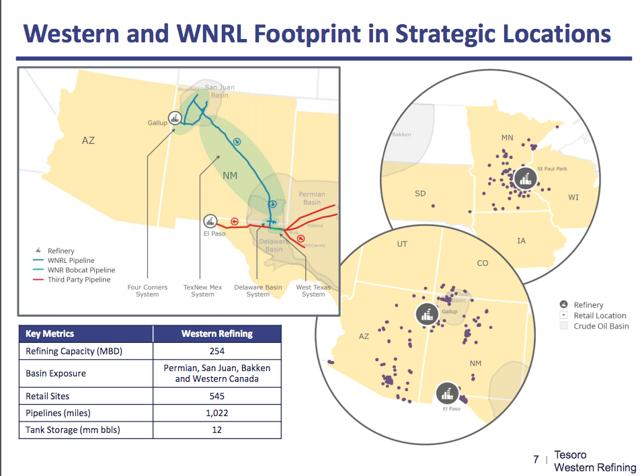 Source: TSO IR
After purchasing the balance of Northern Tier Refining (NYSE:NTI) in mid-2016, WNR became a fairly diverse and integrated refiner, with refining capacity of 254 MBD, 545 retail locations, and over 1,000 miles of pipeline. The firm owns refineries in El Paso, Texas, Gallup, New Mexico, and St. Paul Park, Minnesota.
The El Paso refinery sells primarily into the Phoenix/Tucson market and the El Paso/Albuquerque/Juarez region. Both markets have slightly different pricing dynamics, with the more competitive Gulf pricing dominating the El Paso market and the Phoenix market dominated by more favorable West Coast pricing dynamics.
Gallup is much smaller on a throughput basis than El Paso, with only 25,000 BPD of capacity and 470,000 barrels of storage capacity. Over 90% of this refined product is high-value product, with refined product sales often done in Arizona, Colorado, New Mexico, and Utah.
St. Paul Park is a different story. Situated just outside of Minneapolis and St. Paul, the refinery has tremendous market share in the region. Over 60% of the St. Paul Park refinery end product is sold into this market through its SuperAmerica gas stations. This asset has historically been run exceptionally well as it's changed hands a few times.
WNRL is shown in the above chart. I don't think there is anything particularly unique about WNRL in the logistics space. In September, the company paid WNR $195m in cash and $15m in WNRL units for legacy NTI assets, including 4 million barrels of storage capacity, a light products terminal, a heavy products loading rack, certain rail and barge facilities, certain other related logistics assets, and two crude oil pipeline segments and one pipeline segment not currently in service, each of which is approximately 2.5 miles and extends from the St. Paul Park to its tank farm in Cottage Grove, Minnesota. WNRL also entered into a 10-year terminalling, transportation and storage services agreement with minimums.
Overall, the legacy assets are geographically diverse and relatively strong, in my view.
Tesoro & WNR Combined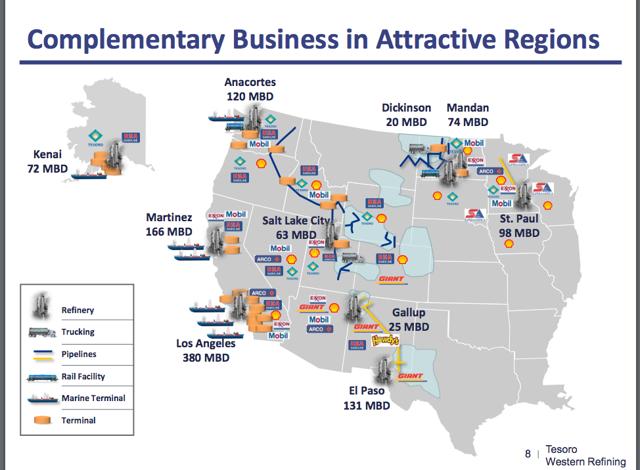 Source: TSO IR
Legacy Tesoro is quite a bit larger, with seven refineries and roughly 900 MBD in capacity. Tesoro has strong positions in Los Angeles, Salt Lake, and the Pacific Northwest. The company markets its products under several brands, including Mobil, Shell, Exxon, ARCO, USA Gasoline, and Tesoro.
Over the past five years, Tesoro has grown its retail network nearly three-fold, boosted its refining capacity by 31%, increasing its refining complexity, and taken its integrated sales from 31% of refined product to 94% of refined product, capturing more value along the chain.
As we can see in the above chart, WNR's assets will be complementary from a geographic perspective. Like Tesoro, WNR runs mostly an advantaged crude slate.
Admittedly, I am not close as intimate with Tesoro's assets, as I have simply not spent years following the company as I have with WNR and the legacy NTI assets. However, Tesoro has grown its business significantly over the last few years, and it appears that it runs its assets well.
Strategic Rationale Sound
Refining M&A tends to have logical strategic rationale, and the Tesoro/WNR deal is no exception. Management has estimated $350-425m in potential synergies.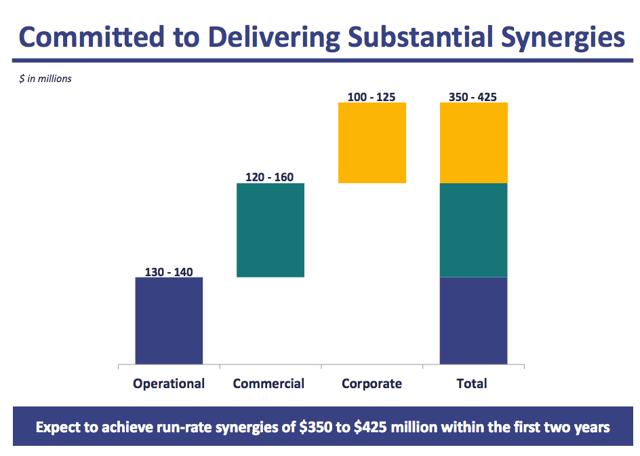 Source: TSO IR
Given the breakdown (shown above), it looks like the Tesoro has identified a high level of tangible synergies. Even in peak earnings year like 2015, these synergies would have increased WNR's adjusted EBITDA by 30%. Tesoro will be able to significantly increase the value of the legacy WNR assets, and therefore, we should see value created for existing Tesoro shareholders and Western Refining shareholders who elect to receive stock.
Capital Allocation Policy: High Return Thresholds and Dividend Growth
As noted before, I am not as intimately familiar with the Tesoro management team, but its overarching capital allocation policy seems logical and likely value creative. The company targets 20% IRRs for refining, and 15% IRR is in logistics and marketing. This seems reasonable: refining assets require high capital spending, and with the market supply constrained, firms are able to earn higher returns. Logistics and marketing assets are much more competitive, and I would argue that a 15% IRR in these spaces is very strong.
When it comes to returning cash to shareholders, Tesoro targets a 10% annual dividend increase and is "opportunistic" when it comes to buybacks. Given that the WNR acquisition will be made mostly using stock, I expect management to be slightly more aggressive on the buyback front.
Should WNR Shareholders Take Cash or Stock?
This decision is never easy, and this depends greatly on the individual shareholder's circumstances. Only 10% of the equity value can be paid in cash ($404m), so inevitably, many will have to take stock.
The answer is easy if you want to take down refining or energy exposure: take the cash. If I were looking to maintain a position in the refining space, I would take stock. Tesoro seems to be run reasonably well, and management sounds like it thinks about capital allocation in the right fashion. I think Tesoro is paying a reasonable price for WNR, and thus this acquisition is likely to create value for shareholders over the long term.
Disclosure: I/we have no positions in any stocks mentioned, and no plans to initiate any positions within the next 72 hours.
I wrote this article myself, and it expresses my own opinions. I am not receiving compensation for it (other than from Seeking Alpha). I have no business relationship with any company whose stock is mentioned in this article.