The bond buyback argument have been present in almost each article about Ocean Rig (NYSE: ORIG) for quite some time. I was not much surprised that my recent argument that Ocean Rig is rallying in sympathy with DryShips (NYSE: DRYS) was met by a number of calls to look at bond buybacks. Instead of burying my answer somewhere in the comment section, I decided to present it to all readers.
Here's the chart that accompanies the bond buyback argument: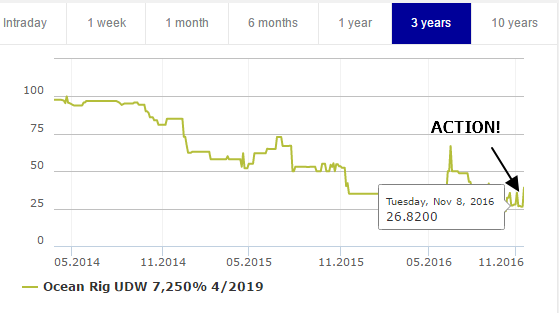 Source: Borse Frankfurt
The bond buyback theory is simple. Ocean Rig will buy its bonds at a massive discount with cash on hand, solving maturity problems and later negotiating with banks.
Term loans mature in 2020 and 2021, so there will be plenty of time to deal with banks. At the same time, once Ocean Rig eliminated the bond problem, it will be free to operate for three years without having to deal with maturities.
This looks very elegant at first glance. In fact, one might wonder why the company has not bought all its bonds back already and solved the problem. However, it is not so easy as it seems.
The company has already addressed two important things: delayed the newbuilds and solved the problems with Apollo facility. While the newbuild deal solved the problem for the time being, it came at a cost of $198.5 million. The Apollo solution was positive, as the mandatory prepayment was decreased (although by undisclosed amount) and the company lost ownership of the rig in exchange for the release from the corporate guarantee under the credit agreement.
However, after these moves were made, there's little Ocean Rig can actually do. The company has previously syphoned $180 million of precious cash into Ocean Rig Investments, and used cash to buy back its shares from DryShips and to buy Ocean Rig Paros for $65 million.
On the debt buyback front, the company worked with the 2019 unsecured bonds - the ones that are not a problem for Ocean Rig now. Ocean Rig can of course continue to repurchase the 2019 bonds at a deep discount, but this will raise eyebrows of senior lenders. Senior lenders are also not friends to each other, as money taken away to repurchase 2017 bonds will hurt creditors under the term loans.
Given the backlog situation and the absolute lack of new contracts, Ocean Rig is more than likely to breach covenants somewhere in 2017, so it will have to talk with all its creditors. In fact, Ocean Rig creditors approached the company themselves, which was made public in the second-quarter report and caused a massive drop in the company's shares.
In my view, the bond buyback theory proponents fail to acknowledge the diverse nature of creditors' interests and the fact that this can only be addressed in negotiations. The moment where the company could have just made a total debt buyback have passed; it will be impossible now.
I noticed that a theory of driller's omnipotence in negotiations with banks is growing in popularity. Trying to reassure themselves, investors believe that banks will do everything not to force a company into bankruptcy as it will lead to big losses and that such arrangements will for some reason save ordinary shareholders.
It is true that banks don't have neither expertise nor intention to run businesses, however the shareholder part of the argument is pure wishful thinking. Banks have no obligation to save common shareholders and will demand as much concessions as they can in their quest to save money.
Ocean Rig's case is complicated by the fact that various creditors have opposite interests. Bondholders would ideally like to see company spending cash buying their bonds on maturity, while term loan creditors want to keep as much cash in the company as they can because no one knows when the deepwater market rebound will happen.
In this sense, recent moves (share buyback, rig purchase, deal with the yard, junior bond repurchases) hurt all senior creditors as cash was syphoned out of the company. This is why creditors approached Ocean Rig - they likely wanted to start negotiations before the company can do another deal that will hurt their interests.
All in all, don't expect that the company can maneuver out of the current situation with the sole help of bond buybacks. The company can continue to buy junior bonds at the open market, further enraging senior bondholders. However, it will have to enter with negotiations with senior lenders in any case.
All I said above does not mean that Ocean Rig shares cannot have upside in the interim. Technical factors and investor enthusiasm often drive share prices until the restructuring decision or some other important catalyst is made public.
In fact, some stocks manage to rise significantly on combination of technical factors and rumors, which turn into a self-fulfilling prophecy. However, in the long run, fundamentals always prevail. I'll finish this article with the chart of DryShips, which I believe was the main reason of recent interest to Ocean Rig: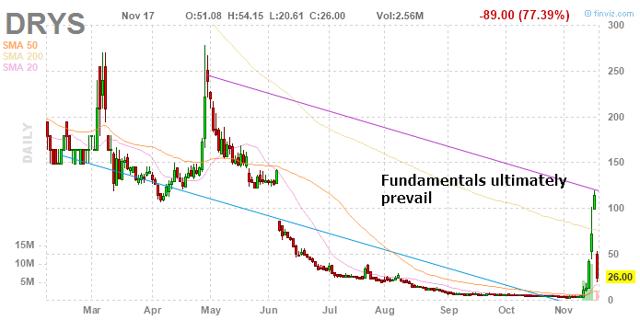 Disclosure: I/we have no positions in any stocks mentioned, and no plans to initiate any positions within the next 72 hours.
I wrote this article myself, and it expresses my own opinions. I am not receiving compensation for it (other than from Seeking Alpha). I have no business relationship with any company whose stock is mentioned in this article.