If you want to look foolish I would suggest that you start making public predictions on where the price of oil (NYSEARCA:USO) is going to go. Or at least that is how most of us would look if we decided to try doing it.
For a long time Astenbeck Capital's Andy Hall made an incredible living by betting big dollars on where he thought oil prices would go.

Amongst oil traders Hall is referred to as "God." They don't call him that because he is just "OK" at what he does.
Hall began trading in oil back in 1982. That means that he has over 30 years of experience studying these markets. More importantly he has successfully made his living by predicting where oil prices are going. In fact, he has gotten very wealthy doing so.
His most highly celebrated accomplishment was predicting both the oil spike of 2008 and the subsequent crash. Profiting from both sides of that trade is pretty impressive.
Hall personally made $100 million in each of 2007, 2008 and 2009 because of those calls. He had to take his 2009 profits in the form of an increased ownership stake in the firm he runs because President Obama wouldn't allow his employer Citigroup (which had accepted a huge taxpayer bailout) to cut him a check.
Those three years were no flash in the pan. They were the continuation of a long run of success.
From 1997 to 2009 when Phibro (the trading unit that Hall ran) was sold by Citigroup to Occidental Petroleum, the business unit generated $4.4 billion in profits. Perhaps even more impressive, Phibro was profitable in 80 percent of the quarterly periods over that time. That shows incredible consistency and the ability to call changes in the oil market in both directions.
Since 2009 Hall has been managing Astenback Capital. In 2014 he sold off his long oil bets in September and instead went long the US dollar (which then skyrocketed) allowing him to post a profit while oil collapsed.
Since Early 2015 - Long And Wrong
In early 2015 Hall's really long run of success came to an end. Shortly after oil collapsed Hall became very bullish. He was wrong.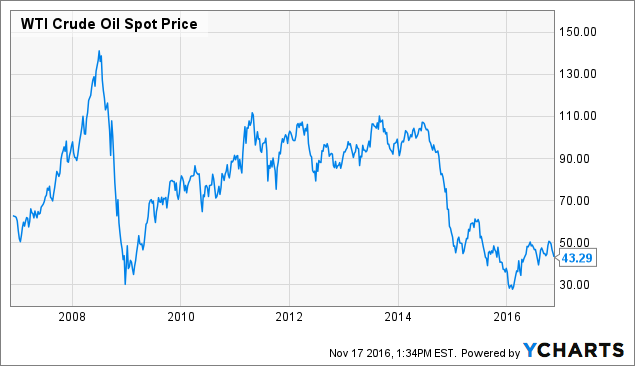 WTI Crude Oil Spot Price data by YCharts
Hall believed that the drop in oil prices would quickly lead to a massive decline in drilling in the United States. With half of U.S. production coming from shale oil which exhibits extremely high rates of decline Hall believed that drop in drilling would cause a rapid production response.
That has happened as he predicted.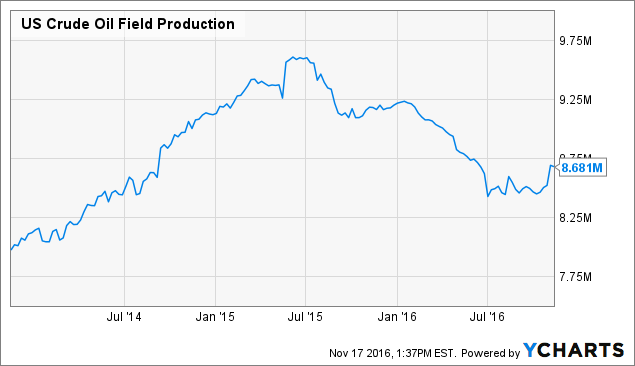 US Crude Oil Field Production data by YCharts
Hall believed that the production decline combined with a strong global oil demand response to low prices would quickly sow the seeds for an oil price recovery.
That has also happened as Hall predicted.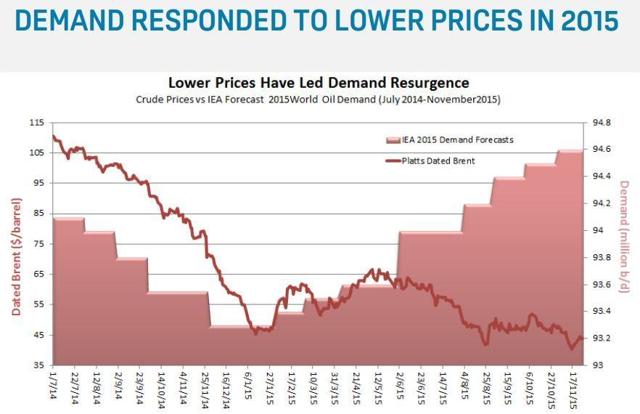 Source: Platts
Normally two out of three ain't bad. In this case it was.
Where Hall slipped up was in what he thought OPEC could and would do. Like many observers Hall was surprised that OPEC would ramp production up into an already oversupplied market. In fact Hall was surprised that OPEC could even able to increase production if they wanted to.
They wanted to, and they did.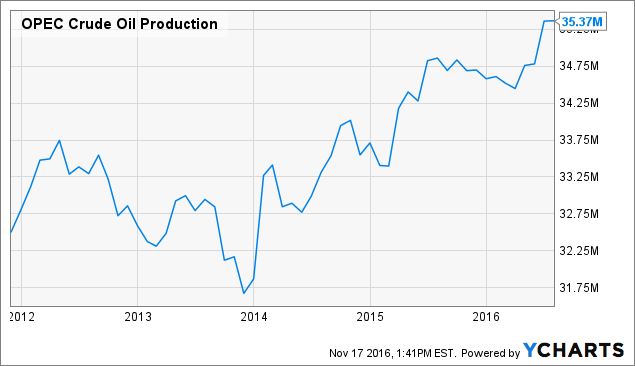 OPEC Crude Oil Production data by YCharts
OPEC adding almost 3.5 million barrels of production from early 2014 is the key reason that oil prices still flounder. If OPEC had just kept production flat I believe we would be looking at $100 oil today.
What Hall Is Saying Today
These days Hall is still bullish on oil prices. In his most recent letter he indicated that he doesn't believe that OPEC even needs to cut in order for oil prices to rise.
"As oil prognosticators fret over whether the cartel will reach an agreement on how to cut production, almost unnoticed, the global oil market has moved into balance. This has happened despite the return of some previously shut in production from Libya and Nigeria."
As evidence to support his opinion Hall points to the fact that inventory movements are telling a very different story in 2016 than they were a year ago. Particularly that U.S. oil inventories did not grow in October despite it being a month of maximum refinery turnaround activity. When those turnarounds are completed increasing refinery demand should increase by 1 to 1.5 million barrels per day and create surprisingly large draws from U.S. oil stocks.
If Hall is correct, that would make now the perfect time to be getting long oil.
OPEC has been the thorn in Hall's side since early 2015. Perhaps at their upcoming meeting they will decide to do something to support the price of oil and finally let this "God" make some money.
About The Superinvestor Bulletin
The ideas that make up our portfolio are currently ahead of the S&P by 8.63% on average since inception. Monday morning we will release our next Superinvestor idea, this time a company that is the focus of a world class activist.
Please note that on December 1 our subscription rate will increase. If you are interested in our service please do so before that increase goes into effect. If you want to take free trial of our service you can do so here.
Disclosure: I/we have no positions in any stocks mentioned, and no plans to initiate any positions within the next 72 hours.
I wrote this article myself, and it expresses my own opinions. I am not receiving compensation for it (other than from Seeking Alpha). I have no business relationship with any company whose stock is mentioned in this article.