The housing numbers for the month of October came in pretty strong. Let me start by showing you a picture that got the attention of traders very quickly after the release. It shows the month-on-month percent change of housing starts.

Month-on-month growth is at the highest levels since 1983. At this point I am going to spoil the fun. This number is useless. It doesn't say anything important. The same number in 1983 happened in the midst of a recession. Every recession has numbers like these because it shows that numbers are more volatile. I'm not implying that we are in a recession, I am just saying that month-on-month numbers are not valid. Ignore them.
The good news is that year-on-year growth of housing starts is also very strong. Current numbers are more than 23% above last year's numbers. Overall, these numbers are rather volatile. However, if these numbers hold, we could see some serious gains amongst homebuilder stocks (SPDR S&P Homebuilders ETF XHB) as you can see below.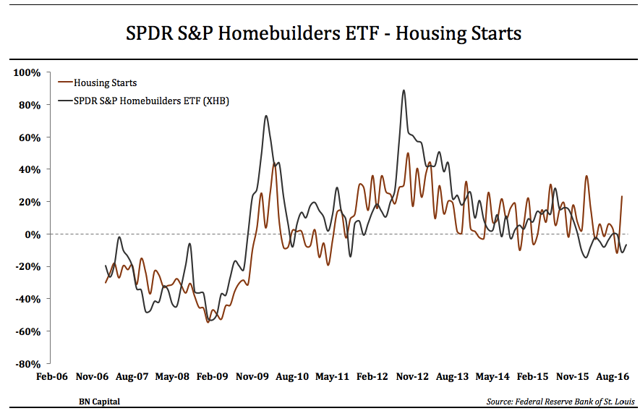 One must know that housing starts count every single 'project'. Every apartment counts as a new start. Therefore, I always look at building permits. Building permits are often ignored by traders but I can't say enough how important this indicator is.
Building permit growth declined a bit. October growth is at 4.6% after growing 8.5% in September.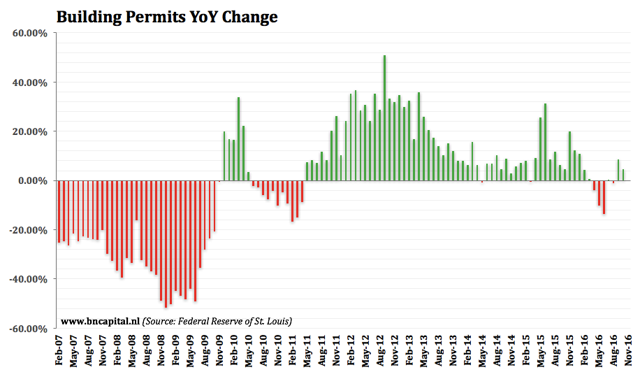 Even slower building permit growth means that homebuilding stocks have a lot of upside potential. Homebuilding stocks are contracting since 2015 on a year-on-year basis.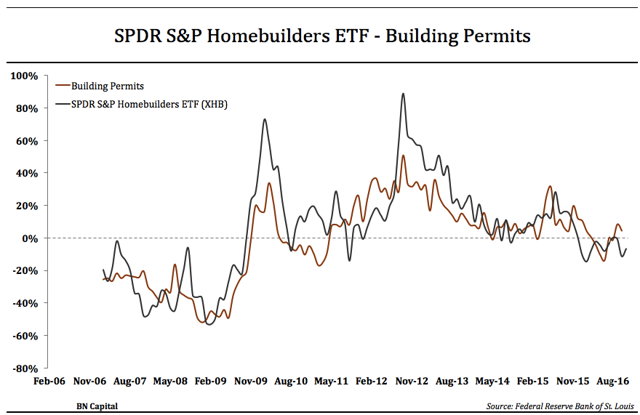 I like the latest housing numbers. Housing starts are very strong on a year-on-year basis which supports homebuilding stocks. Building permits are growing too but at a slower pace. I bought some more homebuilding stocks because I believe that these numbers will push stocks higher. Especially the companies that actually build companies like CalAtlantic CAA.
Many thanks for reading my article. Please leave a comment below if you have questions or remarks.
Disclosure: I am/we are long CAA.
I wrote this article myself, and it expresses my own opinions. I am not receiving compensation for it (other than from Seeking Alpha). I have no business relationship with any company whose stock is mentioned in this article.