It's tough these days operating in the Personal Products industry of the Consumer Goods sector. Companies with brands with rich histories of producing returns are finding consistent growth hard to achieve. The challenge is finding new markets for traditional products - and innovating with new products to capture the imaginations of consumers in tried and true markets.
This is the environment that Colgate-Palmolive Co. (NYSE:CL) and those of its ilk operate in. Colgate-Palmolive focuses on oral care, personal care, home care and pet nutrition, and sells its products in more than 200 countries and territories globally. The Company's leading brands include Colgate, Irish Spring, Sanex, Ajax, Soupline, Palmolive, and Hill's Science Diet, as well as many others.
Here are a few things to consider when performing due diligence on Colgate-Palmolive as a possible stock purchase:
Net sales
A decrease in Colgate-Palmolive's Q3 2016 net sales is a troubling sign for investors considering plunking down money for its shares. The company's global net sales were $3,867 million in Q3. This represents a decrease of 3.5% in comparison to Q3 2015.
Net sales (or 'real sales' so-to-speak) produced by a business, indicates actual funds it will get and bank, as deductions are stripped away to come to this figure. Investors get a true sales picture with net sales, and falling net sales are a red flag concerning an entity's operations.
Another company in the Personal Products industry is Kimberly-Clark Corporation (NYSE:KMB). Its Q3 2016 net sales were $4.6 billion. This represents a drop of roughly 3% versus the prior-year period.
The Procter & Gamble Company (NYSE:PG) also operates in the Personal Products industry. Its Q1 fiscal year (FY) 2017 net sales were $16.5 billion. This was unchanged in comparison to Q1 FY 2016.
The takeaway from looking at the recent net sales of these three companies in the Consumer Goods sector is that increasing sales is ever more challenging. Investors must consider this as part of due diligence of businesses in this sector. You can look at technical indicators, and a host of other metrics, but it befits you as an investor to not ignore net sales growth or lack thereof. Carefully consider a company's ability to increase sales revenues and increase profits.
Gross profit margin
The point here is ascertaining how well the company is controlling its costs. Is Colgate-Palmolive transforming its sales into net income?
Colgate-Palmolive's gross profit margin was 60.1% in Q3 2016 in comparison to 58.7% in Q3 2015. So, we see an improvement here in Q3. However, revenue generation didn't drive this increase in Q3 - a reduced spending budget drove this increase. The company stated in its October 27, 2016 press release that, "This increase was primarily driven by cost savings from the Company's funding-the-growth initiatives and the 2012 Restructuring Program, and higher pricing,…"
It's commendable that cost savings measures are part of Colgate-Palmolive's strategy. Cost savings as a continuing aspect of a company's operating plan is always good. Nonetheless, it's a slippery slope to rely on gross profit margin growth from cost savings and price increases only. Growing revenues while controlling costs (with strategic pricing) is the best avenue to take.
You can only raise prices so much before the market won't bear it anymore - consumers begin to balk at buying a company's products. Sometimes businesses reach a point where it's unfeasible to cut any more costs for a certain period. This is where increasing revenues can step in and help a company maintain and build its margins.
For its Q1 2017, Procter & Gamble (on a currency-neutral basis) saw its core gross margin grow 130 basis points. The company stated that this was because of 190 basis points of productivity cost savings and 20 basis points of volume growth influence. Again, here we are seeing cost savings as the main contributor, all well and good, but revenue, volume growth, needs to be a consistent part of this equation as well, I believe.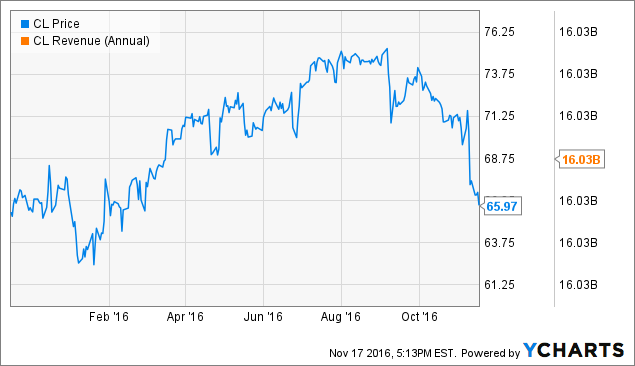 Operating Profit
Colgate-Palmolive's Q3 2016 operating profit decreased to $1,071 million, versus $1,136 million in Q3 2015. Its operating profit margin was 27.7% in Q3 2016 in comparison to 28.4% in Q3 2015.
As an income measure, operating profit lets investors know how much of sales will drop to the bottom line as pure profit for a business. It's also about efficiency regarding a company's operations.
Thus, is Colgate-Palmolive producing profits from its core business? Less so in Q3. Kimberly-Clark's Q3 2016 operating profit was $836 million, versus $779 million in Q3 2015.
Dividends
Colgate-Palmolive's dividend is $1.56 and its dividend yield is 2.34%. Regarding its dividends paid per common share - this has increased for 54 consecutive years.
Despite the demanding arena Colgate-Palmolive operates in, you will get a steady stream of dividends, and increasingly so, with a modest dividend yield. It's something to count on from this company that generally has good cash flow.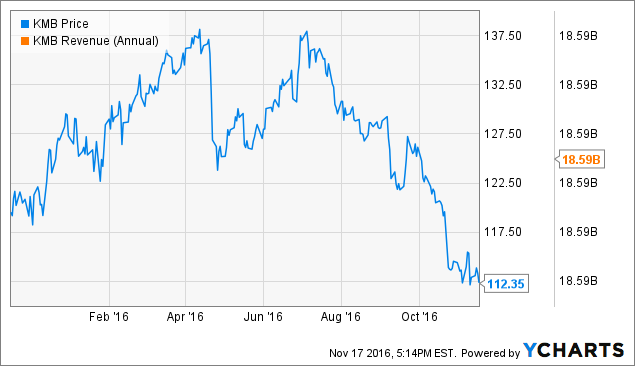 Net cash provided by operations
The company's net cash provided by operations year to date was $2,317 million versus $2,108 million in the comparable 2015 period.
Kimberly-Clark's cash provided by operations in Q3 2016 was $948 million. This represents a 12% increase in comparison to $849 million in the prior year period.
This operating cash flow really gives a measure of a company's financial health. As an industry stalwart, Colgate-Palmolive continues to produce cash from its typical everyday business operations. That's why it can continue its dividend program and dividend increases. Its consistent dividend program is a sign of its confidence in its ability to consistently produce good operating cash flow.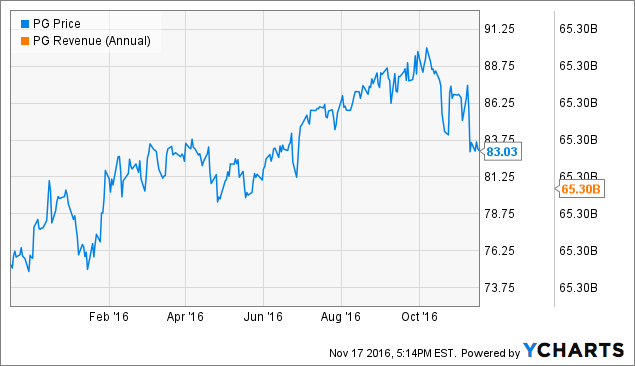 Shareholder returns
For the past 5 years, total return for shareholders from Colgate-Palmolive is +86.5% versus +63.8% for its peer group and +80.8% for the S&P. Total return for the 20-year period from December 31, 1995 to December 31, 2015 is +1021% for Colgate-Palmolive, versus +563% for its peer group and +383% for the S&P.
Conclusion
Colgate-Palmolive is facing some headwinds in its industry as concerns growth. To its credit, the company increased its organic sales in Q3 2016 (sales produced internally from its everyday existing operations - not sales growth because of mergers or acquisitions). So, this is a positive for the company.
It attained organic sales growth in Q3 of 4.5%, within its targeted range of 4% to 7%, despite as it noted, "…a continued difficult global macro environment."
Procter & Gamble had organic sales growth of 3% for Q1 2017. For Q3 2016, Kimberly-Clark's organic sales were basically even with the year prior. Therefore, Colgate-Palmolive is a bit ahead of the curve here regarding two of its competitors.
Also, Colgate-Palmolive is concentrating on its global initiatives to propel growth. This includes its Colgate Natural Toothpaste in China; and its partnership with Alibaba (NYSE:BABA) in China. Furthermore, it is creating a new category in India (Colgate Pain Out - Express Relief from Tooth Pain); and is expanding to a new category in Australia (Palmolive Oil Infusions) with further extension into New Zealand.
Additionally, Colgate-Palmolive is streamlining its worldwide functions for greater cost savings and optimizing its worldwide supply chain and facilities for greater efficiency. Moreover, Colgate-Palmolive still commands the toothpaste space. Its global market share in this category is 43.9%.
However, concerns are there concerning its global unit volume. Colgate-Palmolive's global unit volume decreased 4.0% in Q3 2016. The company's sales growth rate over the past 12 months is -(3.00%). This is the problem right now that Colgate-Palmolive is working diligently to address. Investors must address this also, as part of brushing up on Colgate-Palmolive through their own diligent 'due diligence'.
Disclosure: I/we have no positions in any stocks mentioned, and no plans to initiate any positions within the next 72 hours.
I wrote this article myself, and it expresses my own opinions. I am not receiving compensation for it (other than from Seeking Alpha). I have no business relationship with any company whose stock is mentioned in this article.