| | | | |
| --- | --- | --- | --- |
| | 2FQ17 | 2FQ16 | Change |
| Revenue | 1,088 | 1,130 | (42) |
| Net Income | 161 | 193 | (32) |
| Same Store Sales | -5.4 | -8.5 | 3.1 |
| Store Count | 787 | 589 | 198 |
| Gross Margin (%) | 59.2 | 58.8 | 0.4 |
| Operating Margin (%) | 18.7 | 24.2 | -5.4 |
| Tax Rate (%) | 20.6 | 28.9 | -8.3 |
| Free Cash Flow | -35 | 9 | (44) |
Michael Kors Holdings Ltd. (NYSE:KORS) results for the second quarter of its 2017 fiscal year (2FQ17) show that it continues to experience the adverse effects of detoxing from management's addiction to revenue. In my summary of KORS 1FQ17 results, I outlined a hypothesis that KORS' management had destroyed tremendous value by prioritizing revenue growth over free cash flow (NYSE:FCF), but they had begun the process of kicking its revenue addiction. While it was encouraging to hear CEO John Idol state clearly that repurchasing shares was his number one focus for FCF, recent results suggest getting clean and sober will be harder for KORS than expected. Consequently, management lowered its median guidance for earnings per share (NYSEARCA:EPS) for 2016 to $4.35 from $4.55
Multiple Factors Weighing Down Revenue
Although KORS reported revenue that was slightly better than the guidance it provided last quarter, investors should still view the top line as negative because there was no improvement in the issues responsible for decaying retail same store sales (SSS). SSS declined 5.4% in 2FQ17. SSS has declined in six of the past seven quarters, and the lone quarter of growth was less than one percent. During that time period KORS increased its store count by 43% after deducting the stores added by its acquisition in Asia. I'm not a retail expert, but a consistent downward trend in SSS suggests it is not necessary to spend money building more stores. The chart below illustrates how KORS generated robust SSS until management accelerated store growth.
SSS and Change in Store Count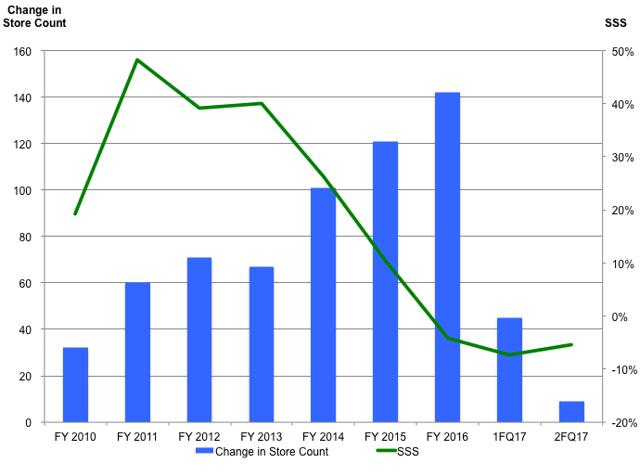 Source: Sec.gov 10-k and 10-Q filings for KORS
Management identified two industry wide issues and one company specific issue responsible for a mid single digit decline in SSS in North America.
Weak mall traffic partially offset by increased utilization of websites
Sharp reduction in shopping by foreign tourists due to stronger U.S. dollar and slower economic growth in Europe
Less promotional activity than most competitors
The chart below provides two useful insights into the underlying causes of weak mall traffic. First, clothing expenditures are highly correlated to overall personal consumption expenditures and the health of the U.S. economy. That point is obvious. The second point is more interesting. The growth rate of expenditures on clothing has consistently trailed the growth rate on total personal consumption expenditures. That means that there is an ongoing long-term trend in consumer preferences that is unfavorable to apparel retailers.
Annual Change in Personal Consumption Expenditures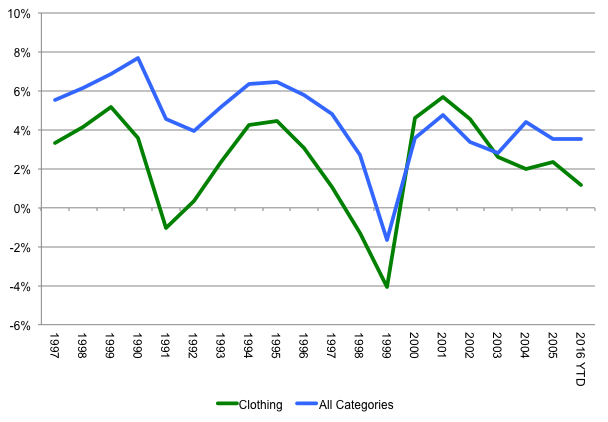 Source: Bureau of Economic Analysis
Europe suffered a steeper drop in SSS than North America. Management believes three issues caused shoppers to avoid malls in 2FQ17.
Uncertainty about Great Britain's decision to exit the Euro Zone
Terrorist attacks in Belgium, France and Germany
Other unspecified geopolitical risks
Investors following KORS closely should have been prepared for the precipitous drop in revenue from its wholesale channel. Revenue from sales at department stores and other retailers fell 18%. While all three regions reported a decrease, North America was the key driver with a 22%. The decline was a natural reaction to KORS decision to cutback on promotional activity. Management expects North America wholesale to be weak in 3FQ17, the critical holiday quarter, but the real question is how department stores will react to KORS decision to further cut promotional activity on Feb. 1, 2017.
KORS plans a three pronged response to combat its declining revenue. First, the company needs to consistently produce fresh products especially given its decision to significantly scale back its promotional activity. KORS' new Mercer line, which is not subject to any promotions or sales discount, demonstrates its ability to convince a consumer to pay full price.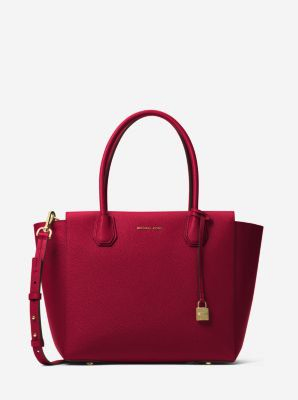 The second element of KORS' revenue revitalization strategy is social media and digital platforms. Management emphasized these efforts throughout the earnings call. KORS relaunched its instagram account in July 2016, and the chart below shows it has a commanding lead over its closest competitors. The retailer launched digital flagships in the United Kingdom and Germany in 2FQ17, and it followed up with platforms for France, Spain, Italy, and Switzerland in 3Q16.
Instgram Followers (millions)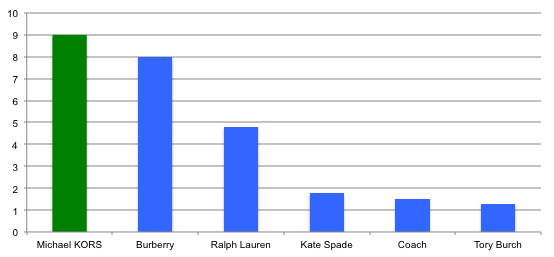 Source: Instagram
Margin Compression
KORS' pre-tax operating income as a percentage of revenue declined significantly due to greater selling, general and administration expenses (SG&A) and depreciation and amortization expenses. These unfavorable variances were partially offset by a 40 basis point improvement in gross margin. A significant portion of the deterioration in operating margin stems from the combination of a 4% decrease in revenue and a 10% in SG&A. Management needs to reverse at least one of those two trends.
KORS' depreciation and amortization expenses increased 22% or $10 million in 2FQ17 as a result of the following:
Acquiring Michael Kors (NYSE:HK) Limited which added 94 retail stores in Asia
Adding 104 retail stores
Expanding KORS' digital platform
Building more shop in shops, which give KORS more control over its products within a department store
Even the lone bright spot in profit margins was somewhat illusory. The improvement in gross margin reflected a shift toward retail because the decrease in that segment was milder than the decrease in wholesale, which has thinner margins. Bottom line is wholesale reported a sharp drop in revenue, retail reported negative SSS and both segments experienced deterioration in operating margin. The chart below shows that KORS' operating margin has been under pressure for several years. Furthermore, management's expectation of 21% for F2017 represents a significant drop from 25% in F2016.
Operating Margin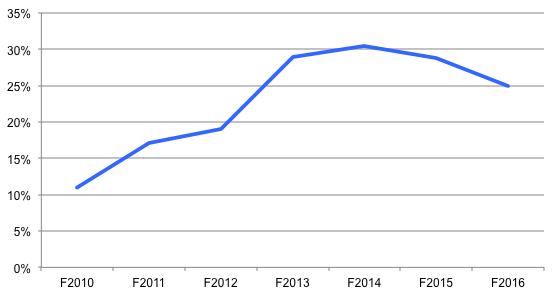 Source: SEC.gov 10-k and 10-q filings for KORS
Conclusion and Valuation
2FQ17 was clearly a bad quarter for KORS. The firm beat the recent guidance it provided because management is fully aware of the challenges facing the luxury handbag retailer. Unfortunately, their ability to remedy the situation is severely limited in the short-term. Revenue will likely stagnate in the next few quarters due to sluggish demand for apparel and KORS' decision to cut promotional activity. Operating margins will be depressed until the company demonstrates an ability to generate sales growth without promotions and reduces its SG&A to reflect its current level of revenue.
Today could be an attractive entry point for an investor who believes KORS will consistently develop compelling products, such as its Mercer line. The table below shows KORS trades at a significant discount to its closest rivals because those analysts anticipate strong growth in revenue and earnings from those firms. Fresh, compelling products would rejuvenate SSS and improve margins. In that scenario, KORS' prospects for revenue and earnings growth justify a price-to-earnings multiple that is significantly greater than its current level.
| | | | |
| --- | --- | --- | --- |
| | Forward P/E | Revenue Growth | EPS Growth |
| KORS | 11 | 1 | -1 |
| COH | 16 | 5 | 8 |
| KATE | 20 | 10 | 30 |
Disclosure: I am/we are long KORS.
I wrote this article myself, and it expresses my own opinions. I am not receiving compensation for it (other than from Seeking Alpha). I have no business relationship with any company whose stock is mentioned in this article.