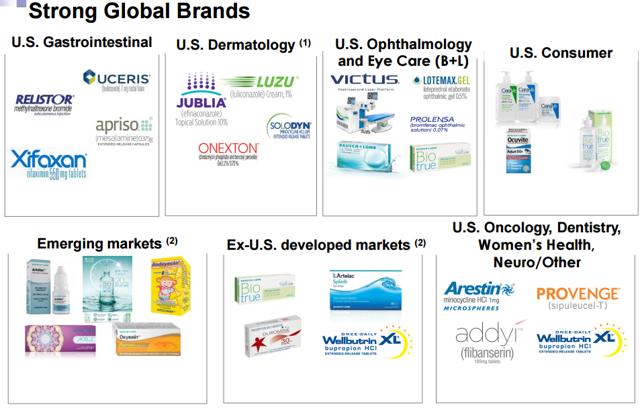 Source: Valeant 2016 Annual Meeting
Why is Valeant failing?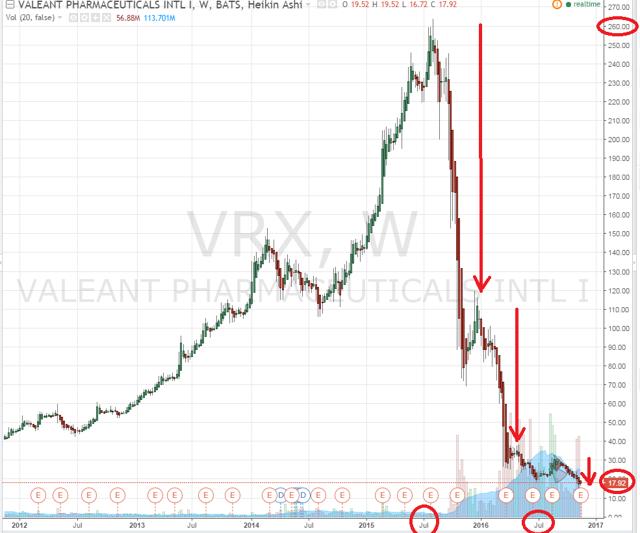 Source: Tradingview (notation was added by author)
Within a year (2015 July to 2016 July), Valeant (NYSE:VRX) fell from $260 a share to $18 a share - a 93% drop. Valeant's Stock has continued to fall, for reasons ranging from delayed earnings reports, bad earnings and debt issues to a SEC/Senate investigation resulting from a criminal probe on drug price hikes. The company has also slashed its revenue guidance, and there is a class action lawsuit pending.
November 08, 2016 : Stock fell about 28% to a low of $13.77 (2016 Q3 earnings: missed estimates and slashed guidance for 2016)
June 07, 2016 : Stock fell about 22% (2016 Q1 earnings: slashed guidance for 2016)
March 15, 2016: Stock fell about 50% (2015 Q4 earnings: slashed earnings guidance for 2016 and raised fears about defaulting on its debt.)
The below chart describes the effects these events had on falling stock:
Total percent change September 2015 to March 2016: -72.5%: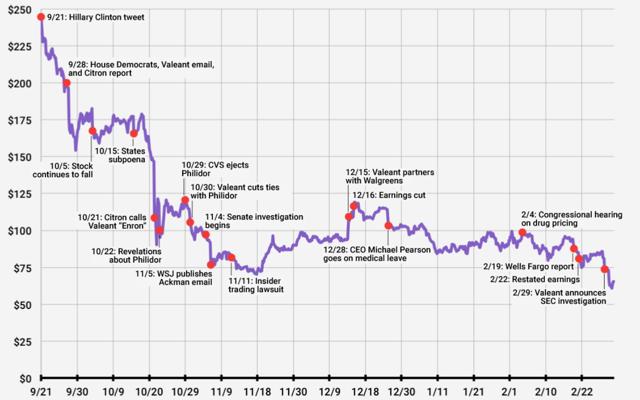 Source: Business Insider
Bulls View: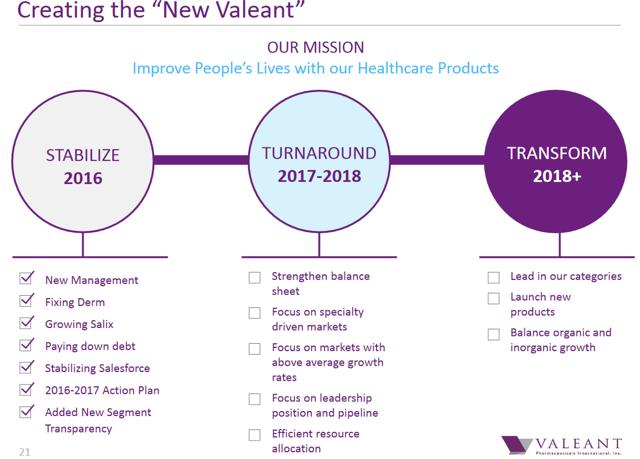 Source: Valeant Q3 Earnings Report
Bulls are of the opinion that the stock has bottomed out. The company is telling its investors that 2017/2018 will be a turnaround for Valeant, and that the focus is now on debt reduction. Since Q2, the company's debt has been reduced by $450 million. The company did make a $1.61 billion permanent debt repayment year-to-date as of November 08, 2016.
On November 01, 2016, WSJ reported that Valeant Pharmaceuticals International Inc. was in advanced talks to sell a large stomach drug business to Japan's Takeda Pharmaceutical Co. for about $10 billion. The deal was to include about $8.5 billion in cash and future royalty payments to Valeant. Valeant shares jumped 34% after The Wall Street Journal reported on this potential deal.
On November 02, 2016, WSJ reported that Valeant Pharmaceuticals International Inc. was exploring the sale of its eye-surgery equipment business; sale of this business could fetch $2.5 billion. Once the company reduces its debt load to a manageable level, it can focus on sales and operations. Insider buying activity triggers a bullish signal; on June 09, 2016, the new CEO bought 202,200 shares at $24.48 a share. Ackman's Pershing Square still holds 6.32% of total outstanding shares. The hedge fund manager, Bill Ackman, recently bought about $37 million worth of call options at the strike price of $60 with an expiry date of January 18, 2019. Although stock is currently trading at less than $20 a share, Ackman thinks that this stock will be trading at more than a $60 share within a couple of years (before January 18, 2019).

Source: Created by Author (data obtained from SEC filing).
The Business Insider reports as follows:
On 9/16, Valeant increased the list price of three products: Atropine Sulfate Ophthalmic Ointment, PrednisoLONE Sodium Phosphate Ophthalmic Solution, and Neomycin-Polymyxin-Gramicidin Ophthalmic Solutions - each by 9.9%, according to data from Medi-Span CDI.
This is a simple way for the company to generate more revenue.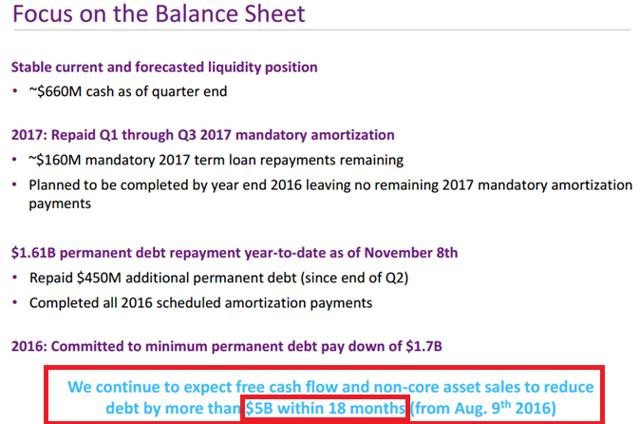 Source: Valeant 2016 Q3 Earnings Report
Valeant has made all of its 2016 amortization payments and expects to make the last such payment for 2017 by the end of this year.
Bears View: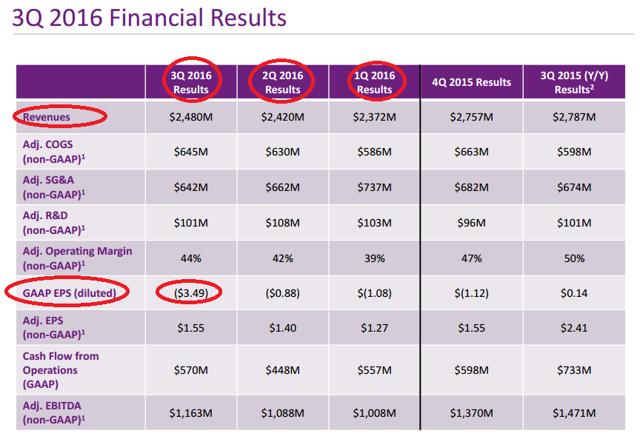 Source: Valeant 2016 Q3 Earnings Report
The company has been losing money, as evidenced by its net loss of $3.49 per share in its 3 rd quarter of 2016 and net losses of $1.08 and $0.88 per share in its first and second quarter of 2016. As well, it is unlikely the company will be able to sell its non-core assets for a fair price, further losing money and leaving it in a must survive situation. As a result of aggressive deal-making under its former chief executive, Valeant has about $30 billion in debt, including $12 billion it owes to banks. One report says that many argue Valeant overpaid for assets and will eventually get crushed under its debt, leaving bankruptcy as the only option.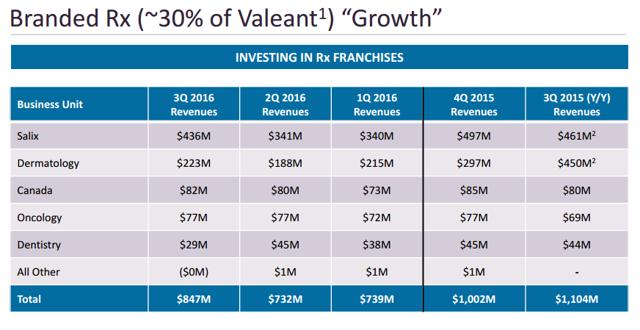 Source: Valeant 2016 Q3 Earnings Report
Salix business unit's revenue has increased by about 28% from the previous quarter, but the company is trying to sell this revenue generating unit. On the top of that, they are looking into selling their eye-surgery business for $2.5 billion. If those scenarios come to pass, the company's yearly revenue could easily decrease by more than $2 billion per year. As per their third quarter earnings report, the company now has three new generic competitors (Ofloxin Otic, Ziana and Zegerid) see below: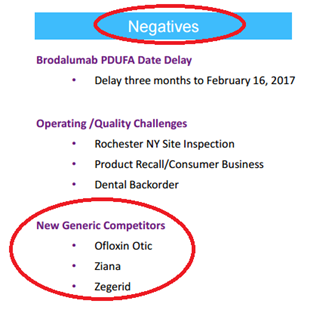 Source: Valeant 2016 Q3 Filing
The Food and Drug Administration has delayed the deadline for making an approval decision on psoriasis drug brodalumab until February 2017.
The company has numerous pending cases (government and regulatory inquires, securities and other class actions, antitrust, intellectual property, product liability, general civil actions):
investigating potential violations of the False Claims Act-Letter from the U.S. Department of Justice Civil Division and the U.S. Attorney's Office for the Eastern District of Pennsylvania
criminal investigation into possible violations of Federal health care laws-U.S. Department of Justice Investigation
Investigations by the U.S. Attorney's Office for the District of Massachusetts and the U.S. Attorney's Office for the Southern District of New York
Pricing issue- Congressional Inquiries
SEC Investigation
Investigation by the State of North Carolina Department of Justice
Request for Information from the AMF
Investigation by the State of New Jersey Department of Law and Public Safety, Division of Consumer Affairs, Bureau of Securities
Investigation by the California Department of Insurance
Investigation by the State of Texas
California Department of Insurance Investigation
Allergan Shareholder Class Action
Salix Shareholder Class Actions
Valeant U.S. Securities Litigation
Canadian Securities Class Actions
RICO Class Actions
Solodyn® Antitrust Class Actions
Contact Lens Antitrust Class Actions
AntiGrippin® Litigation
Patent Litigation/Paragraph IV Matters
Shower to Shower Canadian Class Actions
Afexa Class Action
Sprout Litigation
Salix SEC Investigation
Salix Securities Litigation
Philidor Matters
Credit Rating Downgrade: November 08, 2016 Moody's Investors Service downgraded Valeant International Pharmaceutical Inc.'s rating to B3 from B2 after the company slashed guidance for 2016 and said weakness would persist into 2017. The outlook on the rating is negative; meaning Moody's might lower it again in the near term. The B3 rating is six notches into speculative grade, or "junk" status.
Moody's Senior Vice President Michael Levesque said in a statement as follows:
That is turn is expected to make the company more vulnerable to setbacks or legal liabilities that stem from government investigations of its activities.
Conclusion:
It would appear that the top priority for the company now is debt reduction, a positive strategy. This will improve its balance sheet and allow them to focus on sales and operations. I agree with bears; the company may not able to get a fair price for the sale of non-core assets as they are in a must sell situation leaving them vulnerable to low offers. With reports that suggest that Valeant overpaid for their assets, this double edged sword may be difficult to avoid.
To further complicate matters, there are a number of investigations, probes and lawsuits pending resolution that make it very risky to invest in Valeant at this time. Stock will be highly volatile for another few months at least. The company slashed its revenue guidance three times within a year; and Moody downgraded its credit rating from B2 to B3 (junk status).

Source: Valeant 2016 Q3 Earnings Report
On September 16, 2016 the company increased pricing on some of its drugs by 9.9% as this is always an option to generate more revenue. However, there are a total of 26 pending cases against Valeant ranging from an SEC investigation to Class action law suits; the company said itself in its SEC filing that they cannot predict the outcome or duration of some of these cases.
I would wait for the dust to settle. Based on my analysis, I recommend Valeant as a SELL.
If you are seriously considering buying or shorting Valeant, I highly recommend that you protect your positions with insurance (short position with call option and long position with put option). It is okay to catch a falling knife with the proper protection. Please read my other article "How not to lose money in the Stock Market".
Here are the ETFs with the major exposure to the above mentioned stocks: Vanguard Total International Stock ETF (NASDAQ:VXUS); Vanguard Total World Stock Index Fund (NYSEARCA:VT); PowerShares FTSE RAFI Developed Markets ex-U.S. Portfolio (NYSEARCA:PXF); Vanguard FTSE All-World Ex-US Index Fund (NYSEARCA:VEU); iShares Global Healthcare ETF (NYSEARCA:IXJ); VanEck Vectors Pharmaceutical ETF (NYSEARCA:PPH); SPDR S&P Pharmaceuticals ETF (NYSEARCA:XPH); Schwab US Dividend Equity ETF (NYSEARCA:SCHD)
Disclosure: I/we have no positions in any stocks mentioned, and no plans to initiate any positions within the next 72 hours.
I wrote this article myself, and it expresses my own opinions. I am not receiving compensation for it (other than from Seeking Alpha). I have no business relationship with any company whose stock is mentioned in this article.