Coming off the heels of a notable clinical failure of Gilead Sciences (NASDAQ:GILD) Momelotinib for the treatment of Myelofibrosis, the rumor mill has begun in earnest. The company now firmly in the spotlight is Incyte Corp. (NASDAQ:INCY) for their lead product Jakafi. The article below will discuss the barriers for such a deal to come forth.
Oncology
The field of oncology remains fiercely competitive as many players jockeys for a piece of the ever-expanding pie. The appeal here is rather straightforward, as demand continues to expand, profits should compound at an above average rate compared to other industries. As GILD investors are well aware, as the number of addressable cases declines, so does overall revenues and profits.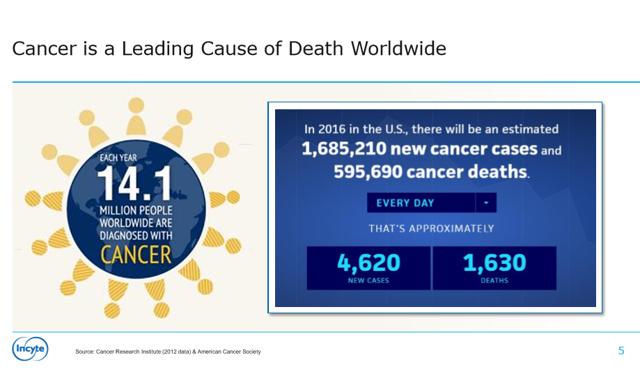 Source
Oncology remains an area of notable weakness for GILD with Zydelig as the only viable product in the field. Clearly, with the favorable growth demographic of the oncology space, additional molecules become a pressing need. John Milligan, the CEO of GILD, confirmed this observation on a recent conference call.
As you know, we are also focused on augmenting our portfolio with external opportunities, particularly in the field of oncology. However, our interest in partnerships and potential acquisitions is not limited to oncology, and we are considering opportunities where there is strong science and where we see the possibility of developing a truly differentiated product.
We've been going through an extensive internal review of programs and opportunities, and an important aspect of our approach is that we remain open-minded, but disciplined. So while we have the balance sheet to execute on multiple opportunities, we will keep the bar high.
The Case for Incyte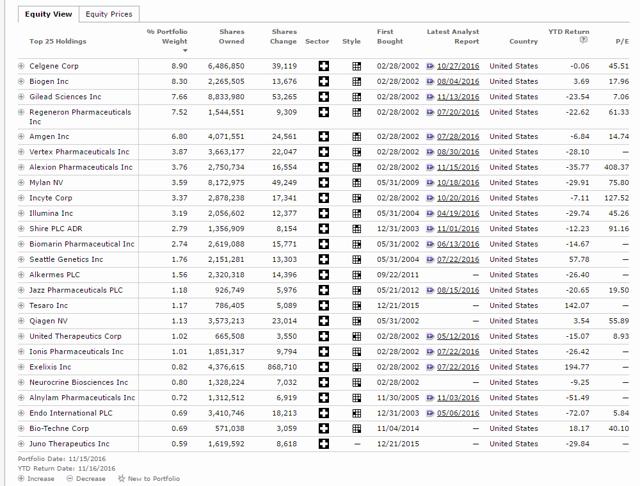 The table above represents the top 25 holdings of the iShares Biotech ETF (NASDAQ:IBB), a favorite proxy for the industry. INCY is the ninth largest holding, with a current market cap of $19 billion. INCY does meet the criteria articulated by Milligan as their two marketed products are both in the field of oncology. Thus, an acquisition would fill a gaping hole in GILD's product lineup.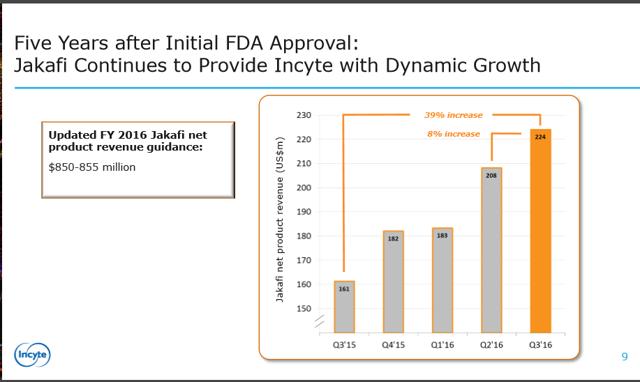 Source
Jakafi continues its sales ramp, yet growth is beginning to slow from its blistering pace. Utilizing the high end of management guidance implies 7% quarterly growth, while still admirable (certainly superior to GILD's quarterly revenue decline), the lead product is not worth a $19 billion price tag. The bulk of INCY's value rests in its clinical pipeline.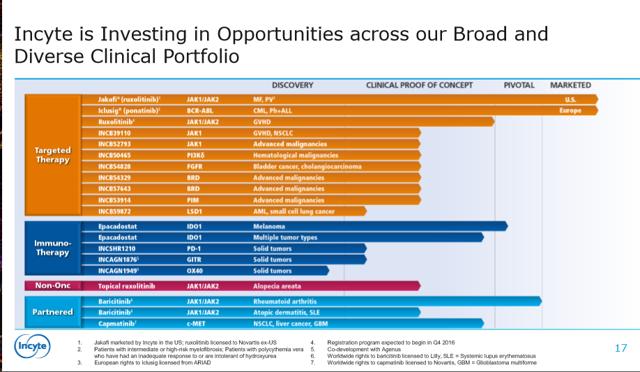 Source
As we can see from the table above, INCY has multiple oncology compounds in Phase 2/3. The addition would instantaneously catapult GILD into the oncology space versus its current relative non-presence.
The key question for GILD is how they envision themselves for the future. A takeout of INCY would not necessarily fall into the realm of a bet the company move, yet it would dramatically alter the area of expertise. A move to gobble INCY would indicate a significant mindset shift for GILD, the days of a smaller nimble player would end. GILD would flex their muscles and wallet much in the same manner as major pharma.
Political Angle
With a new administration in Washington, the steady drumbeat of repatriation of overseas funds grows louder. I often viewed this measure as low hanging fruit for either candidate, with significant bi-partisan support. I suspect the conversation in mid-year will shift to focus on companies that are foreign cash rich versus the recent staggering run put in by the banks. Aside from the usual suspects such as Apple (NASDAQ:AAPL), GILD stands to gain from this measure as they will gain access to over $20 billion and growing stashed abroad.
Thus far, management has shown an affinity for smaller tuck-in acquisitions such as the Phase 1 molecules acquired for the indication of NASH in addition to the co-development deal for Filgotinib with Galapagos (NASDAQ:GLPG). I suspect part of the inclination towards smaller deals is the non-availability of the majority of GILD's cash. Also, management raised debt with a portion earmarked for an ill-timed accelerated share repurchase plan. Perhaps, the purse strings will loosen if a favorable tax rate can be achieved on their foreign cash hoard.
Finbox.io Fair Value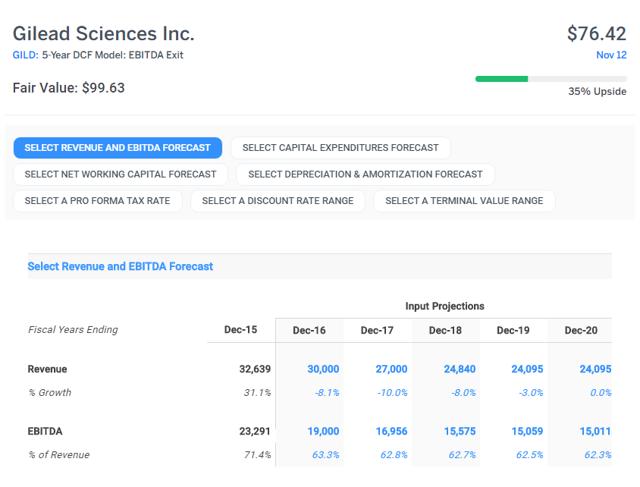 My current fair value on GILD is $99.63 utilizing a discount rate of 11 and an exit EBITDA of 8.5. I have modeled for declining margins as it appears likely the company will need to ramp R&D from here. GILD's revenue should level off with HIV supplanting HCV by 2020 assuming zero contribution from the clinical pipeline which seems highly unlikely.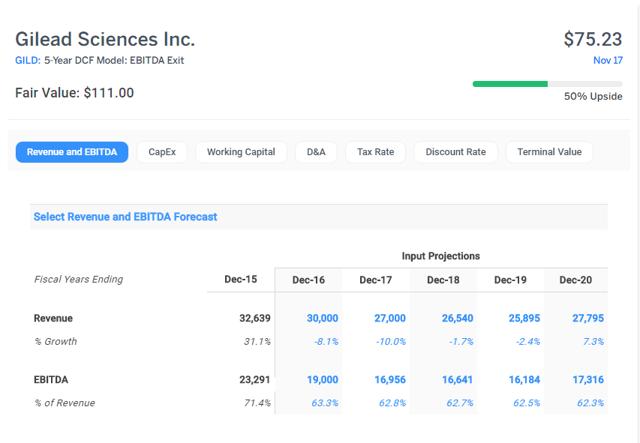 I have adjusted the numbers incorporating full year INCY results in 2018. The discount rate and exit EBITDA remains the same. The case can be made for a much lower discount rate once a clear path for revenue growth is evident. By acquiring INCY, GILD would differentiate its revenue stream away from the declining HCV franchise.
Risk
The significant risk for such a deal is the commercial viability of INCY's pipeline. There is no way to know in advance as to the ultimate commercial viability of the molecules; there are numerous examples of unexpected clinical failures. A notable misstep in any of INCY's late stage assets would negate most of the benefits of the deal while depleting the vast majority of GILD's cash hoard. I suspect in order to acquire INCY, a premium of at least 25% will need to be paid indicating a price tag of $25 billion-plus.
A significant portion of the value proposition of GILD revolves around the company's burgeoning cash hoard. A value-destroying acquisition would severely impair the story going forward hence management's apprehension towards such a deal.
Conclusion
An aggressive move to acquire INCY has merit from a valuation model standpoint. Obtaining INCY, strictly by incorporating their approved products would arrest the vast majority of the steep revenue decline as the decade progresses. I have not included any revenue for Filgotinib not to mention any of GILD's molecules for NASH.
The pressure is on for the current management team, consistent missteps in the lab will generate either a clean sweep by the board or an inspired activist challenge. I will continue to hold my position as I suspect the bottom is in for GILD as described in a recent post. I would like to thank you for reading. I look forward to your comments.
Investors are always reminded that before making any investment, you should do your own proper due diligence on any name directly or indirectly mentioned in this article. Investors should also consider seeking advice from a broker or financial adviser before making any investment decisions. Any material in this article should be considered general information, and not relied on as a formal investment recommendation.
Disclosure: I am/we are long GILD, AAPL.
I wrote this article myself, and it expresses my own opinions. I am not receiving compensation for it (other than from Seeking Alpha). I have no business relationship with any company whose stock is mentioned in this article.