On November 15, 2016, the United States Geological Survey (USGS) released a report titled "Assessment of Undiscovered Continuous Oil Resources in the Wolfcamp Shale of the Midland Basin, Permian Basin Province, Texas, 2016." The USGS issued a factsheet summarizing the report's findings that can be accessed here.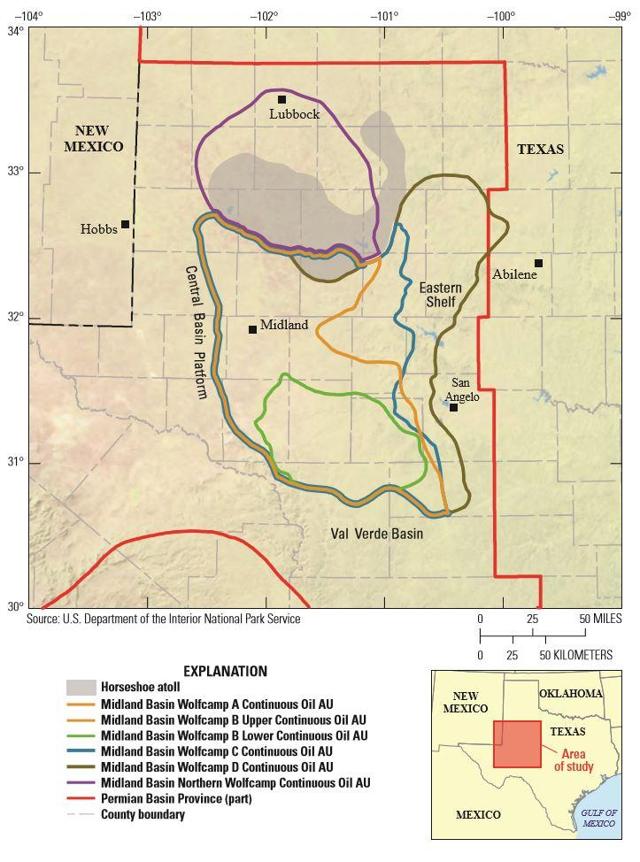 There has been a good deal of media and analyst coverage focused on the "technically recoverable" 20 billion barrels of shale oil - an impressive total. Nearly all positive and of the typical thousand points of light, trees growing to the sky, valuations going higher variety that drove the prior massive capital influx into the Permian Basin recently and into other shale basins previously.
I don't want to pour water on the Permian fire if an argument for profitable recovery can be made by the USGS or other entity. However, while massive amounts of capital has been raised (and banker fees earned), very little in the way of retained earnings exist among America's shale oil producers.
So I will offer a bit of a counter-balance to the euphoria over the USGS shale oil report specifically and the Permian stock and acreage play juggernaut using data in the report itself.
First, while the USGS report discusses "technically recoverable" oil, the USGS is clear to point out that "whether or not it is profitable to produce these resources has not been evaluated." We believe it is an important point, albeit it overlooked by most.
Second, in the summary data tables of the report (see below - sourced from the USGS report factsheet linked to in the first paragraph) broadly distributed by the USGS is a noteworthy but not widely discussed set of facts.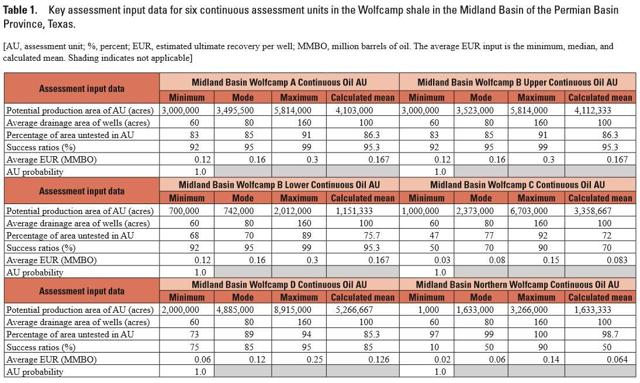 The USGS report puts the average estimated ultimate recoveries (EUR) per well at between 120,000 and 300,000 barrels, with a mean level of 167,000 barrels in each of the top three assessment units (i.e., Wolfcamp A, Wolfcamp Upper B, and Wolfcamp Lower B). Using the maximum EUR of 300,000 barrels of oil with a $20 profit per barrel (after operating costs) for a well costing $6 million to drill and complete is a break-even well (not including costs of capital or acreage). Using the mean is a disaster of the Permian's 20 billion barrels - but this can be fixed with mountains of capital, operating losses, and a plausible story of improvements in technology and a bright future.
The recent high-grading of well drilling and slickwater super-fracs (using ultra long laterals and high proppant loads) that have been made affordable in part by much lower services costs has allowed for some impressive initial production (NYSE:IP) headlines. Many of the E&P companies have also been touting flatter decline curves. Drilling in the best spots and highlighting only the very best of the results is a tried and true formula for stock plays -- such as: Clayton Williams (NASDAQ:CWEI), Concho Resources (NYSE:CXO), Parsley Energy (NYSE:PE), SM Energy (NYSE:SM), Resolute Energy (NYSE:REN), Callon Petroleum (NYSE:CPE), Carrizo Oil & Gas (NASDAQ:CRZO), RSP Permian (NYSE:RSPP), Diamondback Energy (NASDAQ:FANG), Pioneer Natural Resources (NYSE:PXD), Laredo Petroleum (NYSE:LPI), Oasis Petroleum (NYSE:OAS), but cash flows and retained earnings don't lie.
Third, with 20 billion barrels and an average EUR of 167,000 barrels per well, that would result in approximately 120,000 wells being drilled. With a conservative estimate of 3,000,000 gallons of water used on a long lateral, slickwater frac; it would require 360,000,000,000 gallons of water to complete the wells. Using a fourty percent flowback rate, E&P companies would be dealing with 144,000,000,000 gallons or flowback. I suppose all of this is "technically" feasible.
Technically recoverable, but are these oil barrels profitable. Properly accounting for the cost of acreage, cost of capital, drilling cost, completion costs, operating cost, transportation cost, and the other costs that companies occur makes for a bad story and doesn't attract equity.
20 billion barrels of shale oil . . . WOW! BUY, BUY, BUY or THINK, THINK, THINK.
Disclosure: I/we have no positions in any stocks mentioned, but may initiate a short position in CWEI, REN, CPE, PXD, CXO, FANG over the next 72 hours.
I wrote this article myself, and it expresses my own opinions. I am not receiving compensation for it (other than from Seeking Alpha). I have no business relationship with any company whose stock is mentioned in this article.