Neos Therapeutics (NASDAQ:NEOS) missed the Q3 revenue consensus by $0.33 million but beat the EPS consensus by $0.03. The company has flawlessly executed the Adzenys launch so far. Prescriptions have grown to almost 9,000 in Q3 and to over 5,100 in the month of October alone. Heavy couponing has weighed on gross to nets, but that was necessary to secure access early in the launch. The commercial coverage has improved substantially over the last few months and is now in-line with major brands in the ADHD market.
The company has also filed an NDA for NT-0201 this week and is also preparing to file the Cotempla NDA before the end of 2016. If all goes well, Neos should have three products on the market in 2H 2017. Neos had $60 million in cash and equivalents at the end of Q3 and funding remains the only near-term problem for the company.
Good growth for Adzenys in Q3 and early Q4
Neos has executed the launch of Adzenys really well. Prescriptions have grown from 1,066 in Q2 (the launch was in mid-May) to 8,959 in Q3 and to over 5,177 in October (for the week ending October 28). The launch has significantly exceeded the two recent comparable launches.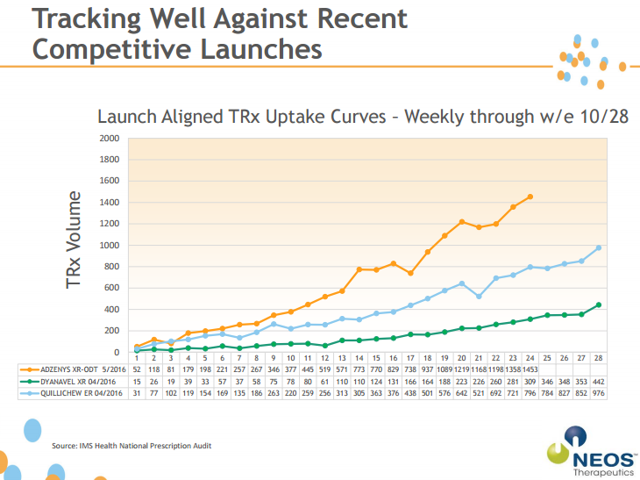 Source: Neos Therapeutics investor presentation
Over 2,800 physicians have written an Adzenys prescription since launch and 75% of prescriptions came from patients switching from other ADHD products. Adult patients accounted for 38% of total prescriptions, which is very encouraging since the product was expected to be the most appealing to the pediatric population. The significant contribution from adult patient prescriptions should help smooth out the seasonal trends (the pediatric part of the market tends to see a significant drop in demand during the summer months).
Gross to net discounts were 70% in Q3 due to the aggressive couponing and the focus on access rather than monetization early in the launch. The company offers a free 30-day supply for new patients and has a program that limits out of pocket costs per prescription to $25 for up to 12 months. Gross to nets should improve as time passes, but the discount is higher than I anticipated (I thought it would be in the 50-60% range) and has negatively affected my net sales outlook for 2017.
The significant discounts should abate with increased commercial access, and the company is doing just that. 83% of commercial lives are now covered, which compares pretty well to the 80-85% range for major brands in the ADHD market. Improved access should lead to higher net sales per prescription in the following quarters, but given the limited out of pocket costs and the free 30-day supply, I assume gross to net discount will be between 50% and 60% in Q4 and through much of 2017.
I am reducing my 2017 net sales expectations for Adzenys from $35 million to $25 million based on lower than expected net sales per prescription, but I am leaving room for better pricing and higher prescription growth. This means the company has enough cash to last through Q3 2017. I have also lowered the cash expense estimate for 1H 2017 by $5 million since the company said expenses should come down from Q2 and Q3 levels (heavy spending was related to the Adzenys launch).
Net sales and cash burn estimates
Net Sales
2H 2016
1H 2017
2H 2017
Adzenys
$3.0
$9.0
$16.0
Tussionex
$5.0
$3.0
$5.0
Cotempla
$0.0
$0.0
$3.0
Total Net Sales
$8.0
$12.0
$24.0
Total Cash Expenses
$48.0
$40.0
$50.0
Cash Burn
-$40.0
-$28.0
-$26.0
Cash At End Of Period
$40.0
$12.0
-$14.0
Source: Author's estimates and calculations
As mentioned earlier, the company has already reached a broad base of high volume prescribers - more than 2,800 through October. The average prescription per physician is still low at around 4 and there is significant room for improvement. I am sure that the majority of physicians are still testing the product and that there is only a small number of physicians who are prescribing Adzenys on a regular basis.
The product's advantages (extended release, improved compliance) should make Adzenys the preferred choice among most physicians and I expect a significant improvement in the number of scripts per physician in the following quarters. Getting the average scripts written to 20 or 30 (which would still be low) and assuming the physician base grows to 5,000-6,000 by the end of 2017 translates to significant growth over the next few quarters.
Cotempla and NT-0201 launches anticipated in 2H 2017 - an opportunity for significant operating leverage
Neos filed an NDA for NT-0201 this week and intends to file the Cotempla NDA before the end of 2016. If all goes well, the two products should be approved before the start of the back-to-school season in 2017. The company intends to use the current sales force to sell all three products, which should create significant synergies and operating leverage in late 2017 and beyond.
The company should have three approved products in the ADHD market and its sales reps will be able to capture a larger piece of the market, especially with Cotempla in the pediatric market, which is split between amphetamine products (Adzenys) and methylphenidate products (Cotempla).
I assume Cotempla's launch should be even more successful than Adzenys' despite the fact that Adzenys has captured a significant portion of the adult market which is dominated by amphetamine products. The basis for expecting a more robust launch for Cotempla is the fact that Neos' sales reps will have established relationships with a lot of physicians and the awareness of Neos as an ADHD-focused company should be much higher by 2H 2017. I assume modest revenue contribution from Cotempla in 2017 since I am not sure when the launch will actually occur (it may be delayed for some reason).
I am not expecting much from NT-0201 in 2017 and think this is the least attractive of the three products. I haven't modeled any revenues from NT-0201 in 2017.
The company to announce the next pipeline candidate in 1H 2017
Neos intends to use its proprietary platform for additional product candidates in multiple therapeutic areas and the company plans to announce its next pipeline candidate in 1H 2017. The company will use the 505(b)(2) pathway, which should (as with Adzenys, Cotempla, and NT-0201) accelerate development time and lower development risks and costs. I am not sure what therapeutic area Neos will target, but it could be in ADHD-adjacent areas or opioid-focused (tamper-resistance products).
Funding remains the biggest near-term issue for Neos
As mentioned in previous articles, funding remains the largest near-term risk for Neos. The company had $60 million in cash at the end of Q3 and based on the cash burn rate and projected sales growth, the company should have enough cash to last through Q3 2017 or Q4 if net sales surprise on the upside. An equity offering seems out of question for the time being, since dilution would be significant given Neos' very low valuation and a new debt raise seems like the only realistic option at the moment.
The company already did a debt deal earlier this year, but the funds raised are not enough to get the company to a cash flow break-even point. I assume management is already working on getting something done and that we will see some kind of a deal in the following months (Q2 2017 at the latest).
Of course, the stock could rise significantly in the following weeks/months, enabling the company to do a secondary offering or to use its $40 million at-the-market offering to raise the necessary capital. Raising $40 million at the current price would translate to around 25% dilution.
Conclusion
Neos has executed the Adzenys launch really well. Prescriptions have grown at a robust pace and Adzenys has outperformed the two recent competitive launches. Neos should have three approved ADHD products by the end of 2017 and there is potential for significant sales synergies and operating leverage in late 2017 and beyond. The company should also reveal its next pipeline candidate in 1H 2017 which could add shareholder value in the following years. Funding remains the most significant near-term risk for the stock.
Author's note: Growth Stock Forum subscribers had an early look at this article, and have access to regular exclusive updates on every stock I am covering. Readers are invited to take a two-week free trial in the Seeking Alpha Marketplace.
Disclosure: I am/we are long NEOS.
I wrote this article myself, and it expresses my own opinions. I am not receiving compensation for it (other than from Seeking Alpha). I have no business relationship with any company whose stock is mentioned in this article.
Additional disclosure: This article reflects the author's personal opinion and should not be regarded as a buy or sell recommendation or investment advice in any way.