The shock impact globally of the Trump win in the U.S. presidential election wasn't on stocks, but on bonds. There was a major global selloff that raised yields significantly in only three days (when bond prices go down, yields go up). Not surprisingly, the largest changes took place in the U.S. Treasury market, which wound up making a year-to-date round trip in rates across the yield curve. The selloff did not take place immediately off a bottom, however. Bond prices hit a low in most of the world in July (the UK was a laggard because of the unique circumstance of its Brexit vote, which delayed peak prices until August). While the drop in prices wasn't as pronounced in most of Europe and was even less in Japan, it was sufficient to turn 10-year yields positive in Japan and take German yields further away from their below zero levels that existed this summer.
Investing returns on bonds depends on price appreciation and the coupon rate. When interest rates become extremely low, or negative as has been the case for a while now in Europe and Japan, the possibility of further price appreciation is limited and combined with a low coupon rate, this means returns will be limited going forward. Even worse, the chance of a significant price reversal that can wipe out returns or turn them negative overnight becomes a real possibility. This is basically what happened with U.S. Treasuries after the presidential vote on Nov. 8. Bond prices rallied all year until July and then began selling back down. Three days after the election, price appreciation for the year was completely wiped out and this was true for maturities from two to thirty years (see second chart below). The yield on the 10-year rallied approximately 40 basis points (a basis point is one one hundredth of a percent) in the three days after the election and became the same as it was at the beginning of 2016.
2016 Yields on Benchmark U.S. 10-Year Treasury Year to Date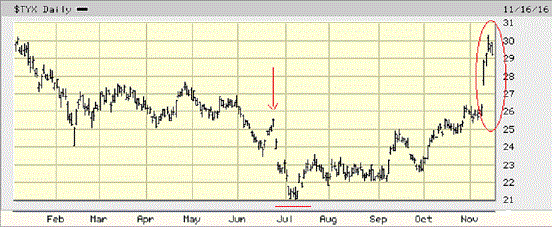 The red arrow points to the Brexit vote in the U.K. The red circle is post-election changes in yield.
2016 Change in Yield for Two-Year, Five-Year, 10-Year and 30-Year Treasuries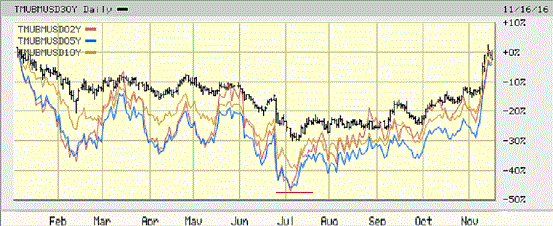 The black line is the 30-year Treasury, the gold line is the 10-year, the blue line is the five-year, and the red line is the two-year.
Gilts in the U.K. (their equivalent of U.S. Treasuries) didn't have quite as severe a sell-off. Yields on the 10-year were around 1.85% at the beginning of 2016 and about 1.40% before the Brexit vote on June 23rd. The big rally that followed Brexit took yields down to approximately half a percent. Yields shot up about 25 basis points to around 1.35% after the U.S. presidential election, so the Brexit price rally in U.K. bonds was almost completely undone. This happened even though the Bank of England lowered interest rates and increased quantitative easing to drive down yields on Gilts. Their efforts have been almost completely reversed, thus foiling their plans. Unlike U.S. Treasury investors, U.K. Gilt investors are still noticeably in the black for 2016.
2016 Yields on 10-Year U.K. Gilts Year to Date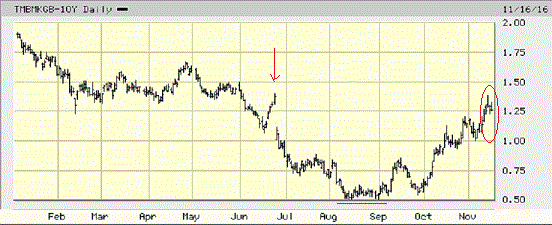 The red arrow points to the Brexit vote. The red circle is post-election changes in yield.
The nominal change in yield on the European continent was similar to that in the U.K. German 10-year Bunds (their equivalent of U.S. Treasuries) were up as much as 30 basis points in the few days following the U.S. vote. The percentage change was much bigger, however, since yields went from 10 basis points to 40 basis points. Germany had negative yields on its bonds as have many other European countries, but yields finally turned and remained positive on the 10-year in early October. Switzerland, which has the most negative interest rates in the world, saw the yield on its 10-year government going from minus 33 basis points the day of the U.S. election to minus 10 basis points a few days later -- up 23 basis points. Not as big a rise as Germany, but about the same as in the U.K.
2016 Yields on 10-Year German Bunds Year to Date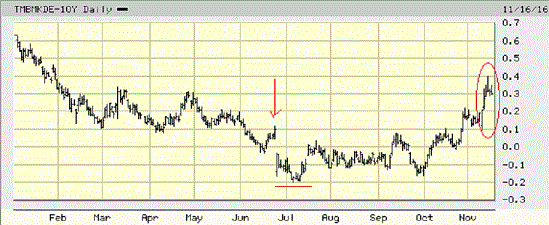 The red arrow points to the Brexit vote. The red circle is post-election changes in yield.
The change of yields in Japan was less than in Europe, but it meant that the 10-Year JGB (Japanese government bond) crossed the zero yield barrier. Yields were up only around 12 basis points, with the yield hitting approximately 3 basis points. Yields on the 10-year were last positive in March and were as low as minus 30 basis points in July. Even though the rise in yields was minor compared to elsewhere, the Japanese monetary authorities were so shocked that on Nov. 17, the Bank of Japan offered to buy an unlimited amount of JGBs at a fixed rate in order to keep yields from rising further. Their response was puzzling, since negative yields are a slow form of capital destruction and will eventually cause a collapse in the banking, insurance and pension industries.
2016 Yields on 10-Year JGBs Year to Date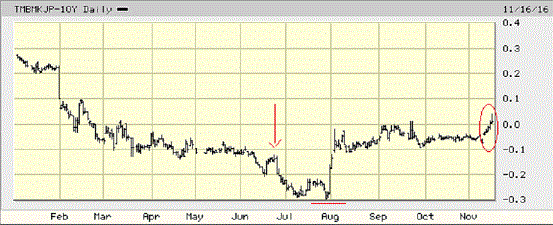 The red arrow points to the Brexit vote. The red circle is post-election changes in yield.
The big global sell-off in bonds (and rise in yields) is not likely a short-term or isolated movement in the market. Yields globally had already bottomed in the summer and were headed up before the election. Some voices, like famed hedge fund investor Ray Dalio, maintain that the 30-year rally in bond prices (and fall in yields) is over. Considering the yields have gone to theoretically impossible negative levels in a number of countries, it's hardly outrageous to claim that they can't go any lower and they need to return to more realistic levels. U.S. bond investors are likely to end the year flat, while stocks will be up. At the very least, bond investors should consider lightening up on their bond positions and moving into stocks and commodities. More aggressive investors can short bonds. There are a number of ETFs that make this easy to do. These include TBT, TMV, TBF, SJB, TTT, DTYS, DTUS, TYBS, TBX, and TYO.
Disclosure: I/we have no positions in any stocks mentioned, and no plans to initiate any positions within the next 72 hours.
I wrote this article myself, and it expresses my own opinions. I am not receiving compensation for it (other than from Seeking Alpha). I have no business relationship with any company whose stock is mentioned in this article.