In my previous article, I explained why I'm bullish on palladium [ETFS Physical Palladium Shares (NYSEARCA:PALL)] and platinum [ETFS Physical Platinum Shares (NYSEARCA:PPLT)], while the precious metals market tries to ride out the uncertainty and volatility in gold [SPDR Gold Trust (NYSEARCA:GLD), Sprott Physical Gold Trust (NYSEARCA:PHYS)].
But it's not easy for a retail investor to get a substantial amount of leverage to the platinum and palladium prices. To simply invest in both metals directly, there is the Sprott Physical Platinum and Palladium Trust (NYSEARCA:SPPP). For a certain amount of leverage, last month I wrote an article about the American platinum and palladium miner Stillwater Mining Co. (SWC). But greater leverage, such as one gets with junior gold mine explorers and developers, is more difficult to find. As I explained in another article:
[T]raders should be aware that it is much more difficult to speculate in platinum and palladium than it is in gold and silver. There are a small handful of platinum and palladium mining companies, but they pale in comparison to the many hundreds of senior and junior gold and silver miners. The market has a lot less speculative interest in them. As far as I am aware, there is not even an options market at all for platinum and palladium ETFs and funds. There is a futures market, and options on the futures, but that market is much less accessible to most investors and also requires much higher amounts of capital to participate in it.
However, I am pleased to be able to report that I have found one junior platinum and palladium mine developer that may offer excellent leverage to the platinum and palladium prices: Wellgreen Platinum (WGPLF).
This company owns the Wellgreen platinum/palladium/nickel project in the Yukon Territory in Canada. Their mineral resource estimate states that the mine contains Measured and Indicated Mineral Resources of 2.5 million ounces of platinum and over 2.5 million ounces of palladium: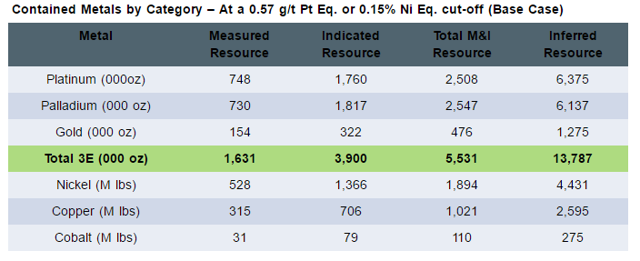 With a current market cap of $78 million, Wellgreen's stock price represents a value of only about $15 per ounce of platinum and palladium in the ground -- and that's not counting the gold, nickel, copper, or cobalt at all.
Of course, with a junior mine developer there is no guarantee that those ounces of platinum and palladium will ever be dug out of the ground at all. Higher leverage always involves risk as well as potential reward.
But I think an investment in a North American platinum and palladium project makes sense on a deeper strategic level, beyond the raw numbers of ounces and their market valuation.
Most of the world's platinum is mined in South Africa, and most of the world's palladium is mined in Russia and South Africa. In the future, it just makes strategic sense that the U.S. government, military, auto manufacturers, and industrial companies will want to have access to platinum and palladium suppliers in the U.S. and Canada.
In fact, according to data from the United States Geological Survey as presented on this web page, the U.S. and especially Canada have been stepping up their share of global palladium production over the past two decades:

In 1996, for example, the U.S. and Canada contributed only 10% of the world's palladium. Last year, the U.S. and Canada produced 17.5% of the global palladium supply. Canada in particular has raised its palladium production from 5,270 kg in 1996 to 24,000 kg in 2015 (355% increase), while global production has only risen from 111,000 kg to 208,000 kg (87% increase).
With these trends already ongoing for decades, and only likely to intensify over the next decade, it makes all the sense in the world for senior global mining companies to be looking to acquire North American platinum and palladium assets. If the palladium price continues to rise as it has recently, and if the platinum price returns to historic levels as global supply cannot keep pace with global demand, a project like the Wellgreen mine will become a very attractive asset for a senior miner to acquire.
Investors who claim a stake in Wellgreen Platinum shares in 2016 could have the opportunity to enjoy some very nice gains in 2017, if this investment thesis plays out as I expect. As I have explained, there aren't very many options for retail investors to gain high leverage to the platinum and palladium prices. Wellgreen stock is one such opportunity that investors may wish to look into.
Disclosure: I am/we are long WGPLF, SWC, PHYS.
I wrote this article myself, and it expresses my own opinions. I am not receiving compensation for it (other than from Seeking Alpha). I have no business relationship with any company whose stock is mentioned in this article.
Editor's Note: This article covers one or more stocks trading at less than $1 per share and/or with less than a $100 million market cap. Please be aware of the risks associated with these stocks.