... its looking quite promising that a solar roof will actually cost less than a normal roof before you even take the value of electricity into account. - Elon Musk
When Elon Musk unveiled the solar roof that Tesla (NASDAQ:TSLA) and SolarCity (OTC:SCTY) had been working on at the end of October, he got everyone's attention, with even critics admitting the tiles looked great.
The team had come up with no less than four different shingle/tile designs, all of which look stunning. Designed to look like normal roofs from ground level, the tiles also have built in solar cells, which will allow potentially the entire roof to produce electricity. All are glass, which Elon noted will actually increase the durability of the roof. The most interesting had to be the Tuscan glass tile, which will no doubt be a big hit in California, where the company is likely to begin sales.

(Photo from SolarCity website)
While the announcement was very exciting, one key element was left out; what was the solar roof going to cost? At the Tesla special shareholder meeting on Wednesday, Musk provided his audience with a few more details, much to their delight.
I think your faith [in the decision to merge with SolarCity] will be rewarded, it's really going to be, I think, some amazing stuff that comes out. I was just meeting with the SolarCity engineering team and I don't want to 100% commit to this yet, but its looking quite promising that a solar roof will actually cost less than a normal roof before you even take the value of electricity into account.

So the basic proposition would be: would you like a roof that looks better than a normal roof, lasts twice as long, costs less, and by the way, generates electricity?

- Elon Musk at Tesla shareholder meeting Nov. 17th, 2016
Of course, it's still not certain what the cost of the roof will actually be, but its likely that Elon is using traditional tile roofs as a comparison. According to HomeAdvisor.com, tile roofs typically cost $700-800/square installed, with an average cost of close to $11,500 nationally.
(screenshot from livestream presentation)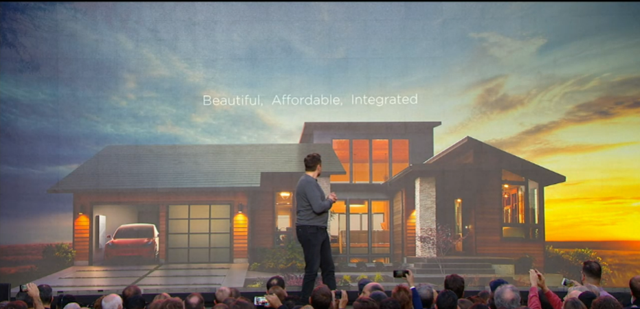 As any Tesla follower knows, Musk has a propensity to make big promises that are hard to fully reach, but he followed up with more details regarding how the company expects to be able to match prices.
The key seems to be the tempered glass that will be used to make each tile. It has the advantage of being cheaper, lighter, and supposedly more durable than a traditional clay or concrete tile. These factors are quite important, because traditional tiles cost a lot to transport due to their weight, and their propensity to break adds extra expense. Musk believes there are big gains to be had simply from these two areas.
So when will homeowners be able to start purchasing this exciting product? Musk said the company would begin rolling out one of the designs in volume next summer, with a new design arriving every three months or so. This is almost certainly an aggressive target, and one that many people hope will be met. Anecdotally, I've already spoken with at least two people that would buy the roof if the cost is anywhere close to their alternative.
Investor Takeaway
Now that Musk has secured the merger between Tesla and SolarCity, he can get back to working with and inspiring his engineering and production teams to deliver on all his promises for 2017. Supposedly, both the solar roof and Model 3 are going to start selling starting in summer 2017. While the company will probably end up pushing back those dates, any substantial volume on both before the end of 2017 would be a tremendous milestone.
The solar roof in particular could be a new catalyst that pushes shares higher, given that its unlikely analysts and shareholders are giving it much value today. I've long believed that Tesla shares are pricing in perfection at current levels, but the SolarCity acquisition diversifies the business and mitigates the downside. Thus I'm planning to hold the Tesla shares I'll receive when the merger completes, and look to buy some more if the price declines substantially.