Earlier this week, Siemens (OTCPK:SIEGY) announced a $4.5 billion all-cash acquisition of Mentor Graphics (NASDAQ:MENT), an Oregon-based electronic design automation provider. Based on a $37.25 per share closing price, the market expects an 87%-88% probability that the transaction will see through to close.
The German conglomerate hopes to integrate MG's product portfolio into its Product Lifecycle Management unit to augment its existing design capabilities. The integration of the two companies is expected to create a market-leading digital industrial platform and address a broader array of customer needs in various destination markets. Siemens estimates that the transaction will be accretive to EPS after three years, with annual EBIT expansion of $100 million by 2020.
The company's acquisition of Gamesa (OTCPK:GCTAF)(OTCPK:GCTAY), a Spanish wind turbine company, is expected to close sometime in Q3 2017 (or what is effectively Q2 2017 for Siemens based on the way it organizes its fiscal calendar). As part of the close, Siemens will need to make the equivalent of a $991 million payment to Gamesa shareholders, which will add leverage to the company's capital structure.
The company's debt-to-equity allocation appears very solidly constructed despite the added leverage that typically accompanies acquisitions that are broadly transformative to the business.
The capital structure model below is based on an estimation of the company's synthetic debt rating using interest coverage ratios (operating income divided by interest expense). The company's cost of debt is estimated based on the current spread of these ratings relative to US Treasuries. At an A1/A+ rating (Moody's/S&P), the company's debt is currently trading around 100 basis points north of US 10-years. Therefore, its debt cost would be somewhere around 3.2%-3.4%, which would increase as leverage rises. Optimal debt design resides at the point at which the cost of issuing debt versus equity is equal. Based on this estimation, we can plot out a representative capital structure curve, shown below: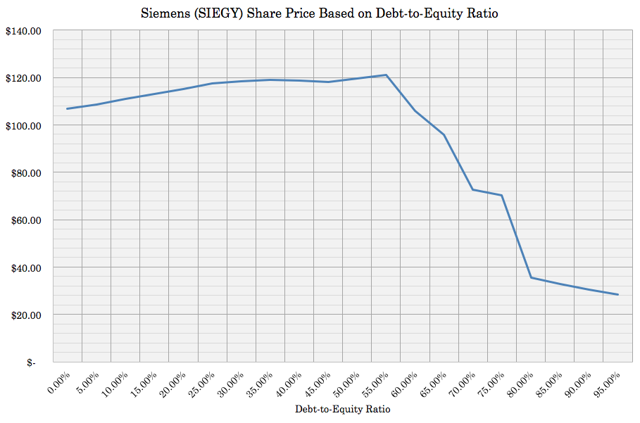 (Source: author)
The above suggests that the company's optimal point is at a debt-to-total capital ratio of about 55%, but progressing to this point would be only very marginally accretive relative to its current ~27% ratio. Adding leverage is risky and has diminishing returns, as running up its leverage to 55% would only project to lower the company's weighted average cost of capital ("WACC") by 20 bps. (WACC is the discount rate used to value the entirety of the company.)
If we look at a WACC versus debt-to-total capital curve - basically an inverse of the above chart, as it was used to price the shares based on different debt and equity combinations - we can see directly that there is little benefit to adding leverage beyond what it already has. The curve is basically flat when the debt-to-capital ratio runs from 30%-55%.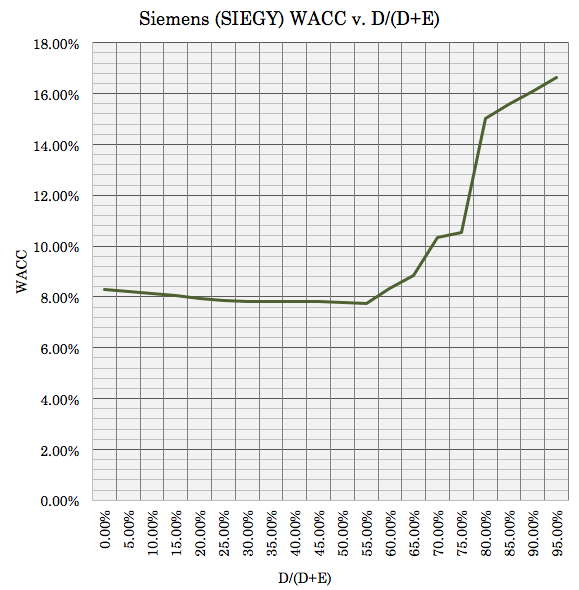 (Source: author)
The company's leverage could also attenuate from a few potentially upcoming positive developments. Seven billion dollars' worth of debt is projected to come off the company's books within the next year. Siemens also has $1.5 billion worth of bonds with attached warrants maturing by mid-August 2017. Share prices are currently 10% above the strike price on these warrants. If this holds, it would be expected that warrant holders would convert these securities into common stock given the ability to purchase shares below market value. This would be expected to dilute current shareholders' interests by 1%, but would be positive to debtholders and provide a cash inflow of around $1 billion.
Moreover, for the upcoming fiscal year, the company is also expecting higher pre-tax margins, largely led by the high margins and strong order flow in its Industrial Business segment. The company also announced on November 10 that it is planning a divestiture of its Healthineers healthcare division (producing a temporary 4% boost for the stock) in the form of an initial public offering. There hasn't been any general timetable fleshed out regarding this development or details with respect to how much Siemens is attempting to raise, although the parent company is expected to remain a majority stakeholder.
Valuation
Siemens' shares are currently cheaper than the average stock on the market. Based on fairly standard market assumptions - 3% year-over-year revenue growth, 11% EBITDA margin throughout the projection period, annual depreciation and amortization expense as 3.4% of sales (and set equal to capital expenditures in equilibrium), an effective tax rate of 26%, no working capital growth, and a 1.8% perpetual growth rate expectation - an 8% cost of equity would discount us back to today's share prices. Over the past six months, I've found that most stocks have generally been getting back to market value when using a 6%-7% cost of equity.
The chart below shows a range of share price outcomes based on annual returns expectations: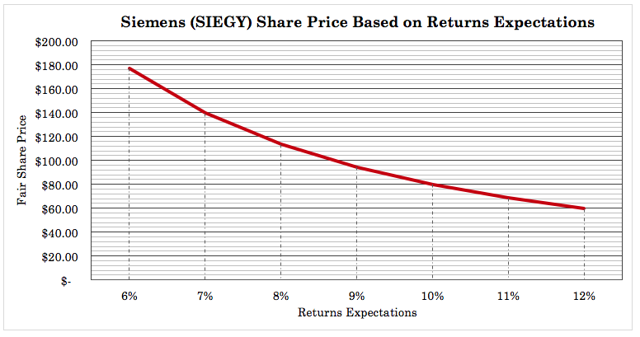 (Source: author)
Recap
The company's purchase of Mentor Graphics is expected to be accretive by the third year post-close assuming integration goes as anticipated and is expected to provide the company with a digital design platform that may be difficult for industry peers to rival. The impact of the MG and Gamesa acquisitions on the company's leverage will likely be modest considering other funding sources coming through the pipeline, such as warrant conversions and a planned IPO of its healthcare business. As a whole, the company's stock remains relatively inexpensive in comparison with the broader market.
Disclosure: I/we have no positions in any stocks mentioned, and no plans to initiate any positions within the next 72 hours.
I wrote this article myself, and it expresses my own opinions. I am not receiving compensation for it (other than from Seeking Alpha). I have no business relationship with any company whose stock is mentioned in this article.
Editor's Note: This article discusses one or more securities that do not trade on a major U.S. exchange. Please be aware of the risks associated with these stocks.