The semiconductor industry in China is firing on all cylinders. So far in 2016, Chinese companies have bid for more than 70 semiconductor firms. In 2015, China's Tsinghua Unigroup initiated plans to buy U.S. memory manufacturer Micron Technology (NASDAQ:MU) for $23 billion, but the bid was ultimately turned down by Micron executives, and in addition, they reportedly expressed doubts that the U.S. government would approve such a takeover.
On July 26, 2016, Tsinghua Unigroup acquired a majority stake in Beijing's memory chip maker Wuhan Xinxin Semiconductor Manufacturing, or XMC. Tsinghua Unigroup then formed a new holding company for XMC called Yangtze River Storage Technology Co. (YRST). It is probable that recent setbacks in U.S. acquisitions had forced Tsinghua Unigroup toward internal mergers.
Following its formation, YRST announced plans to build a 300mm fab, which will be built in three phases and cost $24 billion. The first-phase construction will be completed at the end of 2016, followed by the second phase in 2018 and the third phase in 2019. Capacity is expected to be about 300,000 wafers monthly to produce 32-layer 3D NAND flash chips as early as the end of 2017. YRST will use Spansion's technology to produce 3D NAND chips.
Also in July 2016, we read there were rumors that after the XMC acquisition, Tsinghua Unigroup approached Micron Technology, aiming to ink a licensing agreement to produce 3D NAND flash products. The reason was obvious - Tsinghua Unigroup could save much of the $24 million by using MU's facilities along with access to IP.
MU didn't take the bait. In a regulatory filing made on July 22, 2016, Micron adopted a "poison pill" and announced its board of directors approved a policy designed to prevent an individual or entity from acquiring 5% of the company's outstanding shares.
Now it seems like Tsinghua is not giving up. The YRST fab also will make DRAM memory, and according to an article in DigiTimes,
"YRST is exploring the feasibility of cooperation with three major vendors, particularly Micron Technology."
The NAND landscape
Micron was the second chip vendor to commercialize 3D NAND. In mid-2016, MU began production of its 32-layer (32L) 3D NAND flash memory. Samsung Electronics (OTC:SSNLF) had earlier in the year introduced a 48-layer V-NAND 3D device. Now SK Hynix (OTC:HXSCF) plans to launch the mass-production of 48-stack 3D NAND flash memory chips from the end of November 2016 and the company plans to increase its monthly 3D NAND output from 10,000 units in Q3 2015 to 20,000-30,000 units by the end of 2016.
The competitive nature of the memory business is that companies continue to invest significant sums of money just to maintain the status quo. This can be done by advanced equipment and processes to make devices with smaller line widths, such as Samsung's 48-layer 3D NAND and SK Hynix playing catch-up by introducing its 48-layer 3D NAND six months later. Another way is exemplified by Micron Technology using clever design layouts to make its 32-layer 3D NAND comparable to Samsung's 48-layer 3D NAND.
In the end, nevertheless, all the wrangling and NAND market shares have hardly changed among manufacturers for the past six years, as shown in the graph below.
One reason is that multi-billion dollar capex spends by manufacturers merely have maintained the status quo. I pointed this out in an October 31 Seeking Alpha article entitled "Will Samsung Electronics's 2016 Massive CAPEX Spend Be Devastating For Micron Technology?"
Will the Chinese change the dynamics of the market?
Lee Se-cheol, an analyst with NH Investment & Securities, was quoted as saying:
"…all chip manufacturers agreed to keep Chinese makers from moving into the market. If in the past winners in the chicken game during hard times could take more market share in the subsequent good times, now those lagging behind will be acquired by up-and-coming Chinese chip companies. There is no telling whether and how Chinese companies with strong backing from the government shake up the marketplace."
His analysis is based upon the perception that there has been an implicit agreement among Samsung Electronics, SK Hynix and Micron Technology to keep Chinese makers from entering the market. During the recently ended DRAM downturn (the Third DRAM Downturn - 2014-2016), no game of chicken was waged among the world's DRAM suppliers and no company went belly up from price competition.
In contrast, during the First DRAM Downturn that lasted between 2007-2009, Qimonda went out of business. During the Second DRAM Downturn that lasted between 2011 and 2013, Elpida Memory filed for bankruptcy.
Prior to the Third DRAM Downturn, DRAM manufacturers produced more chips to drive competitors out of business. In a game of chicken, all memory chip makers in the First DRAM Downturn suffered losses. In the Second DRAM Downturn, all four DRAM manufacturers except Samsung recorded losses. In the Third DRAM Downturn, only Micron posted losses.
Should Micron Partner with the Chinese?
With the increase in DRAM prices, Micron's stock has risen accordingly - stock movement started around the same time DRAM prices started rising. The stock has since increased from a low of $9.56 on May 13 to $19.18 (100% growth) at the close on November 16. DDR3 4GB 512x8 increased from a low of $1.47 in May to close at $2.45 (67% growth) on November 16. The chart below shows the timing of the transition.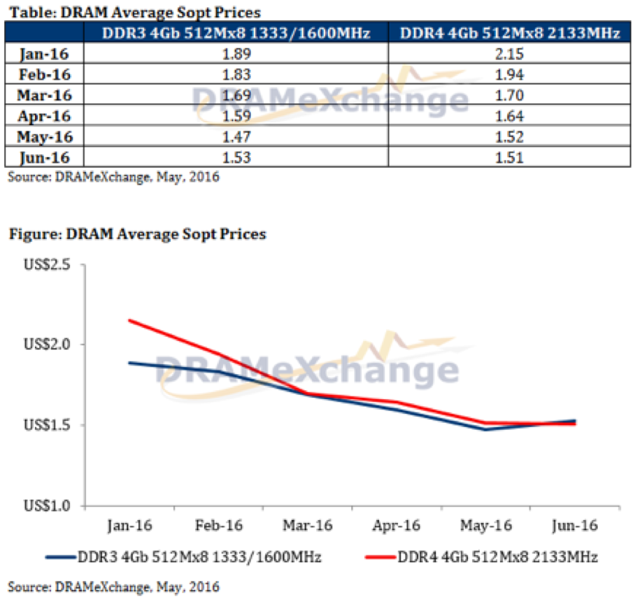 According to Gartner, 2016 will mark the beginning of the end of this slide in PC sales. Worldwide PC shipments are forecast to total 287 million units in 2016, a decline of 1 percent year over year, and shipments are projected to increase 4 percent in 2017, and so DRAM shipments are expected to increase, not only because of the increased PC shipments but additionally from the increased DRAM content of a PC.
Micron decided December 14, 2015, to acquire a complete stake in Inotera Memories for $3.2 billion on December 14, 2015. Inotera is a joint venture between Nanya Technology Corporation (an affiliate of the Formosa Plastics Group) and Micron. Currently, Micron owns a 33% stake in Inotera and Nanya Technology has a 24.2% stake.
The Inotera-Micron deal was supposed be completed by mid-July 2016. However, Inotera reported its first loss in three years - $28.1 million in fiscal 1Q16 - as wafer shipments while DRAM ASP fell. Micron then reported a delay in the acquisition, which may finally close in December. Conversely, for Q2, Inotera's total revenue accelerated by 21% q/q, which was primarily driven by DRAM revenue growth of about 20% to 25% QoQ. The positive financials bode favorably for the acquisition.
Why is this a positive for Micron? It provides upside revenue potential. All of Inotera's DRAM output, now at 20nm, makes up 35% of Micron's DRAM output. Part of the deal means that Nanya will pay up to $1 billion to Micron for 5% of the company in a private placement. But that 5% represents MU's share price of $17.50 on October 10, 2016. The stock is now trading at $19.18, and Nanya is still waiting for Micron to determine the price of shares and size of the investment. But the deal comes at a price. Nanya has the option rights to use Micron's 1x and 1y DRAM technologies.
If there indeed has been collaboration among Samsung, SK Hynix and Micron Technology to prop up the companies to prevent Chinese manufacturers from entering the market, that posture is now out the window, as there will be three new Chinese entrants. MU, being the weakest of the three main competitors, can be the unfortunate victim if its Korean competitors attempt to maintain market share against low-cost Chinese memory products.
Also, the up to $1 billion investment could probably be raised by Tsinghua Unigroup, and at a share price of say $20 per share for a 5% share could raise the offer price to $1.2 billion. As we are not privy to the deal for the transfer to Nanya of Micron's advanced technologies, the deal with the Chinese could be better.
Then of course Micron needs to address the regulatory issues. I noted in a recent Seeking Alpha article that China's rigorous investment strategy is under scrutiny by the U.S. President Obama's administration. U.S. Commerce Secretary Penny Pritzker lambasted the Chinese government's $150-billion plan to expand the share of Chinese-made integrated circuits in the domestic market to 70% by 2025, from 9% now. Based on President-elect Trump's pre-election rhetoric, the scrutiny of Chinese acquisitions will probably extend to his administration. Since this would be a 5% stake, perhaps it may still get approval.
Disclosure: I/we have no positions in any stocks mentioned, and no plans to initiate any positions within the next 72 hours.
I wrote this article myself, and it expresses my own opinions. I am not receiving compensation for it (other than from Seeking Alpha). I have no business relationship with any company whose stock is mentioned in this article.
Editor's Note: This article discusses one or more securities that do not trade on a major U.S. exchange. Please be aware of the risks associated with these stocks.