As humans, we are born with the innate 'want' to have instant gratification. Likewise, as time passes, this want for instant gratification continues to worsen. Moreover, with the advent of technology, normal day-to-day operations (consumption, commerce, entertainment, etc.) continue to get more efficient, worsening this instant gratification we seek.
From cradle to grave, this gratification we seek, hinders our ability to be patient. This isn't good at all - especially as an investor. For as we all know, a key function of successful investing relies on the ability to be patient.
The function of patience is not only a derivative of buying and holding with a long-term horizon, but also the ability to wait for that perfect pitch. As an investor, you have the ability to hold cash - patiently waiting for the market to throw you the perfect pitch. If valuations are too high, why swing now? Isn't it better to wait for the best valuation as a business-minded investor?
Taylor Devices (NASDAQ:TAYD) is a company I've kept my eye on over the past year. In the past I would have loved to own a portion of the business and corresponding cash flows. However, the price was a little too richly valued for my taste. Due to the extended valuation, I put the company on the back-burner - hoping for a pullback.
I kind of forgot about the company after the price kept going up. However, in mid-October, the company reported its first quarter results - which sent the stock price plummeting. Needless to say, I let my maintenance due diligence slip - meaning I was not ready to take a position on the rapid pullback.
I finally found some time to re-value Taylor Devices this past week. I really like the business - they serve a niche market, have a low amount of competition and patents help protect their competitive advantage. Management is also top-notch. The CEO really knows the industry - having more than a handful of patents under his belt. Furthermore, despite the fact that debt is relatively cheap, management prides themselves in funding capex and working capital straight from their cash sources - something I find very valuable. Finally, the company has a significant amount of assets - which could serve as a type of downside protection in a declining economic cycle.
With that being said, the company is likely worth intrinsically more five-to-ten years out from the current market value. Equally the same, my model implies there is marginal upside from the current valuation. However, on an allocation standpoint, I am not comfortable holding a large position in the company, but rather a small, tracker sized position. This reasoning is due to; potential for near-term downside from lumpy revenues, shrinking backlog and expected down-year, implied valuation not greater than 50% and uncertainties over the margin of safety.
Don't get me wrong, the company appears to be a solid buy at today's price - especially if you have a long-term horizon. However, there may be a better entry point in the near-term.
Valuation and Price Target
Logically, it's best to value Taylor Devices on a discounted cash flow basis. Going back to the principals of investing; an expected return on an investment is the sole value of future cash flows discounted over a period of time. To begin, provided below, is pertinent, historical data.

At a glance, the company has seen remarkable top line growth, combined with an expansion of margins. Revenue growth and margin expansion are a function of the same thing - more efficient operational capabilities and larger orders. Moreover, a few years back, the company halted production and moved their equipment to a new - larger facility. Operations were hurt in the near-term, however, after fully moving the equipment, the company quickly revamped production.
A new production facility not only allowed the company to increase their backlog, but operational efficiencies also emerged. Likewise, operating margins did fall in 2014 and 2015 was a transition year - which hindered operations. However, the company is starting to realize operating leverage - not only from a more efficient, larger facility, but also from the ability to take on larger orders - typically commanding better margins.
All was calm on the Taylor Device front until the recent quarter - in fact, if you were a momentum/growth investor, it looked like a solid time to be in Taylor. The party came to a halting stop when the company posted dismal revenues and earnings.
Long Cast Advisers posted a great article explaining what is going on with the company. Basically, the backlog is declining, which has pulled earnings and revenues down. Declining orders isn't something to tread lightly upon. Further, if orders do not pick up, the share price may continue to respond negatively. However, it is in my opinion that declining orders are a short-term issue.
On a long-term basis, the company is in a solid position. There is a significant amount of regulatory tailwinds - providing demand for the company's products. Furthermore, natural disasters such as earthquakes will provide further demand and awareness for the company's product. Finally, as long as defense spending continues to represent a significant portion of governmental spending, there will be demand. What is interesting and something I (and others) are speculating - is the recent, ongoing, production upgrade has haltered orders.
For those who have not kept up with the story, Taylor Devices is currently constructing a 10,000 square foot addition to one of their production facilities. This upgrade will allow the company to increase its product size capability and improve the productivity of their seismic damper product lines. Concurrently, this investment will allow the company to take on new, larger orders, never taken on by the company before - while at the same time increasing the efficiency of their production line - leading to operating leverage.
Furthermore, the company has stated numerous times that the industry is moving towards a new trend of very large dampers for buildings and bridge products. With the addition on this building and its overhead traveling cranes (installed in the last upgrade) the company will be able to build dampers up to 45 feet in length.
What I believe we have here is similar effects of the last production upgrade in 2014-2015. Customers are likely holding off orders until the production facility can handle their larger 'demanded' dampeners. Eventually, the facility upgrade will be complete. When it's fully complete, I am expecting orders to pick-up. In the meantime, Taylor Devices is known to have very up and down quarters - depending on what has been shipped in previous quarters. Investors may be able to catch another weak quarter in the near-term - which may allow for an attractive entry point.
Nonetheless, quarter by quarter results may look lumpy. Similarly, if you are focused solely on the quarter-by-quarter results, you may be blinded to the long-term potential.
In the long-run, I think the company will do well. The below table represents my estimates over a ten-year period.

I am guessing revenues will head south for 2017. The company did state they expect the production upgrade to be complete sometime in the fiscal year, however, I would like to keep the model on the conservative side. Thus, a negative ten percent drop or so assumes orders will stay weak for the time being - yet pick up after the production facility is complete later in the year.
Post-2017, I am expecting revenues to grow marginally, with the big jump in 2019. After 2019, revenue growth will start to pare off, perpetually growing at a 3.00% rate. I'd say this is conservative for the top line. The company has historically done much better than a perpetual 3.00% rate. Furthermore, they have a new operating facility - with a significant amount of growth potential - all combined with major long-term tailwinds. Nonetheless, I would like to keep the top line conservative, despite the former bullish points.
Given the buildout of a new facility and declining near-term orders, I am expecting a contraction in operating margins. However, after 2017, operating margins should pick-up, due to higher margin orders and an improvement in productivity - namely through cost of goods sold. Thus, in the long-term, I don't think 18% operating margins is stretching my assumptions and is likely obtainable.
As for taxes, Donald Trump's plan is to lower the corporate tax rate to 15%. This is wonderful for small companies like Taylor Devices - especially for their domestic operations. The company does have foreign sales though, which will likely push up on the aggregate tax rate. With that being said, I am modeling a 20% tax rate for 2018-2021. Post-2021, the company will resume its 27% tax-rate; based upon the potential of a more progressive government after Trump's term. It should be noted that the company utilizes R&D tax credits which will help the company save money via taxes in the long-run.
In the model, I am expecting capital expenditures to pare down. It's very likely the company will invest into further expansions, however, as stated before, I want to keep the model conservative - with low growth expectations. Thus, eventually, capex will normalize to the D&A run-rate.
Finally, the company requires a significant amount of working capital. Historically, working capital has eaten into cash inflows. Due to the business model, I am expecting the same going forward. In the first few estimated years, working capital will be higher - due to facility expansions. As growth pares down, so will working capital.
The table below represents a summary of the former.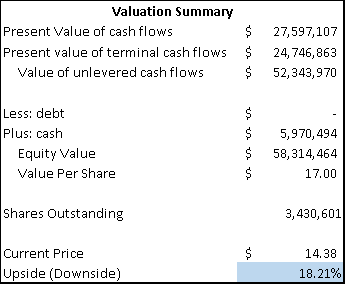 The valuation assumes a WACC of 12.00%, terminal EBITDA multiple of 7.5x and perpetual growth rate of 3.00%. A 7.5x terminal EBITDA multiple may seem slightly aggressive, however, it should be remembered the company serves in a niche industry with few competitors, there are valuable patents and there is a noteworthy management team - wanting to create shareholder value. If the company was a troubled deep value play, a 4.0-5.0x multiple may be warranted. For Taylor Devices case, this is a well-ran company, deserving of a richer multiple.
The valuation doesn't take into consideration the company's hard assets. Taylor Devices owns six acres on Tonawanda Island, New York. This site consists of four interconnected buildings and two adjacent buildings. Similarly, there is a small parts plant (4,400 square feet), large parts plant (13,500 square feet), test facility, storage, pump area and general office (7,000 square feet), a seismic assembly test facility (17,000 square feet) and a training facility (2,000 square feet), all totaling more than 45,000 square feet. Also, they have a remote test facility adjacent to these facilities used for state of the art shock testing (1,200 square feet).
Taylor Devices also owns three additional buildings on nine acres of land in the city of North Tonawanda - located 1.4 miles from the headquarters. These three buildings represent more than 46,000 square feet, and to my knowledge are not being used currently in ongoing operations.
A quick look on loopnet.com gives a back-of-the-envelope valuation of what this property could be worth. More or less, it's likely the company could fetch $3-4 million for the buildings and nine acres in North Tonawanda. Likewise, the company's owned operating facility on Tonawanda Island gives the company a type of asset-backed downside protection as well. Once again, the North Tonawanda assets are not included in the valuation - providing a margin of safety.
In the long-run, I believe the company will get bought out. Douglas Taylor is 68 years old and eventually, there is likely to be a sale. The company holds valuable patents, operates a niche industry and is probable to continue taking market share.
A few risks to the thesis are; rising interest rates, economic turndown, slowdown in defense spending and lack of near-term orders. If interest rates rise, it's probable that developers will pare down on retrofitting. Likewise, an economic slowdown would likely cut into retrofitting budgets. Further, the company is dependent on the Department of Defense. Nevertheless, the most likely headwind is a lack of orders in the near-term - which could prove beneficial to astute allocators.
Overall, I feel confident for Taylor Devices long-term business outlook. The company operates a niche industry, has valuable patents and management is top notch. Furthermore, the company has zero long-term debt and assets that are not accounted for in the valuation model. Given the valuation and my personal hurdles, I have acquired a starter position - hoping there will be a sharp pullback to allocate future capital.
Disclosure: I am/we are long TAYD.
I wrote this article myself, and it expresses my own opinions. I am not receiving compensation for it (other than from Seeking Alpha). I have no business relationship with any company whose stock is mentioned in this article.
Editor's Note: This article covers one or more stocks trading at less than $1 per share and/or with less than a $100 million market cap. Please be aware of the risks associated with these stocks.