From the depths of an 800-point decline in overnight futures trading for the Dow Jones Industrial Average (NYSEARCA:DIA) during the late evening of last week's election, to new all-time highs just a couple of days later, now that Donald Trump is President-elect... everything is awesome! Why? We are going to rebuild America and make this country great again!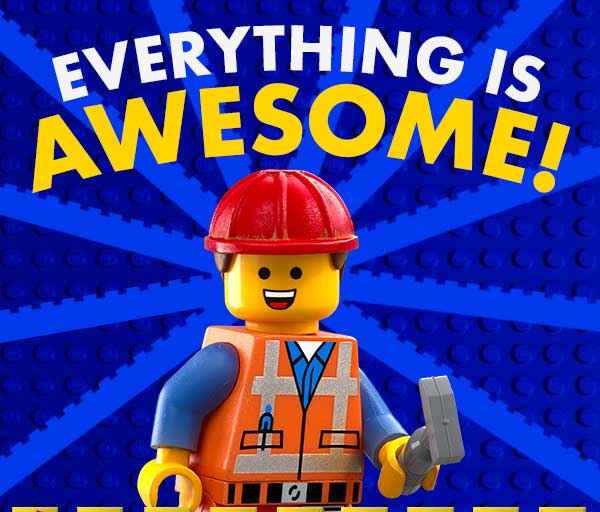 We are going to make a $1 trillion infrastructure investment over the next 10 years to "rebuild our highways, bridges, tunnels, airports, schools and hospitals," according to Mr. Trump. Industrial, material and energy stocks have surged in anticipation of a new era of stronger economic growth and higher inflation.
We are going to tear down the onerous regulations, otherwise known as Dodd-Frank, that have crippled financial institutions, freeing up capital to ignite a surge in lending growth. Bank stocks have soared in anticipation of a return to the glory days before the financial crisis.
We are going to reduce taxes for the middle-class, the wealthy, the uber-wealthy and corporations, but we won't touch entitlements. Everybody gets a tax cut, which means that consumers will have more money to spend on goods and services, and corporations will have more money to increase capital spending and hire new workers at higher wages. Retail stocks have surged in anticipation of all the additional spending power that is fast approaching.
The best part of all of this additional spending, in combination with the tax cuts, is that it won't lead to more debt in the long term. This is because the rate of economic growth will increase to 4%, which will in turn lead to more tax revenue to service and pay down the debt. The higher interest rates that are bound to accompany the faster rates of economic growth will be good for savers, who will have more interest income to spend on goods and services, leading to even more tax revenue.
Now, if you believe everything that I have just outlined, I have 100 shares of DryShips (NASDAQ:DRYS) to sell you at $73 per share...
Here's the problem - absolutely nothing has happened in the real world over the past nine days to materially change the US or global economic outlook. The actual events, should they come to pass, that this nine-day move in financial markets is predicated on are months, if not years away, if they happen at all! The past nine days of trading look more like a massive short-cover rally that turned into a tectonic shift in asset allocation strategy by large global institutions, followed by a stampede of momentum players that have propelled some indices to new all-time highs. Is this move in stocks a leading indicator of better economic times to come? I don't know yet, but I doubt it.
What has changed for the real economy is a significant move upward in long-term interest rates and the value of the trade-weighted US dollar. The 10-year Treasury yield has risen nearly 50 basis points since the election. This pretty much ends the era of mortgage refinancing, and it is bound to have an impact on new and existing home sales. Borrowing costs for consumers and businesses have increased measurably.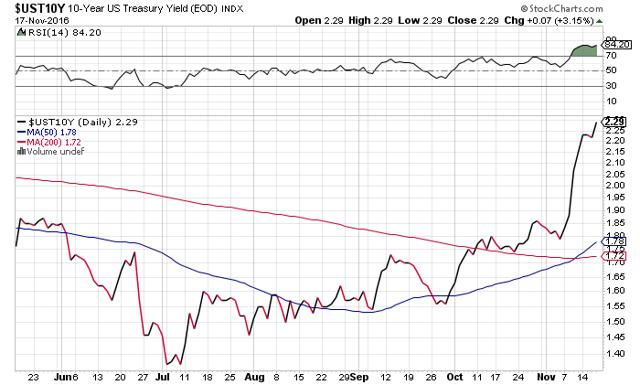 At the same time, the US dollar has surged in value relative to the currencies of our trading partners, which makes our exports less competitive overseas. It also results in lower earnings for US multi-national companies that derive a significant percentage of their sales from overseas.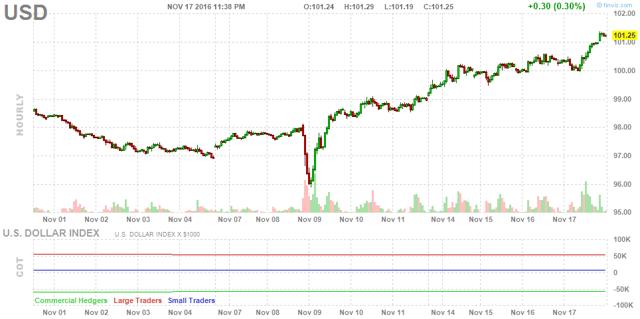 This is why the Goldman Sachs Financial Conditions Index has taken a steep drop similar to the one we saw last June. This indicates that it is getting more difficult for individuals and businesses to access credit, but the S&P 500 (NYSEARCA:SPY) is moving in the opposite direction. This is very unusual, as can be seen in the chart below. The S&P 500 typically tracks the index very closely.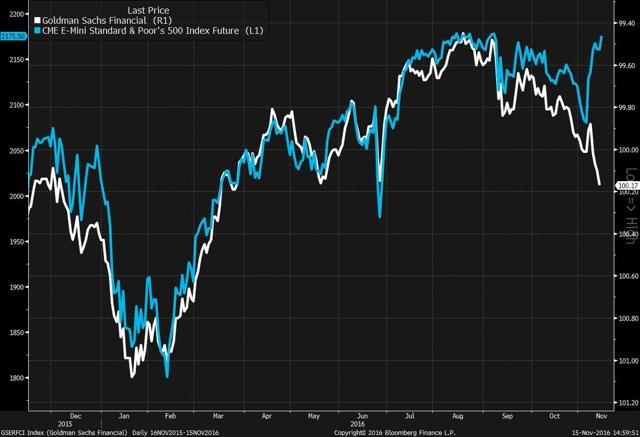 While the stock market indicates that everything is awesome, financial conditions in the real economy indicate otherwise. As a result, I am very suspect of this post-election rally leading to a new significant and prolonged leg up in this bull market.
Disclosure: I/we have no positions in any stocks mentioned, and no plans to initiate any positions within the next 72 hours.
I wrote this article myself, and it expresses my own opinions. I am not receiving compensation for it (other than from Seeking Alpha). I have no business relationship with any company whose stock is mentioned in this article.
Additional disclosure: Lawrence Fuller is the Managing Director of Fuller Asset Management, a Registered Investment Adviser. This post is for informational purposes only. There are risks involved with investing including loss of principal. Lawrence Fuller makes no explicit or implicit guarantee with respect to performance or the outcome of any investment or projections made by him or Fuller Asset Management. There is no guarantee that the goals of the strategies discussed by will be met. Information or opinions expressed may change without notice, and should not be considered recommendations to buy or sell any particular security.