According to published data from Jon Peddie Research, NVIDIA (Nvidia) (NASDAQ:NVDA) gained market share in PC GPUs compared to last quarter. While the gain was not great, it was enough to halt AMD's (NASDAQ:AMD) GPU market share growth of the first half of the year. With the introduction of the entry level GTX 1050 and 1050 Ti, Nvidia is poised to continue gaining share in Q4.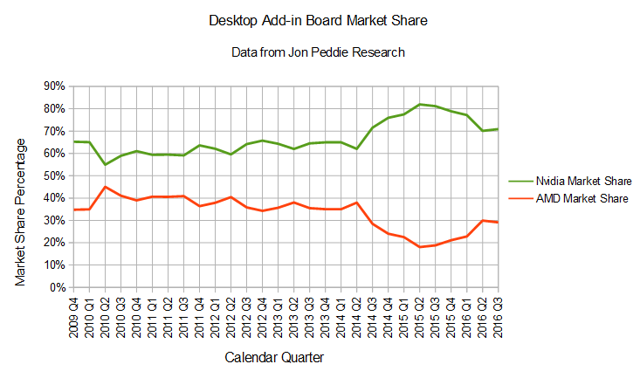 Source: Jon Peddie Research
Undercounted GPUs
Jon Peddie Research (JPR) data for GPUs is focused exclusively on the PC market, which was the traditional one for GPUs before the advent of the use of GPUs in the data center. Thus JPR's results only include discrete GPUs that are present in graphics cards (called by them add-in boards), as well as discrete GPUs present in notebook systems. Also counted are processors, such as AMD's APUs and many Intel (NASDAQ:INTC) processors for mobile applications that include on-board graphics processing.
This increases the count of AMD's GPU shipments, relative to Nvidia. But not counted are Nvidia's shipments of GPUs for high performance computing and deep learning applications in the data center. Also not counted are Nvidia's shipments of Tegra processors, which also include on-board GPUs.
This will become an even more important segment for Nvidia as it ships more Drive PX 2 solutions for Tesla's (NASDAQ:TSLA) new Autopilot system, since these include both high performance Pascal GPUs as well as the latest Parker generation Tegras that also feature Pascal architecture graphics.
So the reader should take the JPR data with a grain of salt, since the data ignores important growth areas for Nvidia.

Source: Jon Peddie Research
Perhaps of more interest in the ongoing war between Nvidia and AMD is JPR's data for desktop GPU add-in board market share. According to numerous AMD fan comments that I received after the end of Q2, when it had gained market share, Q3 was to be the quarter that Polaris brought profitability to the Computing and Graphics segment as well as gained market share, all supposedly due to much greater availability of Polaris architecture graphics cards.
But neither market share gain nor profitability was to be AMD's lot in Q3. As I pointed out following AMD's Q3 earnings report, the Computing and Graphics segment still posted an operating loss of $66 million on revenue of $472 million (which of course includes processors, APUs and GPUs).
I recently noted the stark contrast between AMD's unprofitability in Q3 and the huge revenue and profit gains of Nvidia in its fiscal Q3. Nvidia's GPU revenue alone of $1.697 billion was larger than AMD's total revenue, and was up 53% y/y. Nvidia posted a GAAP operating income of $708 million, up 130% y/y, while AMD posted a GAAP operating loss of $293 million.
JPR's market share and unit shipment data for add-in boards show that AMD's market share gains were halted in their tracks in Q3, as shown in the chart at the top of the article. While unit shipments for both companies increased, Nvidia's unit shipments increased faster.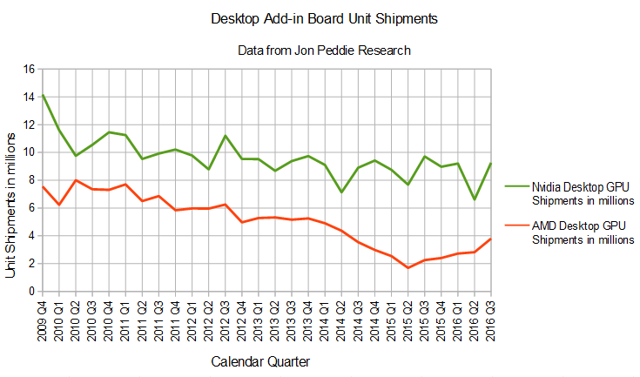 Note historical JPR data is taken from an Anandtech article.
Investor Takeaway
Nvidia's superior GPUs have halted AMD's share gains in the GPU and desktop graphics cards segment, for the time being. Even worse, Nvidia has deprived AMD of operating profit at a critical time as it seeks to field its next generation Zen CPUs and Vega GPUs.
Will this in any way deter the AMD fans from buying up AMD shares? Of course not, and the stock continues to make gains despite the bad news on the GPU market share front. The fans' hopes are now turned to inflated and unrealistic expectations for Zen and Vega, while AMD's miserable financial and technical performances this year are being quietly ignored. Despite numerous rumors to the effect that Vega will "launch" before the end of the year, I don't expect consumers will be able to buy a Vega architecture graphics card before 2017.
I fully expect Nvidia's stellar execution to continue next year, fueled by the savvy leadership of CEO Jen-Hsun Huang and the company's enormous profitability. Doubtless, the AMD fans will continue to pump up the price of the stock for a while, but that's not my concern. I don't begrudge anyone making money in the market, even on tech losers such as AMD.
I invest based on proven performance, not wishful thinking and future hopes. I remain long Nvidia and recommend it as a buy.
Disclosure: I am/we are long NVDA.
I wrote this article myself, and it expresses my own opinions. I am not receiving compensation for it (other than from Seeking Alpha). I have no business relationship with any company whose stock is mentioned in this article.