A Bull market in grain? Did you mean soybean?
Nope, it is not soybean. I am specifically referring to wheat (NYSEARCA:WEAT).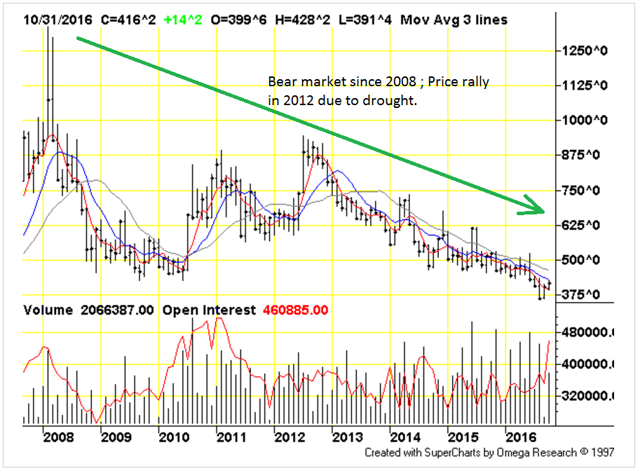 Source: futures.tradingcharts.com
Wheat has been in a brutal bear market since 2008, during which it was trading as high as $12/bushel.
As the old saying goes, the cure for high price is higher prices. Wheat has eventually crashed from the high, and never looked back. Wheat had another rally in 2012, during which it rose to $9/bushel, attributable to among the worst droughts recorded in history, reducing production from the US farm belt. Bad weather did not stop farmers from planting more wheat. As farmers around the world kept increasing their wheat planting areas, thus boosting supply year after year to exploit the higher prices, wheat continues to fall, eventually reaching a value as low as $3.6 in August, 2016.
The case for a bull market


Table 1: US Wheat acreage, yield
Source: USDA Wheat Outlook
Acreage
What is the cure for low prices? Even lower prices. At $4/bushel, farmers in US are in no mood to increase their wheat planting. The USDA estimates that wheat planting areas for the years 2016-17 at 50.2 million acres (Table 1), nearly 10% lower than the previous year.
The bad news for bulls though is that the area harvested for global wheat supply has actually fallen by only 3.3 million hectares. Remove the harvested areas that declined in the US, and you'll notice that the world's wheat area did not fall much.
My best guess is that weaker currencies from regions such as the Eurozone (NYSEARCA:FXE), India (NYSEARCA:ICN), and Russia have mitigated the effect of lower wheat prices, consequently boosting their income in local currency.

Table 2: World wheat supply and demand
Source: USDAFAS: Grain: World Markets and Trade
Yield
With wheat areas lower, a higher yield will be required to boost production. Unfortunately for bulls, this is precisely what we get. The US wheat yield for 2016-17 is an eye-popping 52.6 bushel/acre (Table 1). I believe this is largely due to El Nino last year, providing an optimal growing environment for grains. Both soybean (NYSEARCA:SOYB) and corn (NYSEARCA:CORN) yields are headed for similar records as well.
El Nino is currently considered a past event, and with wheat prices so low, it is doubtful whether farmers are willing to spend more money and effort next year for activities such as pest control, aiming to obtain such an optimal yield, at least in the US.
Given the situation explained above, I doubt we will see another record wheat harvest in the US next year.
Supply vs. Demand
USDA estimates wheat consumption for the years 2016-17 to be 736.5 million metric tons, which is 8.2mmt below supply, hence, bearish. Investors should take note, however, that given the current low wheat-corn price differential, consumption may actually be slightly higher compared to the USDA estimate. Nevertheless, 8.2mmt is still a lot of extra supply, and I am not so certain that this low wheat-corn ratio can provide enough boost to entirely remove this surplus.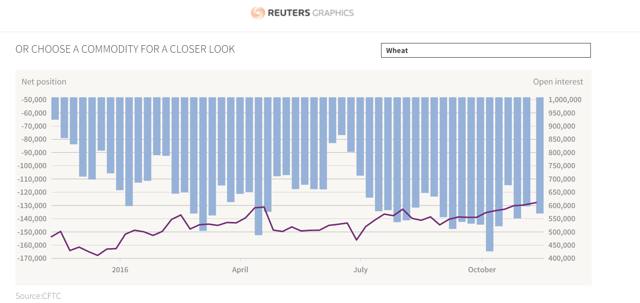 "Just go short."
CFTC Position
Finally, we will look at the CFTC-managed money net position. Everyone knows that there is simply too much wheat around, and no hope for any sort of serious price rally. Even during the April '16 grain market rally, when managed money turned bullish, and went long corn and soybean, wheat remained shorted by hedge funds. When the wheat market inevitably turns, these large short positions will have to be covered, thus providing a further boost to the overall price of wheat.
Trade advisory
An increasing number of people are throwing in the towel on wheat. Farmers are becoming tired of low wheat prices, and reducing planting areas, while most speculators have no interest to go long wheat. Bull markets are born in pessimism. Sub-$4 wheat rates are clearly unsustainable, and I strongly believe that a multi-year bull market for wheat is about to come.
Keep in mind that the market can remain unsustainable much longer than we can remain solvent. Just look at the negative yielding bond market, and you will never dare to underestimate how crazy things are. Contango is another risk investors should consider when going long wheat.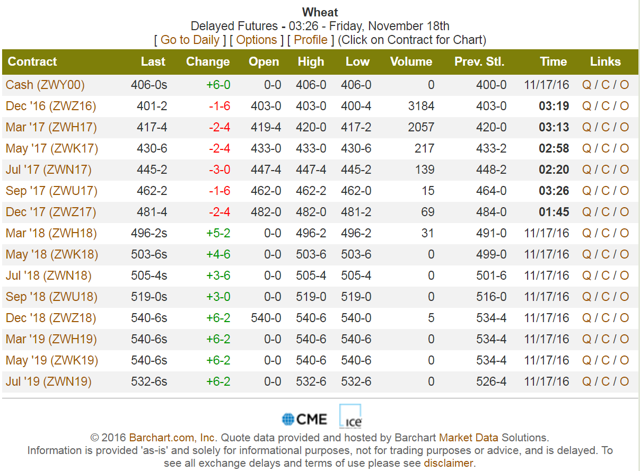 Source: Agrimoney.com ; CME
"Buying contango can be very profitable... if you get the timing right."
Assuming the USDA's forecast is accurate, supply will remain to outstrip demand for the year 2016-17. Combining this with the possibility of a stronger dollar (NYSEARCA:USDU), I predict we might potentially be fortunate enough to have another leg down in wheat prices, and this will be a great buying opportunity.
I will try to keep you updated about the wheat market, as well as about other grain markets such as soybean and corn.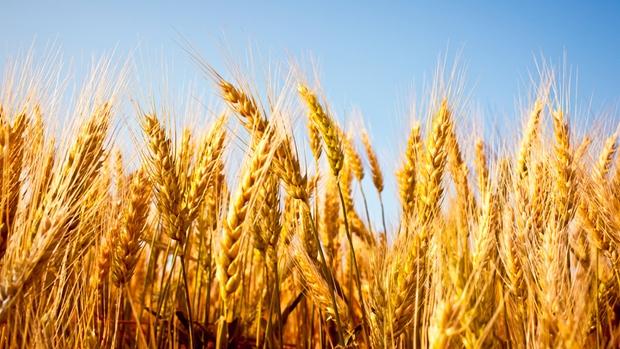 Disclosure: I/we have no positions in any stocks mentioned, and no plans to initiate any positions within the next 72 hours.
I wrote this article myself, and it expresses my own opinions. I am not receiving compensation for it (other than from Seeking Alpha). I have no business relationship with any company whose stock is mentioned in this article.