My first REIT purchase was Ventas (NYSE:VTR). Over the last couple of years, I have read different documents and information on Ventas. David Van Knapp discussed it in his 2014 Top 40 Dividend Stocks (I believe his last book on Top 40) was my initial introduction. David has Ventas in his dividend portfolio. I also sought out some guidance on Seeking Alpha reviewing The Value Portfolio September 7, 2016, article. Using this information, my desire is to introduce a REIT to my portfolio and technical indicators, I placed a limit order at $72.30 on 9/5/16. This is my confession that I did not do the proper due diligence prior to placing that order. Simply put, I was more interested in the yield to help increase my portfolio yield.
On 9/9/16, my order executed at the price of $72.11. Since the end of September, Ventas has been trading below my initial purchase price. My signal to remind me that I should have evaluated Ventas for the investment type that it is. Why didn't I?
Simply, I lacked an understanding of REITs and how to evaluate them effectively so I operated on what I knew. I was chasing yield (4%) in attempt to raise my portfolio yield. The only real piece of information I knew to use was funds from operations (FFO) per share. I did review this number and it was $4.09 as of 12/31/15 and $4.05-4.13 for Q2 ending 6/30/16 as reported by Zacks. Using the $4.09 gives a price/FFO/share multiple of 17.7, a reasonable number. Obviously, if I thought there was value at $72.30, I should be excited to see the price drop. I am, unfortunately I do not have the capital to average down.
Ventas Initial Thoughts and Technicals
I want to share my thoughts surrounding the Ventas purchase. First, I had cash to spend within my portfolio and when this happens, I like to deploy the funds to keep potential growth happening. I wanted to add a real estate holding since I had no exposure to this equity type. I completed a search of stocks with dividend yields 4% or greater and I came across Pennsylvania Real Estate Investment Trust (NYSE:PEI), Kimco Realty Corporation (NYSE:KIM), Ventas, and Weingarten Realty Investors (NYSE:WRI). Ventas was the obvious choice as the other three operated in the shopping mall or center areas and these retail establishments are too cyclical for my liking. Ventas operates in the healthcare real estate market and I believe this is a less volatile market segment with good growth potential.
I went back to David Van Knapp's Easy-Rate™ Scoresheet for Ventas to refresh myself on his 2014 evaluation of Ventas. I also read several times The Value Portfolio article as I found it enticing.
My review of Ventas website also gave me some promising information and I must admit I was unfamiliar with many of the financial pieces of information presented under Investor Relations. One piece of information that was promising to me was the 10-year 9% CAGR.

Another promising characteristic to me was the management team, led by Debra A. Cafaro. She has been chairman of the board and chief executive officer since its inception in 1999. Having the CEO be with the company over its entire life span is a tribute to its success and growth. Ventas market capitalization has grown from $200M to $26B. Also noteworthy for me was her educational background earning her J.D. from the University of Chicago Law School. I do not know what her specialty, if any, in law school was, but given the contractual nature of the Ventas business model, this fact gives me comfort.
Source: Ventas Our Company - Leadership - Senior Management

Speaking of law school and tenure, T. Richard Riney earned his J.D. from the University of Kentucky and prior to joining Ventas, he practiced in the areas of real estate and corporate finance law. He has also been with Ventas from its inception serving as Ventas's executive vice president and general counsel. His expertise in real estate and finance has been an obvious benefit to the company.
Source: Ventas Our Company - Leadership - Senior Management
There are others that encompass the management team and play key roles in Ventas success. However, it was these two individuals that stood out to me given their tenure and obvious loyalty to the company. I suspect both take great pride in delivering on Ventas's performance.
The last item that caught my attention on the Ventas website was "Accountability to our stakeholders is central to our values" under Corporate Responsibility. I am a big believer in accountability and this resonated with me. Accountability, in my humble opinion, particularly personal accountability, is one ingredient within society that falls short way too often.
My next move was to take a look at the technicals for Ventas as of 9/5/16.
The use of technicals is a controversial topic for many. I find them to be of value, but only because I have learned to use them over time. There are four technicals I like to review prior to making a purchase. The first one is the 30-day moving average (MA). If the price is higher than the 30-day MA, it represents a possible buy opportunity. The other three technicals is the relative strength indicator (RSI), the moving average convergence divergence histogram (MACDH), and the stochastic (STO). Each of these indicators can be used to determine price movement. When I looked at the price on 9/5/16, I saw three out of the four indicating the price was beginning an upward trend. My basic rule is that I need to have at least three of the four indicators suggesting buy signals.
I was correct with my indicators as the price rose several days in a row and then dipped on 9/9/16 to trigger my purchase order at $72.11. This upward trend continued along until 9/28/16 when $73.03 high price was hit and then the downward trend appeared. What is also telling about the downward trend is the chart indicated a bearish engulfing signal at the end of trading on 9/27/16. A bearish engulfing signal simply means the stock price closed lower than the previous trading day and the price range included the prior trading day's price range, thus engulfing the price range. This is a definite bearish signal, but it is not always correct and should be used with other indicators. If you are an active trader, you can see how these indicators can be helpful.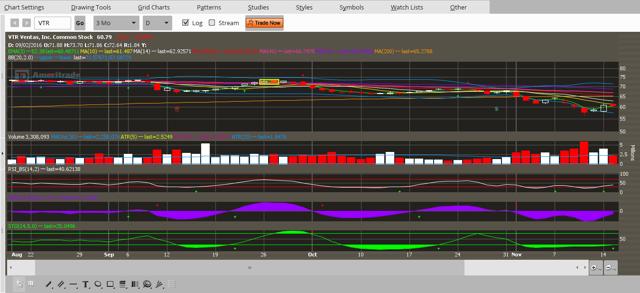 Source: thinkorswim platform - Ventas Prophet Chart
After the purchase of Ventas and the price moving south, I realized that I needed to learn more about Ventas and REITs in general. Needless to say, once again my failure to complete my own due diligence has resulted in uncertainty around the purchase.
Key metrics for evaluating REITs
A Google search for "how to evaluate REITs" came up with two websites (Investopedia and Fool.com). The Fool provided me seven key metrics for evaluating equity REITs; FFO, adjusted FFO, net asset value (NAV), intrinsic value, cap rate, debt-to-equity ratio, and debt coverage ratio. Let's take a look at each of these metrics and how they apply to Ventas using its non-GAAP financial measures, selected financial data, and annual reports & supplemental information for Q3.
FFO - Funds from Operations: The funds from operations is calculated by adding net income, depreciation and amortization, and subtracting gains on sales of property. This number can be divided by the number of shares outstanding and this value can be divided into the price to calculate a ratio similar to a stock's PE. Using Ventas Q3 financial data, the FFO/share (FFOS) was calculated to be $4.10-4.13. At the $72.30 price, we have a 17.6 P/FFOS ratio; similar to the 12/31/15 ratio. The importance of FFOS is whether it is sufficient covering the annual dividend payout. The last quarterly dividend was $0.73 for a yearly payout of $2.92 and a 71.2% dividend coverage. This leaves some growth opportunity in the dividend.
Adjusted FFO: The Fool indicates that this calculation can vary from one REIT to the next and it is likely better to use strictly the FFO. In my review, there are others that indicate using the adjusted FFO is the better operation. Ventas reports the adjusted FFOS as normalized FFOS and reports the Q3 result as the same as FFOS, $4.10 and P/FFOS of 17.6.
Net Asset Value (NAV): Investopedia suggests capitalization of the operating income by dividing it by a cap rate to achieve the estimated market value of the properties. Liabilities are subtracted from the estimated market value to derive the NAV. The Fool indicates NAV is equal to the actual market value minus its debt. Both emphasize the subjective nature of deriving the market value. Ventas's NAV as of 9/30/16 was $10,697.82M. Using Investopedia approach we can calculate market cap using the net operating income divided by the cap rate, $867.12M divided by 8%, $10,839M, which is close to the $10,697.82M.
Intrinsic Value: Dividing the NAV by the number of outstanding shares provides the intrinsic value per share or book value per share for the REIT. Using Ventas 9/30/16 NAV and 353.79M outstanding shares equates to an intrinsic value of $30.24 per share. Comparing this result to the share price paid means I paid 2.4 times book value. I generally like to purchase shares at less than two times book value.
Capitalization rate: The capitalization rate or cap rate consists of dividing the net operating income (NOI) by the cost of property (acquisition cost) or property market value. If we use market value from the 9/30/16 data, we have $867.12M divided by $10,697.82M for a cap rate of 8.1%. I would define any rate above 6% as being positive with the higher the rate, the greater profitability.
Debt-to-equity: Ventas reports net debt of $11,241.321M (9/30/16 data) and equity of $10,697.82M for a ratio of 105.1%. A reasonable benchmark would be below 80%. Any rise in interest rates will quickly drive the market value of assets downward thereby increasing the debt-to-equity ratio further. The smaller the ratio, the better.
Debt coverage ratio: Calculating the debt coverage ratio consists of the net operating income divided by principal and interest payments. Generally, you want a factor of four times net operating income to debt payments. Ventas, based on Exhibit 12.1 in the 10-Q, the debt coverage ratio was 2.23. Definitely below the desired goal.
Price decline leads to further research
I, like many, become apprehensive and uneasy when we see a recent purchase price drop significantly. I began to wonder where I went wrong and with Ventas being an REIT I knew, hence the key metrics. Before diving into the key metrics, I also went in search of analyst research reports.
I have several brokerage accounts and they provide various analyst research reports free of charge. One of my favorite reports is the S&P Capital IQ and I downloaded the September 24, 2016, report along with Market Edge report (9/30/16), The Street (9/25/16), Research Team (9/30/16), Thomson Reuters (9/30/16), and Smart Consensus (9/30/16). Here is a synopsis of their recommendations:
| | |
| --- | --- |
| Analyst Research Report | Recommendation |
| S&P Capital IQ | Strong Buy |
| Market Edge | Avoid |
| The Street | Buy |
| Research Team | Reduce |
| Thomson Reuters | Neutral - Hold |
| Smart Consensus | Hold |
I felt good after reviewing the S&P Capital IQ report with the strong buy recommendation. I looked at the key stock statistics and they were in line with some of the key metrics. They also had a favorable view of the Wexford Science and Technology acquisition. Reading the business summary for Ventas also helped me gain a better understanding of the website information. One of the other items I noticed was the 10-year history for price to book value ratio with an average high of 3.4 and low of 2.1. The 2.4 times book value I paid is not as far out of line as I thought.
The Market Edge avoid opinion was based on technical indicators and suggested possible support at the 200-day MA ($63.35 as of 9/30/16). On 11/14/16, Ventas closed at $61.03/share. It got the avoid correct, but missed the support. I belief the level of support is around the $55.50 price per share after reviewing a one-year chart. The Street report did not offer me any additional insights and neither did the Research Team report. The peer analysis section of the Thomson Reuters report illustrated that Ventas is not out of line in its metrics compared to its peers. Smart Consensus report is based on the reports for S&P Capital IQ, Market Edge and Thomson Reuters and indicated a hold given the mixed opinions of the three.
Since my purchase there have been multiple articles written about Ventas. The most recent being by Simply Safe Dividends. The article presents a much more detailed look at the financials than I have provided and indicates that the dividend is fairly safe. Brad Thomas shared his perspective on what a Trump presidency might mean for Ventas and healthcare REITs. My main takeaway from Brad's article is that repealing the Affordable Care Act (ACA) would have the greatest impact on hospitals. Assuming ACA is repealed, Ventas may feel the negative impact given that 6% of its net operating income is derived from hospitals.
Ventas announced on 11/14/16 that Kindred Healthcare (NYSE:KND) will facilitate Kindred's exit from the skilled nursing segment. My limited understanding of this agreement is Kindred plans to purchase the skilled nursing facilities from Ventas and resell them. The agreement also extended the lease term to 2025 for all of Ventas's Long Term Acute Care Hospitals operated by Kindred. The overall impact on Ventas's key metrics is currently beyond my analytical skills. Going forward, I will need to become more adept in REIT financials if I plan to make further purchases in this equity type.
After this research would I make the same decision?
In short, I would say that yes, I would make the same decision because I am in for the long term. My overall objective was to purchase yield with dividend growth potential. However, if I would have delayed purchase, I could have increased my yield to over 5%. I know that this is not the correct way to make a purchase, but my goal is to achieve in my Rollover 401(k) portfolio a yield of at least 4% at the time I elect to take dividends as cash.
My attractions are the FFOS coverage of dividend and the opportunity for some dividend growth. I believe Ventas is in the correct real estate market segment, healthcare. This belief is rooted in the fact that Ventas understands we all age and the aging process means we need places that will care for us. Items that I definitely do not like are the debt ratio, market price to intrinsic value and debt coverage ratio. Even with the recent price decline to $61.03/share the market price to intrinsic value is 2.0 times, still fairly strong ratio, but offers a 5% discount to the average 10-year low book value ratio of 2.1.
Rollover 401(k) Portfolio Update
I published an Instablog about my Rollover 401(k) portfolio here. My dividend yield prior to purchasing Ventas was 2.52% and afterwards a slight climb to 2.57%.
| | | | | |
| --- | --- | --- | --- | --- |
| As of | 11/14/16 | | | |
| Symbol | Dividend | Dividend Yield | Weight | Portfolio Yield |
| | 0.57 | 2.16% | 9.89% | 0.21% |
| | 0 | 0.00% | 20.40% | 0.00% |
| | 0.77 | 3.27% | 6.39% | 0.21% |
| | 1.08 | 4.05% | 4.82% | 0.20% |
| | 0.26 | 3.02% | 4.66% | 0.14% |
| | 0.8 | 2.74% | 8.00% | 0.22% |
| | 0.35 | 3.40% | 5.63% | 0.19% |
| | 0.94 | 3.19% | 12.17% | 0.39% |
| | 0.67 | 3.23% | 5.70% | 0.18% |
| | 0.53 | 3.22% | 4.34% | 0.14% |
| | 0.22 | 3.00% | 1.89% | 0.06% |
| | 0.49 | 5.42% | 5.16% | 0.28% |
| VTR | 0.73 | 4.78% | 1.10% | 0.05% |
| | 0.38 | 2.86% | 1.51% | 0.04% |
| | 0.5 | 2.84% | 1.82% | 0.05% |
| | 0.75 | 3.52% | 5.73% | 0.20% |
| | | | Dividend Yield | 2.57% |
As stated above my goal for this portfolio is to achieve a 4+% yield to supplement my retirement income. I am still a far distance from my 4% dividend goal by retirement, which could be as early as 2024. My secondary goal is to have the dividends grow by a combined annual growth rate of 7.2%. If this goal is achieved it means my dividend income will double every 10 years (the 10th root of 2). Even if my goals are achieved by retirement the annual dividends would only contribute 6% to my estimated income needs.
I make no guarantees on the calculations and key metrics given this was my first REIT analysis. Please let me know of any errors you believe I have made.
I look forward to your questions and comments. I will do my best to respond, but it will likely be in the evenings.
Supporting Documents
Disclosure: I am/we are long AAPL, BRK.B, CAT, CVX, INTC, JNJ, KO, MCD, PG, QCOM, SU, T, VTR, WFC, WMT, XOM.
I wrote this article myself, and it expresses my own opinions. I am not receiving compensation for it (other than from Seeking Alpha). I have no business relationship with any company whose stock is mentioned in this article.