It's been almost two weeks since Mr. Trump's unexpected victory. Tons of articles tried analyzing hypothetical market scenarios. In this one, I will consider how this election could affect the Italian industry and companies.
One thing is for sure, the market faces uncertainty. Mr. Trump's election raises new questions about the future. A lot of people have expected a huge dollar devaluation, as it happened to the pound after Brexit.
That did not happen. Instead, after the first day, the dollar index ended in positive territory and the S&P 500 was up about 1 percent.
Based on OEC data, the United States imported $40.8B worth of goods from Italy in 2014 while exporting $16.4B. The United States accounts for 8 percent of Italy's total exports, of which 27 percent are from machines (valves, gas turbines, combustion engines, etc.), 15 percent are from transportation (cars, aircraft parts, etc.), and 9.3 percent are from chemical products (packaged medication, beauty products, etc.).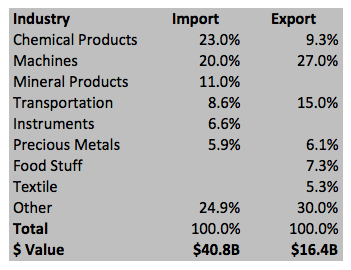 Companies that do considerable business in the United States are exposed to currency risk. Overall, this means appreciation of the US dollar would benefit revenue, while depreciation would have the opposite effect. In the last five years, the US dollar gained almost 27 percent over the euro. This helped some companies (Luxottica, Campari, etc.) to boost their revenue. It will be important to understand how the US dollar will appreciate. Tax cuts and an increase in infrastructure spending can significantly increase the budget deficit and lead to expectations of increasing inflation.
Oil, Gas and Renewable Energy
"Wind power is so expensive." "The payback for solar power is too long." The new president, for sure, is not a fan of renewable energy. This could increase revenue for American oil and gas companies. The oil and natural gas markets look really competitive. According to the U.S. Energy Information Administration (eia.gov), most of the crude oil extracted in the United States is refined by U.S. refineries. In early 2011, the United States became a net exporter (exports were greater than imports) of noncrude petroleum liquids and refined petroleum products.
Tenaris
Tenaris (NYSE:TS) is the only Italian company with a noteworthy business in the North American oil and gas industry. In 2015, revenue from North America was 40.3 percent of the company's total revenue. Sales are negatively affected by the adjustment in oil and gas drilling activity in North America in response to the collapse in oil and gas prices. Tenaris' strength is in the quality of its products, and "when you look at the US, there is a huge need for pipe, both to produce shale oil and gas."
Tenaris has also significant revenue exposure in Latin America. Nearly 30 percent of the company's revenue is exposed to LATAM.
Even though Mr. Trump wants to make the United States energy independent, TS looks expensive compared to its peers. The oil and gas prices forecast, and the huge exposure to the EM, do not help the company. For these reasons, I do not believe TS is worth buying.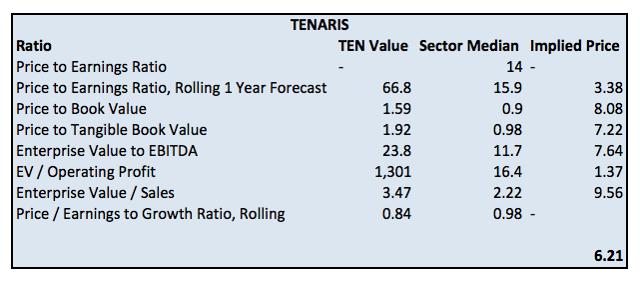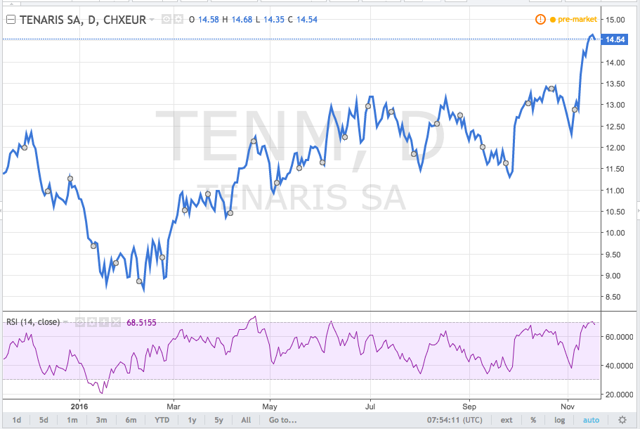 Auto
The auto industry is not safe, at least for foreign companies that use Mexican factories. Indeed, many carmakers have factories in Mexico, where labor costs are lower than in the United States. This was an advantage with the North American Free Trade Agreement (NAFTA) that might not be valid anymore with Mr. Trump.
Among Italian players that could be affected, we have Ferrari, Fiat and Brembo. The spin-off of Ferrari (NYSE:RACE) from Fiat-Chrysler (NYSE:FCAU), has created underlying value for the two entities.
Ferrari and Fiat, despite their underlying value, could be the most affected Italian companies. According to Mediobanca, Fiat and Ferrari's EBITDA have an exposure of 80 percent and 45 percent, respectively, in the North American market. In addition, both companies have factories in Mexico and around 10-15 percent of what FCAU sells to North America comes from Mexico. Tariffs of up to 30 percent can damage revenue due to increased costs.
That is why before making a buy/sell decision regarding FCAU or RACE, every investor should understand what the tariff actually might be.
Brembo (OTC:BRBOF) is the leader in development and production of high-performing brakes and components, with revenue from the United States, Canada, and Mexico of 29 percent. Its high level of specialization and the particular nature of its business relationships gives the company good protection from competition. I believe that entry barriers will help the company. Clients buy Brembo products because they are high-performance brakes and not because they are cheap. Due to the type and quality of their products, I do not believe Brembo will have the same problems as FIAT and Ferrari.
Brembo is expensive, but it has good growth potential.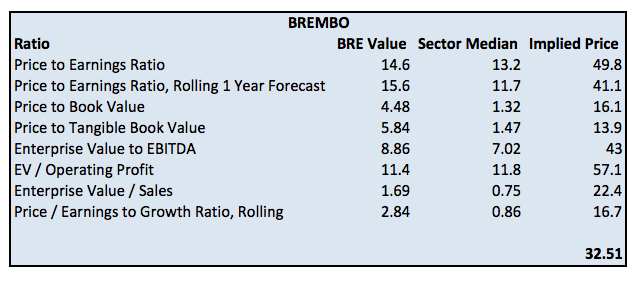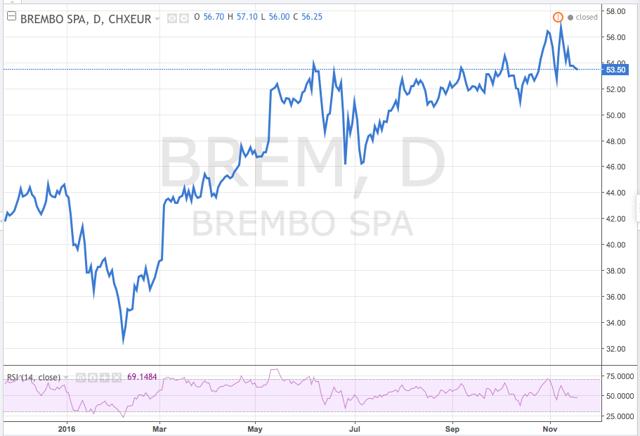 NB: There is a much higher volume of the shares traded on the Italian exchange under the ticker "BRE."
Infrastructure
"We are going to fix our inner cities and rebuild our highways, bridges, tunnels, airports, schools, hospitals."
Infrastructure winners are Astaldi (OTC:ASTLY) (28.5 percent of Astaldi's business is in the United States) and Buzzi Unicem (OTC:BZZUF) (33.3 percent of Buzzi Unicem's business is in the United States). Both companies have been bought after Mr. Trump's win due to their presence in the Unites States. They can be the only sure winner of this election. If the new president will start a rebuilding program, both companies can have a boost in their revenue.
While Buzzi Unicem is trading almost at a fair price, Astaldi has been an undervalued company since January. Due to a high level of debt, investors did not like Astaldi. Revenue is growing at a CAGR of 5.5 percent and EPS at 5.1 percent in the last three years. Liquidity is right (Curr. Ratio 1.33 - Quick Ratio 1.30 - Interest Cov. 4.44) even with the huge debt. I believe the company can start trading at a fair value when it will start selling its assets. One catalyst can be the sale of the Turkish asset that is worth 257 million euro expected in 2017/2018. Based on industry multiple average, the stock is trading at a 37 percent discount.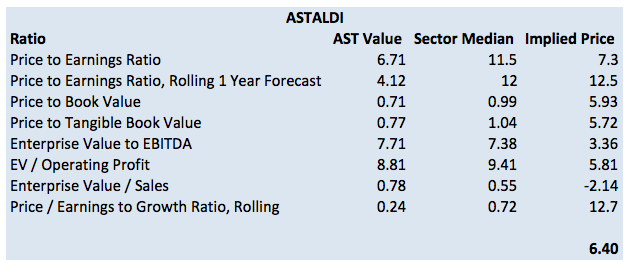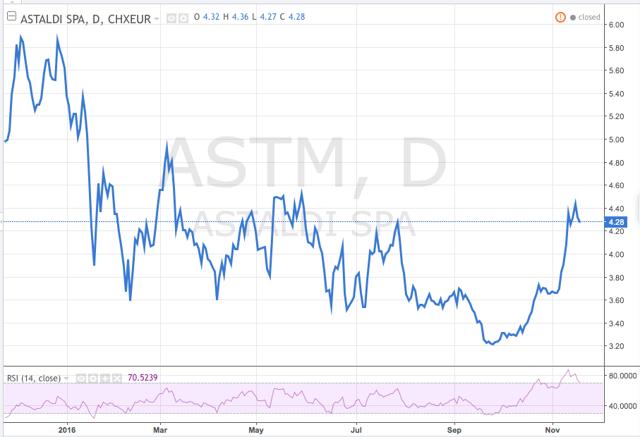 NB: There is a much higher volume of the shares traded on the Italian exchange under the ticker "AST."
Defense
Mr. Trump has promised a new defense program and the replacement of older equipment.
Leonardo-Finmeccanica (OTCPK:FINMF) is an Italy-based high technology company in the aerospace, defense and security industrials, with 24.9 percent of revenue from the United States. The demand for military aircraft, helicopters and defense systems has decreased, and revenue has decreased at a CAGR of -7.66 percent in the last three years. Mr. Trump's win can be the catalyst for increasing Leonardo's revenue. Currently, the share price is trading at a 46 percent discount.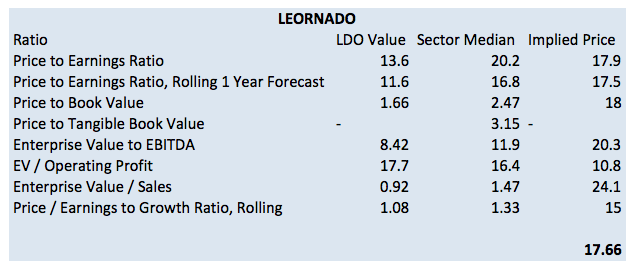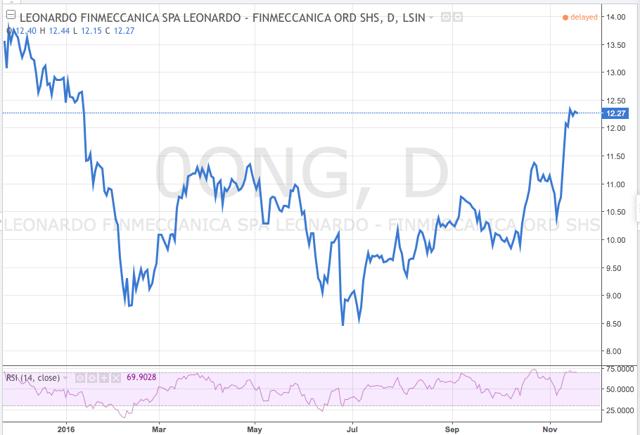 NB: There is a much higher volume of the shares traded on the Italian exchange under the ticker "LDO."
Pharma:
"Healthcare reform to make America great again." The pharma sector could see a relief rally after Mr. Trump's win.
Two big Italian players: Diasorin (OTC:DSRLF) and Recordati (OTC:RCDTF)
The pharma sector typically outperforms after US elections. Diasorin gets 26.7 percent of its revenue from the United States. Sales and EPS are growing around a CAGR of 4.5 percent in the last three years. The company is overvalued, but it has a good growth potential. If Mr. Trump will let consumers import cheaper versions of drugs, as he said, Diasorin can have preferential treatment because the company's branch, Diasorin Inc., already meets US safety standards.
Recordati has less exposure to the United States. Only 5 percent of the company's revenue comes from North America. This make the company neutral to any of Mr. Trump's reforms.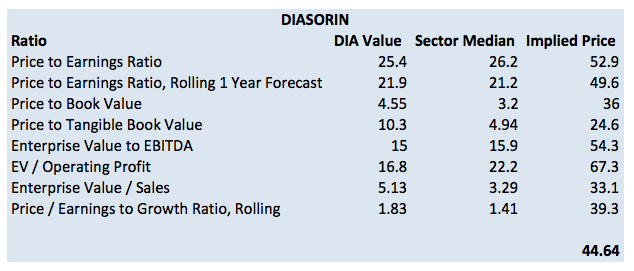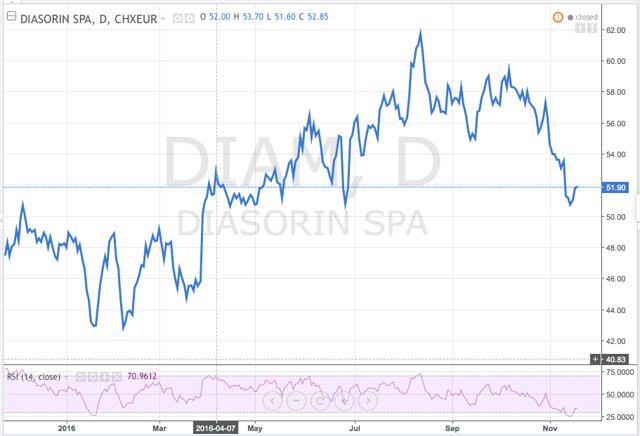 NB: There is a much higher volume of the shares traded on the Italian exchange under the ticker "DIA."
Retail and Consumer
I believe that retail will be the most negatively affected. Products are easily replaced by another brand; any little tariff can make them expensive for the consumer and easily exchangeable. Retail products have a high demand elasticity and taxes, tariffs, and other restrictions will reduce these sales for the foreign companies. While there are Italian companies that manufacture their products in the United States, there are other with revenue based only on exporting.
Campari (OTCPK:DVDCF) gets almost 23 percent of its revenue from the United States. The company is an Italian spirits distiller that has shown awesome growth but it is currently expensive. The group has 16 plants, but only one in the United States. This means that most of the liquor that the company sells in the United States is imported. I believe that taxes on imported liquor can be an easy way to start protectionism. Because liquor such as beer doesn't have strong customer loyalty, if an Italian liquor costs 30 percent more, clients may not buy any more.
DVDCF is trading at a 17 percent premium. Avoid Campari until Trump's reform are more clear.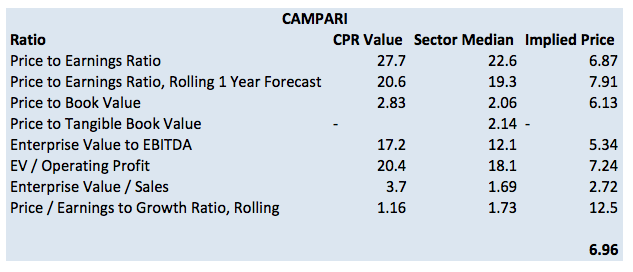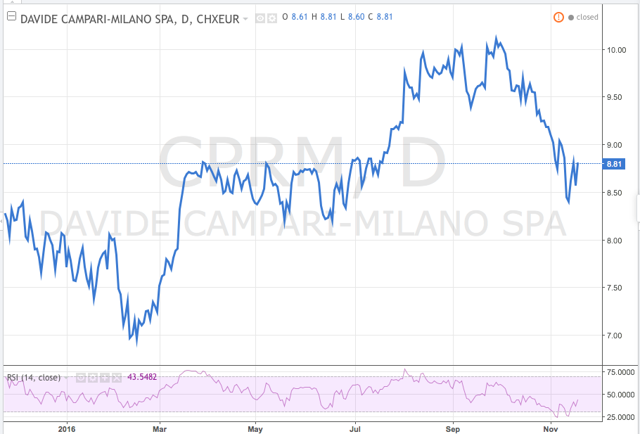 NB: There is a much higher volume of the shares traded on the Italian exchange under the ticker "CPR."
The analysis in this article is based on statements made by Donald Trump on the campaign trail. Other articles might follow in order to update the analysis after Mr. Trump enacts some of his state policies.
Disclosure: I am/we are long ASTLY.
I wrote this article myself, and it expresses my own opinions. I am not receiving compensation for it (other than from Seeking Alpha). I have no business relationship with any company whose stock is mentioned in this article.
Editor's Note: This article discusses one or more securities that do not trade on a major U.S. exchange. Please be aware of the risks associated with these stocks.