Introduction
This article is part two of a three-part series in which I present a brief overview of the post-election reaction by financial market participants. In this article, I analyze the financial and healthcare sectors. I argue that the recent rally across the financial sector is unfounded due to the uncertainty behind president-elect Trump's opaque deregulation plans. Additionally, I will argue that the rally across the healthcare sector is also unfounded due to persistent problems with healthcare reform and drug pricing in the sector. I assert that these problems are still at large and will continue to be under scrutiny, even under a Trump presidency.
In part one of this three-part series, I analyzed year-to-date returns for all major sectors. I found that early in the second half of the year, half of the sectors underperformed while the other half performed well. This averaged out to a flat overall performance for the S&P 500. However, the market routine changed the morning after the election was determined. Major U.S. indices rallied for a few days and closed the week at record highs, in nominal and real terms. To see this pattern in close detail, please have a look at the chart below.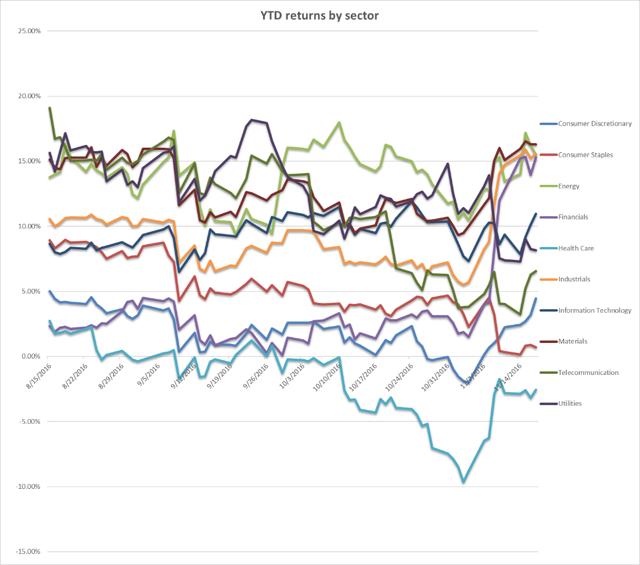 The chart above shows year-to-date market returns by sector with data retrieved from August 16 th, 2016 through November 17 th, 2016 (Data sourced via Bloomberg). As you can see, the sectors maintained the same range throughout this period, but began converging once the election results were known. The healthcare, financials, info tech, materials, and industrials sectors had the highest post-election returns. These were sectors most likely to benefit from a Trump victory over a Clinton victory. Conversely, sectors with a move to the downside included consumer staples, telecom, and utilities. The consumer discretionary and energy sectors had returns tilting to the upside, but not by a meaningful amount. Of the top performing sectors, the financial and healthcare sectors presented the largest surge in valuation. As I mentioned above, these two sectors will be the focus through remainder of this article. (See here)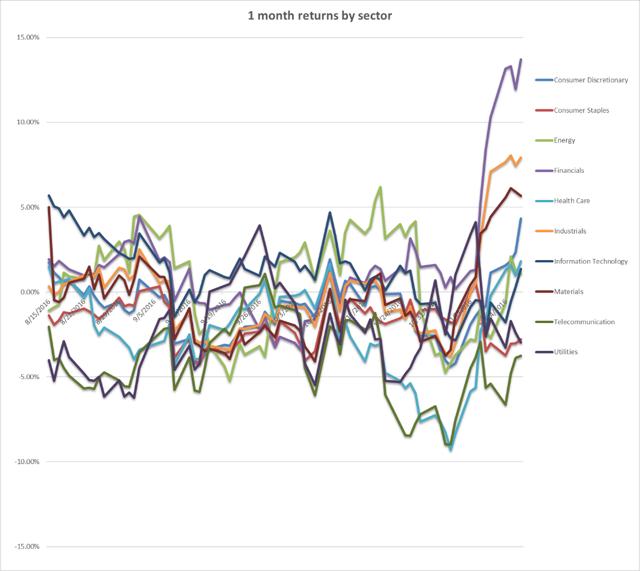 Views on Trump Deregulation
In a recent Bloomberg article published by Brookings Institution's research fellow Aaron Klein, Klein points out the terribly flawed perspective on financial regulation being proposed by President-elect Donald Trump.
More recently, the President-elect has in various instances, indicated signs of reneging on some of his previous statements. Some examples include his threat of ordering a Federal investigation of the Clinton Foundation, as well as his views on the fairness of the US Electoral College. (See here and here)
Trump may have used these ideas as political propaganda as he has on occasion shown signs of changing his mind. This leads me to believe that perhaps he may renege on his borrowed ideas such as doing away with the Dodd-Frank Act, and reintroducing the Glass-Steagall Act.
The Dodd-Frank Act, Fed stress-tests, creation of a Financial Security Committee, and other financial regulations have been effective in regulating systematically important financial institutions (SIFIs). Perhaps after Trump is briefed on the importance of protecting the economy from systemic risk due to a bank failure, may he change his mind. Again, all this uncertainty surrounding the President-elect provides a strong basis argument for why the post-election surge across the financial sector is premature.
I want to be clear that I am not advocating against deregulation, but providing a general warning of deregulating the wrong industry. Some industries must be regulated for the well-being of the economy. In the final section of this article I will discuss regulation in the healthcare and pharmaceutical industries.
Views on the Financial Sector
There is little doubt that banking institutions would be set to benefit from any Trump deregulation, though, at the expense of the long-term stability of the U.S. economy. As I mentioned above, the most immediate threat is the removal of Dodd-Frank Act which is contains the heaviest restrictions on SIFIs since the Glass-Steagall Act. I believe financial regulation continues to be one of many grey areas surrounding the President-elect's upcoming term. Trump as also mentioned that banks are no longer lending as they once did, and that is constraining economic growth in the U.S. While this may be true, there are many factors at play when giving banking institutions the freedom they once had, to lend freely and take on excessive risk. The largest factor at play is 'too big to fail.'
The Trump rally has carried on and the financial sector is outperforming the market. The Wall Street Journal recently published an article suggesting investors may be betting that banks are now growth stocks. Holding a contrarian opinion, I believe there is no concrete information to base this rally on. Investors should be weary of this and should wait until material information has surfaced. Moving into valuations, I have been monitoring financials for many years. To provide an example, prior to the election the average price target for JP Morgan (NYSE:JPM) was $72. This rally has momentarily pushed JP Morgan's stock well above the range of price targets between $50 and $79. Morgan Stanley (NYSE:MS) traded for under $30 a share for most of the year. After the election, the stock surged to $40, with the current average price target at $35. Ally Financial (NYSE:ALLY) has also surged to above $19 per share after sliding to $16.84 in the days leading up to election day. (See here for JPM, and here for MS analyst data)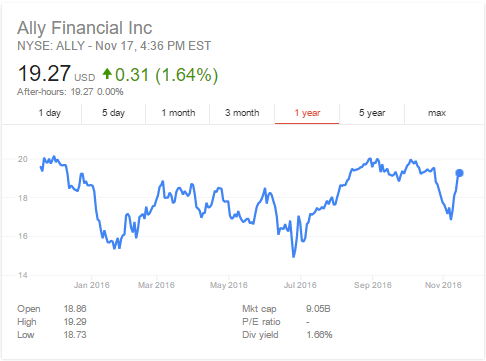 I now want to discuss a little more about the threat of deregulation in the banking industry. As mentioned in the Bloomberg article I referenced earlier, President-elect Donald Trump's plans for deregulating the financial industry while citing that banks do not lend freely anymore, is a myopic suggestion. In addition, Trump is also likely to be faced with opposition for deregulating this industry.
It is true that Republicans have won the US House and Senate majority along with the Presidency, but there is little rational reason to deregulate this industry after 8 years of academic and private research efforts to protect the system from excessive risk-taking behavior. Taking a look at China, the Chinese lending markets have extended into an area of shadow banking where banks hold loans off their balance sheets to grow. This overextension has become a growing threat to the Chinese economy. (Source here)
The 2008 financial crisis, European-sovereign debt crisis, and Cypriot financial crisis may serve as evidence as to why large banking institutions should not be deregulated. I believe policy makers may have found an efficient way of keeping SIFIs in operation, as-is, while preventing them from being a risk to global financial stability. With riskier lending being handed off to smaller newer FinTech competitors, the Federal Reserve Board and Financial Stability Committee are keeping these companies also under their watch. New trends such as crowd-funding and online capital raising has allowed the financial system to continue promoting investment into startups and small businesses. The evidence of these examples will surely be considered when the White House begins looking into financial industry deregulation.
The iShares Dow Jones US Financial (NYSEARCA:IYF) is an ETF closely tracking performance of the US financial sector. As you can see from the chart below, this measure shows the sector rallying strongly after the U.S. election.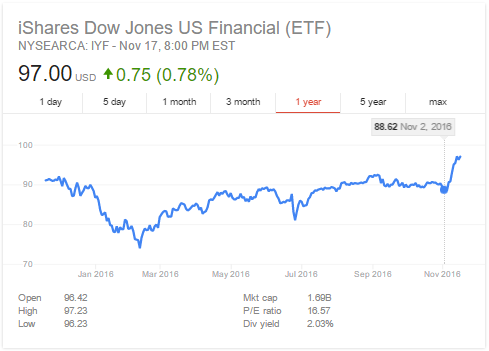 Views on the Healthcare Sector
This leads me to my next point of view and that involves the healthcare sector, which in my opinion has also rallied prematurely. I mentioned above that the opaqueness and uncertainty clouding Trumps position on this industry is particularly my reason for a continued bearish outlook. Market participants seem to believe that because Hillary Clinton lost the election, all bets against this sector are off. The reality is that there are still many political issues facing this sector as the country moves forward.
The iShares NASDAQ Biotechnology index (NASDAQ:IBB) is an ETF closely tracking biotech performance. The index has for long performed poorly when measured against the S&P 500, declining by ~28% year-to-date just before the election. After the election, the index has already provided a return of 10%. The Wall Street Journal recently ran an article arguing that: "Trumps biotech rally is based on false hopes."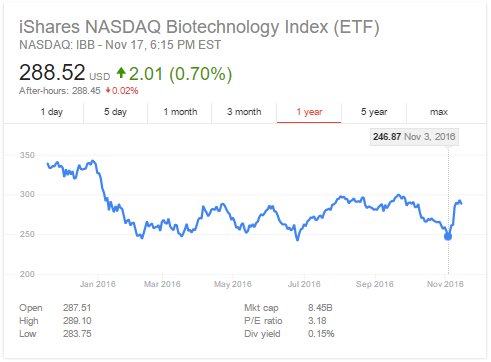 With the Affordable Care Act mandating for people to be insured or pay a federal tax fine, large pharmaceutical companies are essentially being handed revenue on a silver platter due to poorly structured healthcare reform. Some of these pharmaceuticals are foreign companies benefiting from US tax payer dollars. The healthcare system may have become less favorable to those it was designed to assist, with costs tied to healthcare not as highly regulated. The price gouging in the pharmaceutical industry adds to the equation. With information which was not previously known to consumers or investors, public policy must tackle this issue under the new President. Following my logic, we now have another cloud of uncertainty, this time surrounding the healthcare sector.
Since late last year Valeant Pharmaceuticals (NYSE:VRX) has been on the defensive side releasing statements defending their pricing methods, and Mylan Inc (NASDAQ:MYL) announced a new generic less-expensive version of their EpiPen. Still, the core problem with drug pricing has yet to be addressed on a regulatory level. These are some of the many reasons why I believe the healthcare sector's recent rally is unfounded. (See here)
Conclusion
How I would trade this argument? I would short the recent rally in the financial sector, but only after the December Fed meeting. I would also short healthcare, particularly the biotech rally. I don't think the IBB index will fully recover its losses. The problems that have plagued big pharma this year cannot possibly be forgotten so soon.
Disclosure: I/we have no positions in any stocks mentioned, and no plans to initiate any positions within the next 72 hours.
I wrote this article myself, and it expresses my own opinions. I am not receiving compensation for it (other than from Seeking Alpha). I have no business relationship with any company whose stock is mentioned in this article.
Additional disclosure: Past performance is not an indicator of future performance. This post is illustrative and educational and is not a specific offer of products or services. Information in this article is not an offer to buy or sell, or a solicitation of any offer to buy or sell the securities mentioned herein. Information presented is believed to be factual and up-to-date, but I do not guarantee its accuracy and it should not be regarded as a complete analysis of the subjects discussed. All expressions of opinion reflect the judgment of the authors as of the date of publication and are subject to change.