Launched Like A Rocket
So what is our first indication that the global economy is off to the races. Why the surge in U.S. Treasury yields, of course. Since the early morning hours in the immediate aftermath of the U.S. presidential election last Wednesday, U.S. Treasury yields (NYSEARCA:IEF) have spiked higher as if launched like a rocket. The dawn of a new era of pro-growth economic policies has suddenly come upon us, filled with massive fiscal stimulus, generous tax cuts and decreased regulation. As a result, the time has come effectively overnight in investor portfolios to abandon the safe haven of U.S. Treasuries (NYSEARCA:TLT) and get reflationary!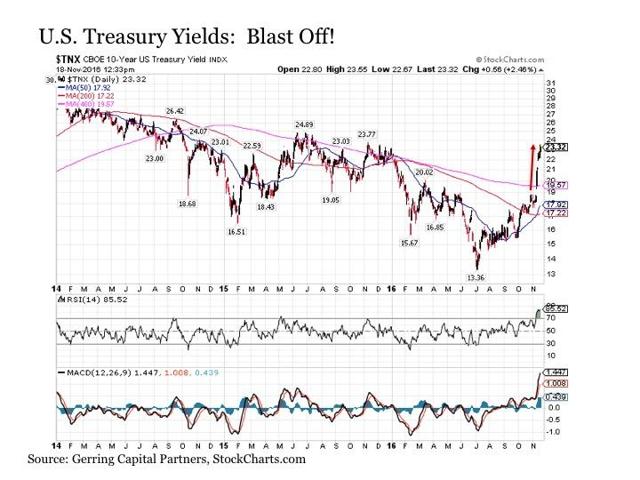 The growth that lies ahead is supposed to be so robust that the latent inflationary forces that have so stubbornly eluded policy makers for so many years during the post crisis period, nay in the 35 years since the stagflationary crisis of the 1970s and early 1980s, will suddenly erupt in strong force. Indeed! With such overwhelming inflationary pressures now upon us, investors are certainly loading up on their inflation hedges like gold (NYSEARCA:GLD), right? Except, of course, they are not. Instead, gold moved sharply lower in the wake of the election as Treasury yields spiked.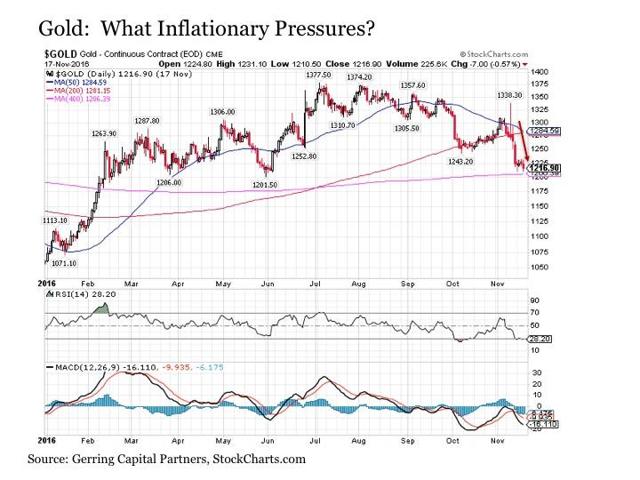 This makes sense, though, right? Gold certainly isn't the inflation hedge that it used to be. And those that had piled into gold this year as a safe haven currency to pay the border guards are likely feeling more reassured thanks to the dawn of this new growth phase. Moreover, the U.S. dollar (NYSEARCA:UUP) has also been surging higher to levels not seen in many, many weeks ago, which also explains the weakness in the yellow metal. Gold is nothing more than a barbarous relic anyway, so let's ignore this point.
Instead, the more sensible, risk averse investor that is interested in inflation protection has shifted toward more stable and yield generating Treasury Inflation Protected Securities, or TIPS. Except once again, they haven't.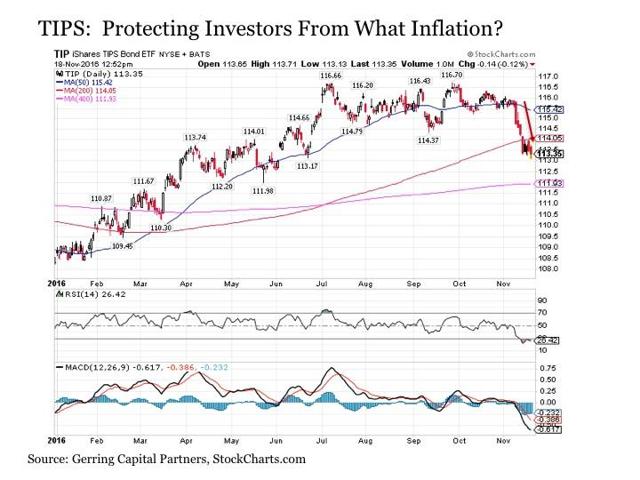 OK, OK. But TIPS can be explained by the fact that they are getting sucked lower along with the broader sell off in the nominal Treasury complex. Instead, one needs to look at the hard and fancy economic numbers like the 10-year break-even inflation rate. Here's where you'll find evidence of inflationary pressures being unleashed, right? Except break-evens appear to have already peaked last Friday and have been falling back lower since. And from a broader perspective, we are no higher today than we were just over a year ago.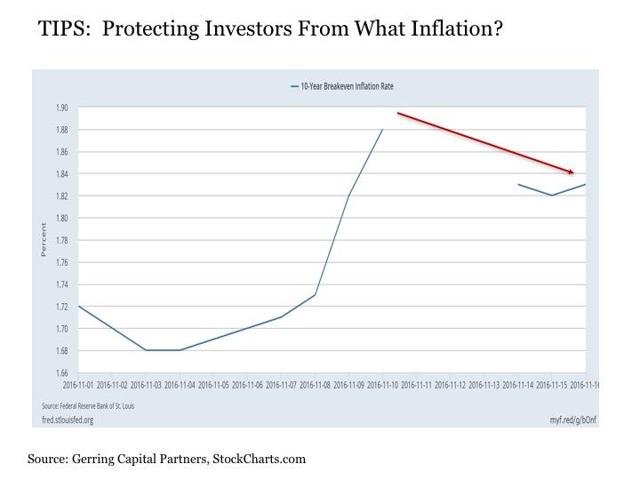 Instead, we need to look at other inflation-hedging assets like real estate (NYSEARCA:VNQ) to see evidence of this inflation expectations driven sell off.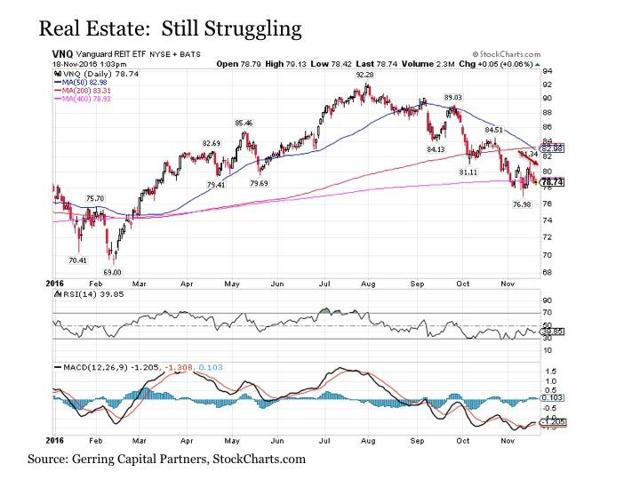 No, no, no. Not just REITs. One needs to look at a composite of real return investments (NYSEARCA:RLY) to see where inflationary pressures are now in bloom.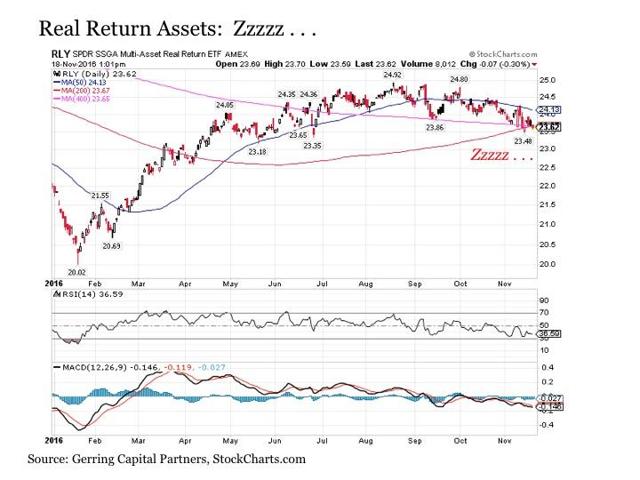 Alright. But hey, copper (NYSEARCA:JJC) spiked higher recently right? And for all of the talk about why you should ignore copper as an economic indicator up until about a week ago, the Doctor is now back in!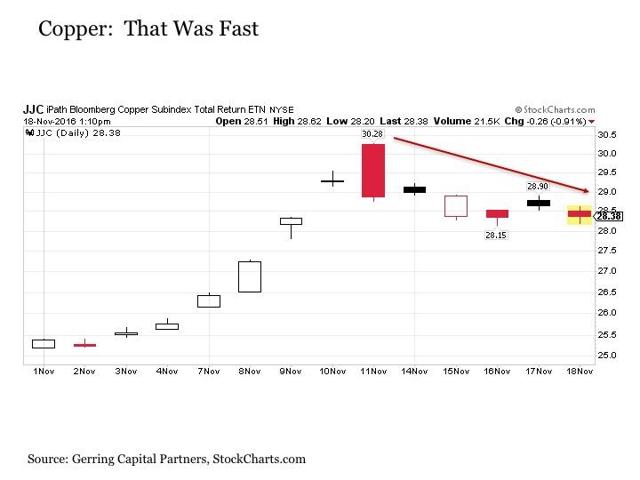 Or at least the Doctor was in as of last Friday, as it has already fallen back by -7% and is now only 4% above where it was before the election results were announced. And none of the recent rally in copper could have anything to do with knee jerk buying in an industrial metal that has been relentlessly sold for six straight calendar years. Nor is it of concern that its recent spike has brought it no higher than its lows from early last year and highs from late last year back when inflationary pressures were a non-issue.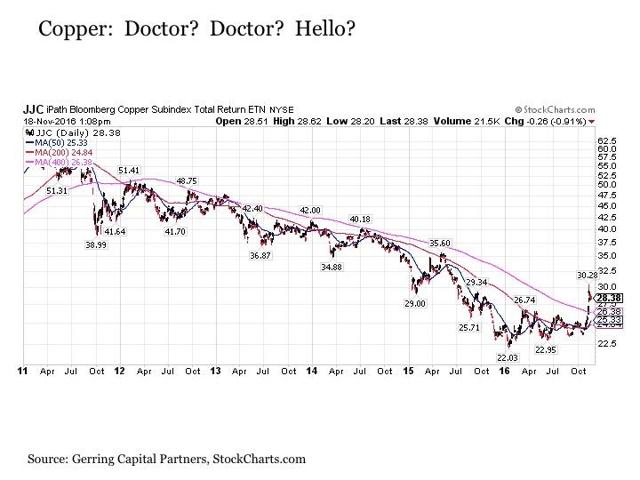 Wrong Said Fed
So we don't have any actual sustained evidence of a build in inflationary pressures accompanying the robust boom in growth going forward, but it's coming. Just count on it! And the U.S. Federal Reserve is going to have to raise interest rates in response to this inflationary explosion, particularly since the surprise victor in the U.S. presidential election strongly suggested his disdain for those currently on the Fed and the intent to unleash the hawks into the halls of the Marriner Eccles building. Interest rates are going higher in a strong and sustainable way!!
Except the term of current Chair Janet Yellen and Vice Chair Stanley Fischer is not set to expire until early 2018, which is more than a year away. And our President elect has already indicated that he does not intend to replace these leaders at the Fed until their terms expire. This is the same leadership group that will continue to run the show on interest rates that seemingly bends over backwards to find a reason to not raise interest rates for whatever conceivable reason necessary.
But they are all but guaranteed to raise interest rates in December, right? This is the start of the great normalization!! Except isn't this exactly what the Fed was saying this time precisely one year ago today? And instead of the two interest rate hikes the market is currently pricing in for 2017, weren't we supposed to get four interest rate hikes in 2016? And how many have we had eleven months later?
Wait a second - what's that you say? If Treasuries are getting crushed because interest rates are going sharply higher in response to inflationary pressures that are not yet evidencing themselves in any sustainable way in the data, how is it that stock prices are rallying on this very same news? Shouldn't higher interest rates hurt U.S. stocks that have been inflated beyond all recognition thanks almost exclusively to lower interest rates and years of asset purchases?
No worries! This time is different. Growth is coming, and it's gonna be 'uge!! It's gonna be so 'uge in fact that it's going to fill the massive valuation air pocket that currently resides underneath stock prices (NYSEARCA:SPY). In fact, let's take a look at how well stock prices are responding all around the world to this new dawn in economic growth!
In a matter of only eight trading days, the 35-year bond bubble has burst and the second longest stock bull market in history is off to the races on another leg higher.
Double Reality
One has to focus on the stock market to find the true evidence of the growth tsunami that is coming.
Let's begin with emerging markets (NYSEARCA:EEM), which are highly sensitive to the vagaries of the global growth cycle. They will certainly provide evidence of the growth wave that will soon flood the world.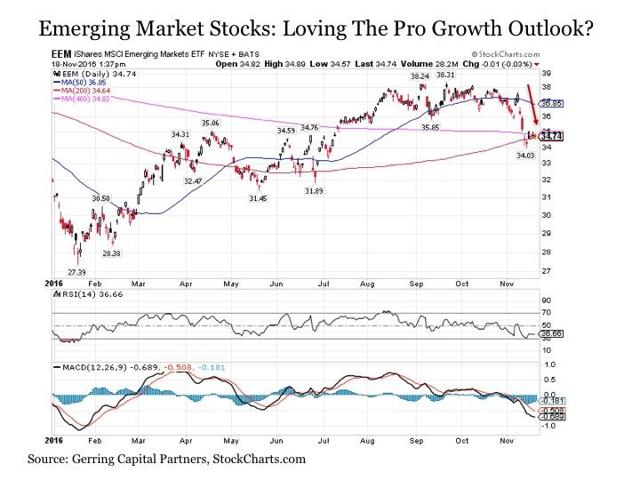 Alright, so emerging market stocks are down -10% since the election, but this is a volatile asset class. Instead, let's look at emerging market bonds, because they will certainly confirm the excitement about growth prospects and the ability of these economies to service their debts in the future.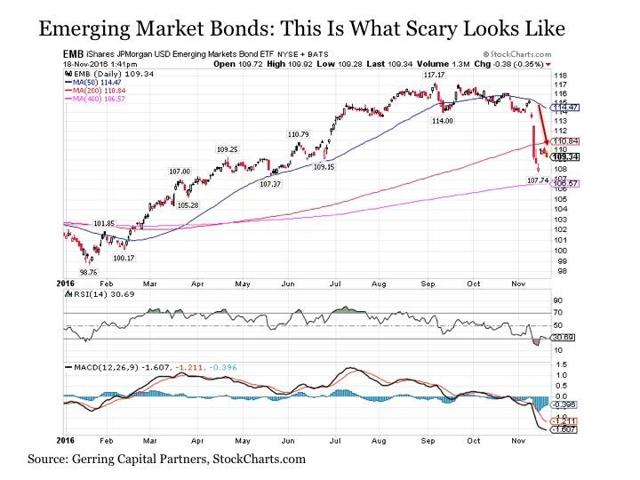 OK, but these are emerging markets and they have their issues to work through like having borrowed too much during the easy money years. Emerging market bonds had also gotten a bit ahead of themselves in 2016 anyway, as they weren't deemed the scariest investment in today's market for nothing. Just ignore these categories, as we live in a decoupled world today where the U.S. and other developed markets can do just fine on their own. Good thing the U.S. doesn't need to export goods and services to these emerging markets anyway, right?
Let's instead focus on the developed world (NYSEARCA:EFA). It's here that we can see that pro-growth wave that has been unleashed.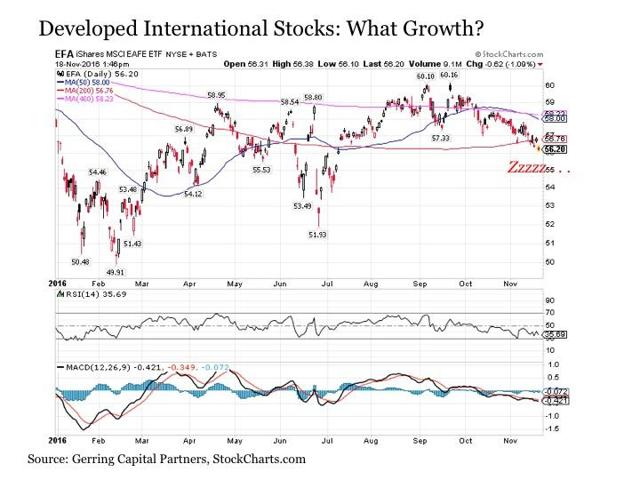 No, no, no. We're looking at this wrong. The U.S. dollar has been exploding to the upside, so we need to look at developed international markets on a currency-hedged basis (NYSEARCA:HEFA). It's here where you will see the growth.
Not convinced by a gradual rally higher to levels last seen less than a month ago at the end of October? It's decoupling!! Ignore all of this and just focus on U.S. stocks. After all, the increasing trend toward nationalism means that future growth need come from within our borders.
In fact, let's break down the market leadership with a focus on those cyclical sectors that should be most enthralled by the dawn of a new pro-growth era.
Industrials (NYSEARCA:XLI) have outperformed the S&P 500 Index by +326 basis points since the election. CHECK. With $1 trillion in infrastructure spending coming with the new administration, such a rally makes sense. And knowing that all $1 trillion will be deployed on day one of the new Congress since all of the shovel ready projects are already lined up and ready to go is also reassuring that there's no room for disappointment here, right?
Others like Energy (NYSEARCA:XLE) and Consumer Discretionary (NYSEARCA:XLY) have moderately outperformed, but admittedly they were a bit slow in getting started after trailing behind in the first few days. And materials (NYSEARCA:XLB) have cooled off in recent days, but they did get off to a hot start.
What about technology (NYSEARCA:XLK) you ask? Shouldn't the dawn of an inflationary, pro-growth era be propelling these stocks into a market leadership role? Maybe you have a point.
Everything Is Still As It Was Before
Everything is NOT awesome. I'm not saying in this statement that things might not eventually become truly awesome someday in the future, as I genuinely hope they do and believe they can. But things have not suddenly become awesome over the course of the past week. Instead, it's going to take a long (loooong) time and a lot of potentially painful and tenuous adjustments along the way to get back to awesome. And this does not mean that markets should not move well in advance to price in this potential awesome returning at some point in the future.
But outside of the rise of the U.S. stock market, which when you dissect it has taken place in three specific trading days with the vast majority of it coming the day after the election on Wednesday of last week, we are actually seeing very little evidence in securities prices of the supposed awesomeness that so many analysts and pundits are proclaiming is all but certain in recent days.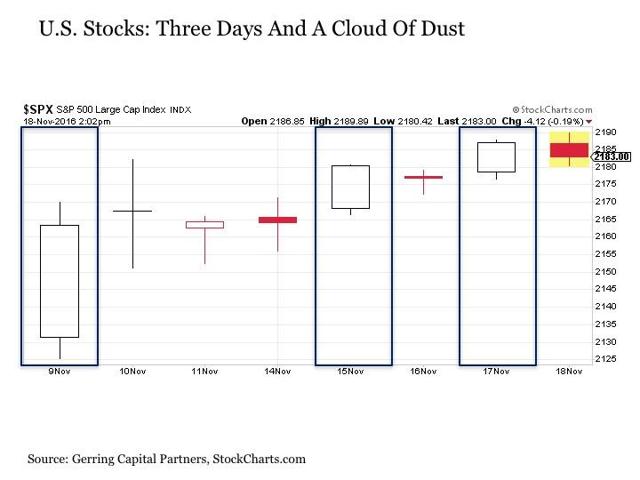 All of this raises an important point. It is very easy to be sucked in to the gushingly positive narratives and often unsupported narratives put forth by the financial media. This is particularly true when the move in asset prices can make minutes seem like days and hours seem like months. But when it comes to managing your own investment portfolios, it is critically important to do your own research to confirm or refute the narratives that you are hearing. For the reasons for what is actually taking place at any given point in time may end up leading to decidedly different outcomes.
This also leads to perhaps an even more important point. We should all remember that just as a stock market can rise relentlessly and valuations can increase despite a largely stagnant economy thanks to extraordinarily accommodative monetary policy, so too can a stock market fall relentlessly and valuations compress despite a steadily growing economy as a result of restrictive monetary policy.
In fact, monetary policy does not even need to be restrictive to see stocks fall into a bear market. For so much air has been put under a stock market that continues to trade at its highest valuations in history that even a solidly growing economy can come with a good dose of valuation compression.
Putting this all together, one is certainly justified in feeling optimistic for the future of the economy in the wake of the election outcome last week. And I sincerely hope such good things come to pass. But it is important to be mindful that a few days of optimism about the economic outlook before the new executive branch has even begun to staff itself does not mean that it will fully translate itself into sustainably improving asset prices in any meaningful way.
The road ahead is laden with meaningful challenges and adjustments that will inevitably require some degree of pain along the way. And even if the economy starts to truly get stronger, it does not mean that it won't be doing so at the expense of lower stock prices as the adjustments are made to move from artificial asset price inflation to actual sustainable economic growth.
After all, the payback for an era when "good news is good news and bad news is good news" could very well be "good news is bad news and bad news is bad news." Only time will tell. But in the meantime, take good care to not let your portfolio get too far ahead of itself. And where possible, seek to capitalize with patience in ways like U.S. Treasuries or selected, high quality preferred stocks (NYSEARCA:PFF) or selected segments with the stock market such as consumer staples (NYSEARCA:XLP), utilities (NYSEARCA:XLU) and technology where things may have already gotten way ahead of themselves to the downside already.
Disclosure: This article is for information purposes only. There are risks involved with investing including loss of principal. Gerring Capital Partners makes no explicit or implicit guarantee with respect to performance or the outcome of any investment or projections made. There is no guarantee that the goals of the strategies discussed by Gerring Capital Partners will be met.
Disclosure: I am/we are long IEF,TLT,PHYS,USDU.
I wrote this article myself, and it expresses my own opinions. I am not receiving compensation for it (other than from Seeking Alpha). I have no business relationship with any company whose stock is mentioned in this article.
Additional disclosure: I am long selected individual common stocks and preferred stocks. I also hold a meaningful allocation to cash at the present time.