What a monumental time it has been for the bond market. After a 35-year bull market dating all the way back to 1981, the bond bubble has supposedly burst over the past week. It burst, that is, if you listen to the many analysts who have been pontificating in the financial media in recent days with the clarion call to get short bonds and get long stocks. But has the bubble burst really? Taking this one step further, does an actual bubble even really exist in the first place to be burst in the bond market?
Tough Week, Tough Stretch
It cannot be denied that the bond market (NYSEARCA:BND) has suffered through a difficult stretch lately. Since the election results were revealed early Wednesday morning, the yield on the 10-Year U.S. Treasury (NYSEARCA:IEF) has jumped by 48 basis points from 1.87% to 2.33%.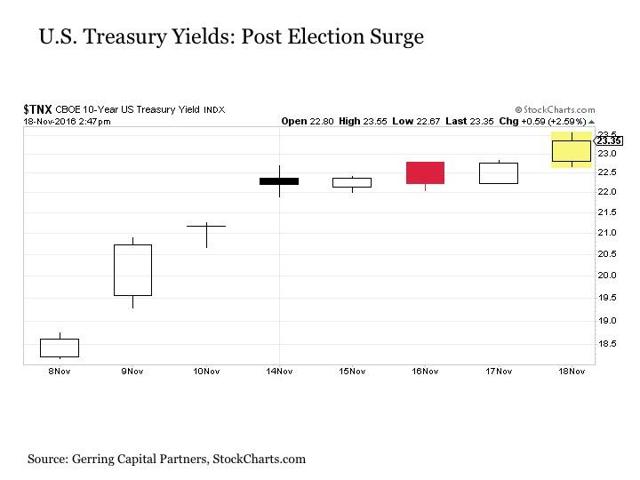 Stepping back from the tree, we see that the recent spike in Treasury yields (NYSEARCA:TLT) marks the continuation of a trend that began in the immediate aftermath of the "Brexit" vote this summer. After bottoming at 1.34% in early July, yields are now nearly a full percentage point higher through Friday.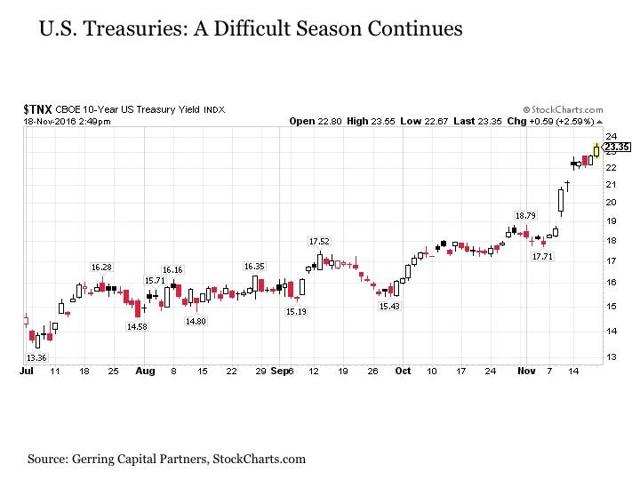 These are no small moves indeed, particularly given the fact that bond yields are so low level on an absolute basis.
Whoa! Let's Hold On Just A Second
But to somehow declare that the bond bubble has burst because of the recent backup in yields is the latest overstatement of the past four decades.
Let's draw back further to put the recent jump in yields into context. If we look dating back to the start of 2015, we see that 10-Year Treasury yields have done nothing more than return to the average range for yields through much of the previous calendar year. It has been a strong move, but it has done nothing other than bring us back to levels that are still below the highs from June 2015.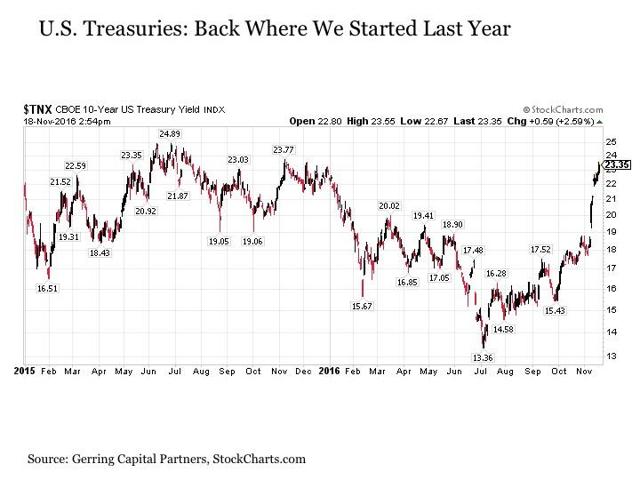 Let's pull back even further to the start of the financial crisis back in 2007. The jump in Treasury yields, while still dramatic, starts to look like a blip on the radar screen. Two key points immediately present themselves. First, the latest move higher in Treasury yields brings them only to the downward sloping trend line in yields dating back to the start of the financial crisis. Basically, this looks like nothing more than the latest in a series of lower highs in the benchmark yield, not the bursting of a bubble. Also, we have seen this exact same spike in yields play out on four separate past occasions since the outbreak of the financial crisis. In each of the past four instances, a parade of analysts were out declaring that the bond bubble had burst and the decades-long bond bull market (NYSEARCA:AGG) was over, only to see yields roll back over.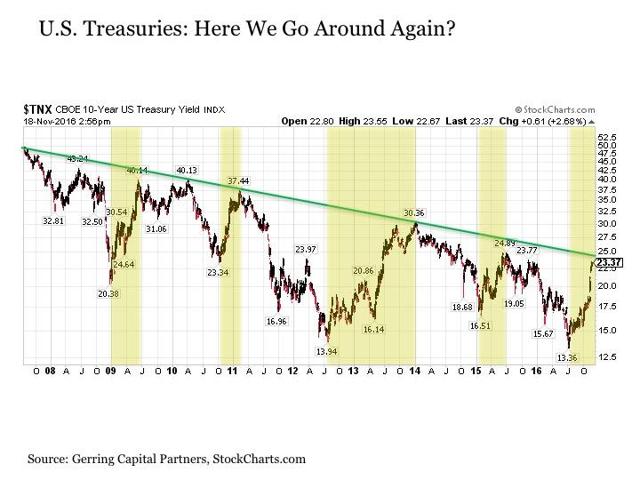 Let's keep going back to the beginning of the bond bull market that began in 1981. Looking at the forest, we see that not only is it premature to declare that the bond bull market is over, but also that the long-term downtrend in yields remains very much intact. And despite the current spike in yields, Treasuries are not even close yet to pressing against the upward bound support of its nearly four decade long downward sloping trading channel. Moreover, we see all along the way periods like 1984, 1987, 1994 and 1999 when bond yields were striding higher only to reach resistance and turn back lower.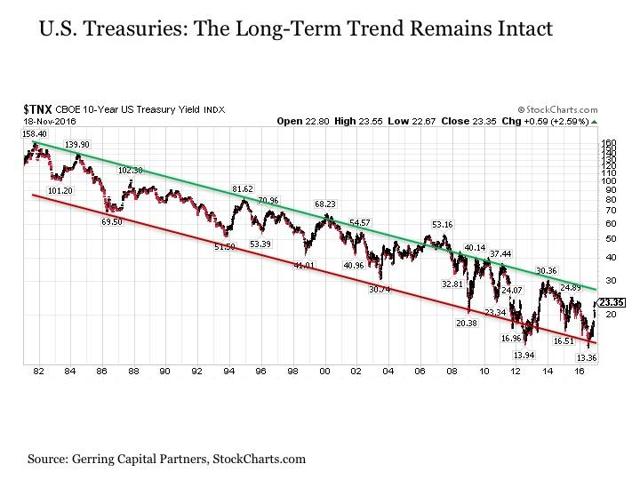 Put simply, declarations that the bond market bubble has burst are grossly premature. Will bond yields someday break out of this extended downward sloping channel and start to sustainably rise? Sure. Could the recent spike in yields be the very beginning of such a transformation? Possibly. But is there any evidence or confirmation that any of these things are actually taking place at the present time? Absolutely not.
What About The Fundamentals
But another challenge is warranted. Maybe current fundamentals no longer support bond yields having moved to such low levels. Let's explore this point.
First, what has changed since this summer? Has the global growth environment improved in a meaningful way? Not really. Sure, we've seen some OK data out of the U.S. lately. And investors are expressing enthusiasm at the prospects for more reflationary, pro-growth policies and less regulation out of Washington DC, but we also saw similar optimism about growth when current Prime Minister Shinzo Abe took office in Japan back in early 2013, and the last I checked, its bond yields are meaningfully lower today than they were a few years ago. Perhaps these pro-growth policies both here and in Japan will eventually bear fruit, but such transformations are not made overnight even under the best of circumstances.
Instead, today's Treasury yields have risen not only on an absolute basis, but also on a relative basis versus comparably dated securities out of Japan and Germany.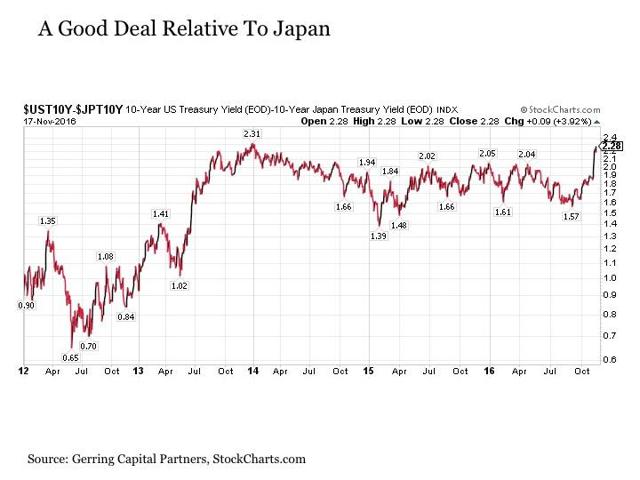 Why does this matter? Because if you are an investor in any part of the world who is looking to park your cash in the bonds of a high-quality sovereign issuer, you will now get paid an extra high premium for choosing U.S. Treasuries over the alternative. This is not a bubble. Instead, this is a relatively good deal that keeps getting better with each passing trading day.
Lastly, if the bond market bubble in the U.S. has indeed burst, someone forgot to notify investors in the high yield corporate bond market where spreads have compressed by 40 basis points over the past two weeks to their lowest levels since the price of oil was collapsing. If any supposed bond bubble was truly unraveling, high yield bonds would likely be getting trounced, not narrowing in spreads.
Bottom Line
Recent calls about the death of the bond bull market have been greatly exaggerated. While the spike in yields has been eye opening, the long-term bull market remains soundly intact. And the fundamentals to support an eventual rally in the bond market in general and the Treasury market in particular are getting stronger with each passing trading day.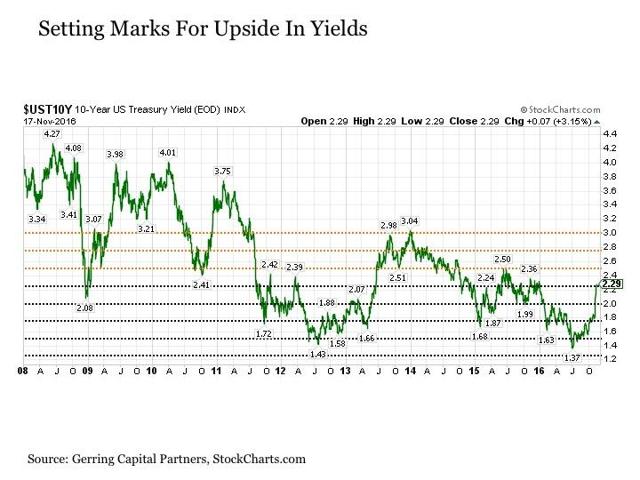 We may see Treasury yields continue to rise in the near term. For example, a rise in the 10-year U.S. Treasury yield to 2.50% between now and the end of the year should not be ruled out. A jump to 3.00% could even be in the cards. But unless global economic conditions dramatically change, investors should be well served to view any such back up in yields as an attractive buying opportunity.
Disclosure: This article is for information purposes only. There are risks involved with investing including loss of principal. Gerring Capital Partners makes no explicit or implicit guarantee with respect to performance or the outcome of any investment or projections made. There is no guarantee that the goals of the strategies discussed by Gerring Capital Partners will be met.
Disclosure: I am/we are long IEF,TLT.
I wrote this article myself, and it expresses my own opinions. I am not receiving compensation for it (other than from Seeking Alpha). I have no business relationship with any company whose stock is mentioned in this article.