Mott Capital Management wrote an interesting article here on SA. In the article, MCM gave its reasons for why the Fed won't hike in December. Well, I think "definitely" the Fed will. Here are my reasons:
The Fed won't risk having its only two weapons used at the same time
Janet Yellen had already stated in several occasions the importance of fiscal policy in fighting the coming recession.
It's like saying to the markets:
"If any recession suddenly breaks in, don't depend on us, don't expect anything from us. Instead, look for fiscal stimulus; we can't do anything at the mean time."
And guess what? One of the largest fiscal stimulus programs is coming. What this means? This means the Fed won't risk using, simultaneously, the only two weapons available to fight any recession. And since the fiscal stimulus is expected to start in Q1-2017, then the Fed needs to let interest rates reach a higher level. So that, when fiscal stimulus lose its stream interest rates would be at normal levels.
The relation between interest rates and inflation is weak
Mott Capital Management argued that PPI index has been in a strong downtrend since 2009 - with 0% actual change vs. 0.3% expected last month - preventing the Fed from raising rates in December. However, I think that core PPI gives a clearer picture about inflation since it excludes the energy sector, whose prices can't be controlled by the Fed.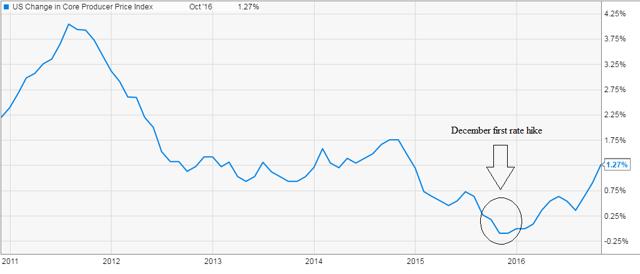 (Source: YCharts)
As seen, acting against basic economic principles, the Core PPI actually increased since December's rate hike, unlike the years of 0% interest rates where it was supposed to be lifted.
That can be related to different reasons; the most important one - in my view - is that the policy has been used for so long, making its existence no longer effective. If the same medicine is used on a patient for years, his body will no longer respond to it as it used to.
The Fed is no longer used as a "political" tool
Since the beginning of the year, like many other investors, I became skeptical about the Fed's credibility. Stating that it is "data dependent" while in fact the strong employment numbers and gradual increase in inflation prove it is not. Then, what's the reason of this rate hike delay? Well, it's politics. The Fed should have raised rates in early Q3-2016 when the stock market was at all-time high and markets were ready to juice a rate hike, and non-farm payrolls showed a 270K increase. But the Fed didn't, why? Because any increase in rates at that time would have resulted in a temporary correction in the stock market (NYSEARCA:SPY). Although this is a normal initial reaction after most rate hikes, during elections, this kind of news can be twisted in the favor of the opposing party.
And now, since the election is over and the previously opposing party will take control, the Fed won't act based on political goals. Instead, the Fed this time will be really "data dependent", which increases the probability of a rate hike.
What may challenge my assertion?
Mott Capital Management talked about the yield effect on the Fed's decision next month, backed by the idea that a rate hike, accompanied with an increase of yield gap between the US and the world, will strengthen the dollar, affecting exports and mortgage rates.
While I believe this argument is true, I think that there is another important negative effect of a December rate hike. That's interest rates on public debt.
A $1 trillion of fiscal stimulus, accompanied with tax cuts, will definitely result in a huge fiscal deficit. Some might say that this type of policy worked by the Reagan administration, but at that time it was different. The debt/GDP ratio was 20% in 1981; today, it is more than 100%. This means that Reagan had more space for fiscal stimulus while Trump doesn't have this privilege.
Returning to my point, a 1% increase in federal funds rate will increase interest paid on 10-year treasury bonds by 33% (taking 9.1 duration), which will have a meaningful impact on the debt markets. Higher interest expense for the treasury will result in higher bonds offerings, which in turn will result in further pressuring bond prices, thus increasing yields more. And the cycle repeats itself.
Concluding, I am certain that the Fed will increase rates in its December meeting. However, I think that rates will remain relatively low in 2017, maybe we would see just two rate hikes in 2017, and that's a normal outcome when you have uncertainty in the treasury's account balance. The Fed needs to see how Trump's policy will affect the treasury's deficit. If the effect is un-meaningful, then we might see much higher interest rates after 2017. However, if the economic plan doesn't work as expected and the deficit increased in a huge way, we might not witness any rate hike in the distant future.
Disclosure: I/we have no positions in any stocks mentioned, and no plans to initiate any positions within the next 72 hours.
I wrote this article myself, and it expresses my own opinions. I am not receiving compensation for it (other than from Seeking Alpha). I have no business relationship with any company whose stock is mentioned in this article.