This is a quick update piece on Famous Dave's (NASDAQ:DAVE) after reviewing Q3 2016 results and reading the corresponding conference call. Despite the turnaround taking longer than I hoped, there were some modest green shots within the numbers. Most notably, company-owned comps were only down 1%. Franchise comps were down a disappointing 3.8%, but as we can see from the chart I put together, the second derivative decline rate of the comps is improving. Either way, the market doesn't seem to care at the moment as the stock just made a new fresh 52-week low.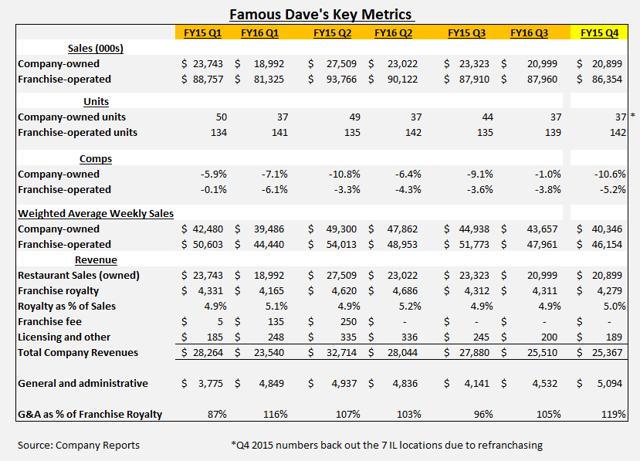 Perhaps, the macro headwinds, barrage of negative press chronicling overcapacity in the restaurant space and the lack of a V shaped recovery have sapped value investors' enthusiasm for bottom fishing. What separates DAVE from some of its competitors is the fact that its franchise royalties cover its SG&A expenses. Moreover, the company's net debt at approximately $5.8 million is quite manageable and the company is still cash flow break even.
Switching gears, and with the benefit of hindsight, it actually makes a lot of sense that Dave's finally hired a CEO from within. I am sure Adam Wright is an intelligent guy and I don't doubt his commitment to the role, especially given that his brother owns some franchised locations, but I was a bit naïve to think a hedge fund guy could effectively turn around a restaurant company. Despite his best efforts, perhaps Mr. Wright was simply out of his depth. Mike Lister seems like the far better choice given his extensive experience.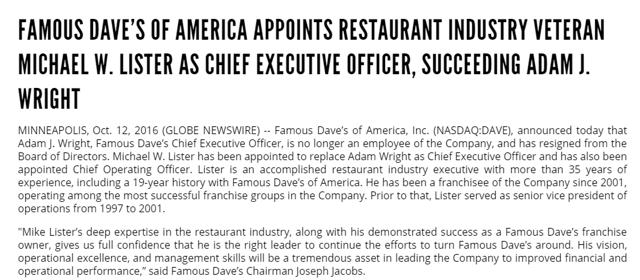 As outside investors we will never know the reasons for Mr. Wright's sudden departure, but clearly the company has a sense of urgency and wanted to see more progress. As Mr. Lister points out on the call, this is a pivotal moment in the company's history. After I left the investment world in 2011, I had a three-year odyssey into the corporate finance world. This included a one-year stint in an FP&A role, followed by two years in a corporate finance role for a Global Fortune 100 Company. What I learned during my time in both roles is there can be an inherent push and pull tension between corporate and the field organization. These experiences were in different industries, but from that vantage point I observed the importance of management's challenge of managing this tension. Applying this learning, I realize that the franchisees are the key to an effective turnaround at Famous Dave's. If franchisees have healthy operating margins and are making money for their efforts then the franchise royalties continue to roll in.
Qualitatively, I am still encouraged that Famous Dave's management "gets it" and that the franchisees want to feel supported and that their 5% royalty payments are being strategically deployed. In the short term you could cut SG&A and your financial statements will look great, but longer term you would alienate your key franchisee stakeholders. Given the strategic hires made over the past year and the news from the Q3 call that they hired a SVP of franchise operations, we have concrete evidence of Mr. Lister's understanding of the importance of supporting the franchise operators.

The Q3 2016 conference call can be found here. I would encourage anyone who hasn't already read it that is thinking of throwing in the towel on the stock due to the weak stock performance to read the call closely.
Here is another key excerpt from Mike Lister.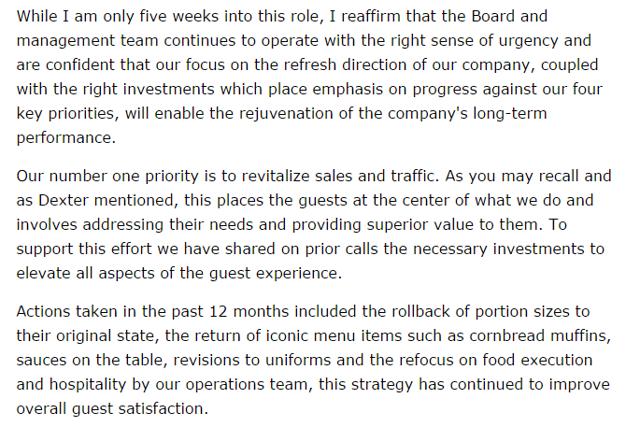 To share one other granular potential green shot from the call was this quote regarding the Monday Night Football promotion. This is the type of thinking I would expect to hear from an industry veteran like Mike Lister who has successfully run his five Famous Dave's restaurants in Tennessee for upwards of 15 years.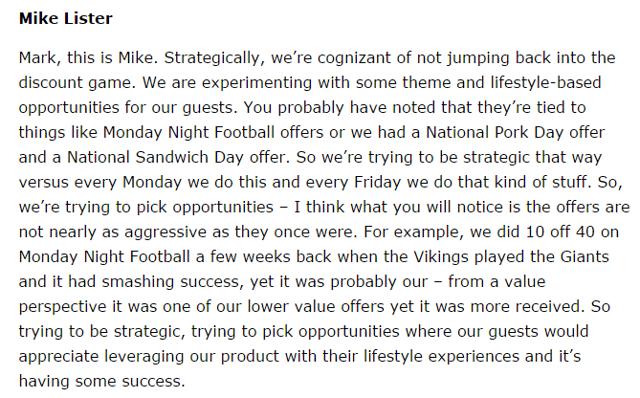 Concluding Thoughts:
We haven't sold any shares and continue to patiently wait for a turnaround in comps at the company owned and franchise operated level. Given the second derivate rate of change improvement in comps and the appointment of a successful franchisee operator now at the helm, as CEO, it is appears that the market is simply lumping shares of DAVE with similar small cap publicly traded restaurants. These companies often have shorter histories, weaker retained earnings, more debt and don't benefit from a franchise royalty income stream. One potential upcoming catalyst is the successful refinancing of a new credit line with a new bank, as cited in the Q3 2016 earnings release.
Disclosure: I am/we are long DAVE.
I wrote this article myself, and it expresses my own opinions. I am not receiving compensation for it (other than from Seeking Alpha). I have no business relationship with any company whose stock is mentioned in this article.
Editor's Note: This article covers one or more stocks trading at less than $1 per share and/or with less than a $100 million market cap. Please be aware of the risks associated with these stocks.