In general, the immediate aftermath of the U.S. presidential election wasn't kind to commodities, although there were some exceptions. Commodities, which are priced in U.S. dollars, all faced headwinds because of the its strong rally. Nevertheless, a few commodities managed to outperform the S&P 500 (NYSEARCA:SPY), which was up approximately 4% a week after the election. A few more were flat to slightly up. Industrial metals did best, precious metals the worst (with one major exception). Agricultural commodities had a wide range of responses, while energy commodities reacted in a fairly narrow band.
Of all commodities, gold is the most inversely correlated to the U.S. dollar (although there are occasional periods where both move together). While gold rallied strongly the evening of the election, it started selling down during the morning of the next day. Gold (NYSEARCA:GLD), silver (NYSEARCA:SLV) and platinum (NYSEARCA:PPLT) were down 5% to 6% a week later. Bucking the trend was palladium (NYSEARCA:PALL), which was up 15%, having one of the biggest post-election rallies of all. The divergence in the price behavior of platinum and palladium is unusual. The two precious metals tend to trade together. The supply of both comes mostly from South Africa and Russia. Both are industrial metals as well as precious metals that are primarily used in auto manufacturing. Palladium tested its year-to-date high, while platinum, gold and silver were well off theirs (all have rallied strongly in 2016).
Precious Metals and S&P 500 Before and After U.S. Presidential Election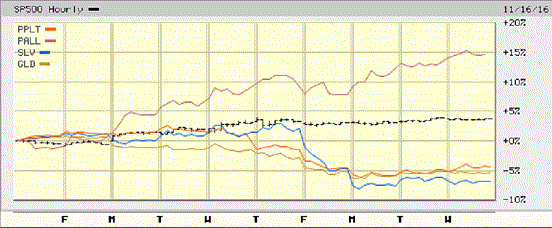 Black line is S&P 500, red line is palladium, orange line is platinum, bronze line is gold, and blue line is silver.
Base metals, which are industrial metals, and not repositories of investments like gold and silver, reacted very bullishly to the presidential election results. Copper was up as much as 15% and nickel over 13%. Tin was up around 6% by the end of the week, but started selling off the following week and was down 5% a few days later. Aluminum didn't participate in the rally and was down around 3% a week later. Copper, nickel and even tin hit year-to-date highs after the election (a bullish sign). Overall, it seems the commodities markets were signaling that the new Trump administration would lead to a revival of the global manufacturing economy.
Base Metals and S&P 500 Before and After U.S. Presidential Election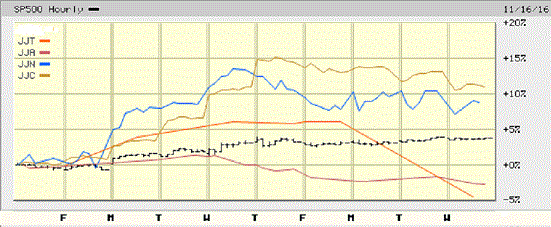 Black line is S&P 500, red line is aluminum, orange line is tin, bronze line is copper, and blue line is nickel.
Energy commodities under performed the S&P 500, being slightly up to slightly down. The price of oil also is strongly impacted by the U.S. dollar, but not as much as gold. It was flat a week after the election (it has rallied strongly this year). Natural gas was down, but by less than 2%. Unlike the global oil market, natural gas has a regional North American market, and its price should be strongly determined by events internal to the U.S. The commodity was actually down almost 8% the day of the election, but was down much less a week later. So, natural gas actually reacted bullishly to the election results (see chart). The price of uranium, which has fallen for all of 2016, was down around one percent and continued trading along its bottom. Alternative energy (NYSEARCA:PBW) was up over one percent, also trading around its yearly low, although there is no reason to think that a Trump administration would be bullish for non-traditional energy sources.
Energy Commodities and S&P 500 Before and After U.S. Presidential Election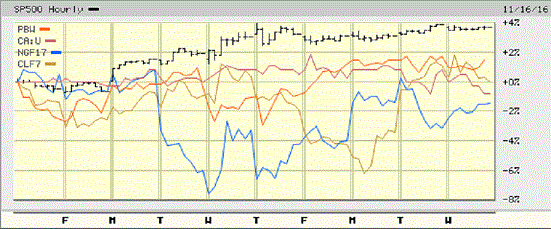 Black line is S&P 500, red line is uranium, orange line is alternative energy, bronze line is oil, and blue line is natural gas.
Agricultural commodities were mostly down after the election, although cotton (NYSEARCA:BAL) was one of the handful of commodities that outperformed the rally in the S&P 500. Livestock (NYSEARCA:COW), cattle and hogs, also rallied, rising almost 2%. Grains (NYSEARCA:JJG), wheat, corn and soybeans were down around 2%, coffee (NYSEARCA:JO) around 4% and sugar (NYSEARCA:SGG) around 6%. Wheat (NYSEARCA:WEAT) and corn (NYSEARCA:CORN) were trading along their year-to-date bottoms, while soybeans (NYSEARCA:SOYB) were trading in the middle of their yearly price range. Livestock was trading just above its year-to-date lows. Sugar was trading off of its year-to-date highs, but was heading down before the election. Coffee also was down from its highs, while cotton was close to its year-to-date peak.
Agricultural Commodities and S&P 500 Before and After U.S. Presidential Election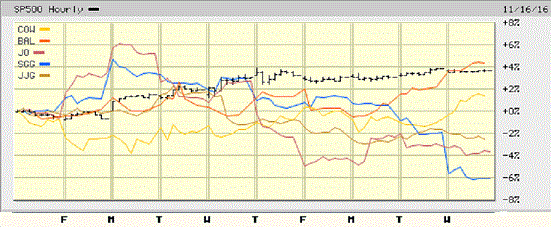 Black line is S&P 500, red line is coffee, orange line is cotton, bronze line is grains, blue line is sugar, and yellow line is livestock.
In the aftermath of the U.S. presidential election, U.S. stocks have been some of the best performing assets globally (for more about the stocks rally see here and here ). The U.S. dollar has had a strong rally, hitting multi-year highs. This has mostly placed a lid on commodities. Nevertheless, base metals, palladium and cotton have outperformed U.S. stocks. Energy stocks have basically traded flat, which positions them for a rally once the dollar rally moderates and moves sideways or retraces. Gold and silver are likely to rebound at that point too. At the moment, investors should be looking at ETFs/ETNs for base metals, such as DBB, BDD, JJM, JJN and JJC.
Disclosure: I/we have no positions in any stocks mentioned, and no plans to initiate any positions within the next 72 hours.
I wrote this article myself, and it expresses my own opinions. I am not receiving compensation for it (other than from Seeking Alpha). I have no business relationship with any company whose stock is mentioned in this article.