"Change is the law of life. And those who look only to the past or present are certain to miss the future." - John F. Kennedy

Since the beginning of the Bull market there have been many theories and strategies bandied about from both the bull and the bears. One theme that has been constant since the beginning of this bull market has been the popularity to blame everything on the Fed. Everyone knows the argument, "The Fed has artificially pumped up the market".
I believe most of that comes from the negative sentiment that has been pervasive now for years. Market participants have this idea that the market should not be appreciating, all while the stock market continues to defy their bearish forecasts. Those that have refused to alter their thinking and their asset allocation then blame the Fed for the market's actions.
This type of thinking and behavior is opposite to what history tells us. The majority of investors over time have been appreciative of the Fed for their interaction during bull markets. It is because of what we are witnessing that I have concluded that the current bull market could still have a considerably longer life than most investors expect.
It isn't just this sentiment that has me concluding idea that we continue to be in a secular bull. Many market pundits have been so clouded with the Fed obsession that the commentary then switches to the idea that there is nothing fundamental behind the bull market. This is simply not true. Earnings have improved dramatically and have been a major support to the bull market.
The chart below shows corporate profits' proportion of GDP through time. Corporate profits became the largest proportion of GDP ever in history., and the fastest growing portion of national income. So there is evidence that the stock market actions are not solely attributable to the Fed simply inflating the value of financial assets.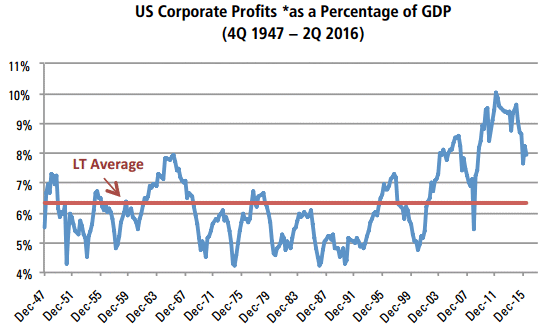 Chart courtesy of Richard Bernstein and Associates.
Many like to point to the fact and say that we are in different times now and there is some truth to that. But the under pinning of the current bull market is much more normal than the pundits would suggest. Most bull markets are comprised of the combination of central bank liquidity, improving fundamentals, and negative sentiment. All three have been present during this run up in stocks, so there isn't much difference with the makeup of this bull market.
The current upside run is now the second longest bull market in the post war era at 2,787 days and counting. The longest bull market stands at 4,494 days long and ended in 2000. The chart below shows how this bull market compares relative to others that have taken place.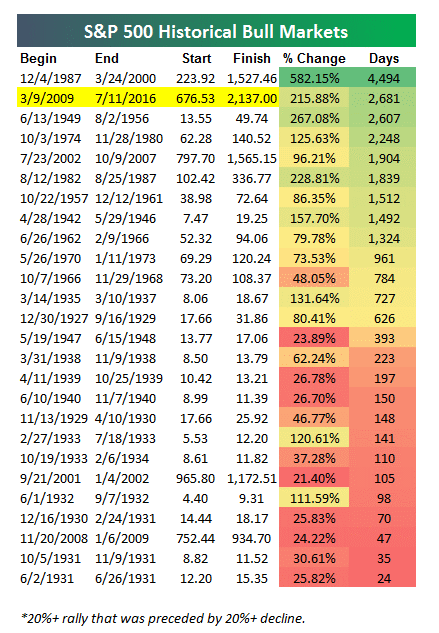 Source: Bespoke - Data as of July 11, 2016
Because of this longevity, the thoughts of how the market is long in the tooth and coming to an end are now the general consensus. Commentary that we are in the last cycle before it all comes crashing down have been tossed around for a while and are prevalent again. Well that is possible, but there is also the possibility that we are experiencing a secular bull market that I have maintained we are in since 2013.
My reasoning for selecting that time period was quite simple. The S&P had just broken out of a 13 year base building pattern. That alone suggested the market was going much higher.
Over time markets regularly go through long phases, Bullish, Bearish and sideways. These phases can last from years to decades. Secular Bull markets tend to last 14-15 years and they tend to compound at around 16% per year. The market's P/E more or less doubled, from 10.1 at the start to 20.5 at the end. Statistics can vary due to interpretation of start and end dates, but you get the idea.
That doesn't mean there aren't periods of drawdowns along the way. These occurrences complicate the situation and confuses investors. The 1949 to 1966 secular bull market saw a 27% decline in 1962 before continuing for 4 more years with a gain of 350%.
The 1982 to 2000 secular bull also saw the infamous 1987 market crash. Before it was all said and done though, the S&P recorded gains of 1000%. These cyclical down periods had one thing in common, they were in the constructs of a long term secular bull market. If past is prelude there could be years before this secular trend is over, but do not dismiss or underestimate the drawdowns that could pose speed bumps along the way.

Economy
Atlanta GDPNow is now projecting 3.3% GDP growth for the fourth quarter 2016.
The Mortgage Bankers' Association updated quarterly figures on total mortgages outstanding, foreclosures, and defaults. The total number of outstanding loans moved up slightly, but overall continues to trend lower as part of the overall consumer deleveraging process. Foreclosures are also down. As a share of all loans, the number of outstanding foreclosures made a new cycle low. Overall, foreclosure and delinquency data continued to show strong household balance sheets.
Container volumes at the port of Los Angeles increased smartly in the month of October. Export volumes at their highest levels since March 2014 and the highest growth rate since November 2013 are impressive signals of trade activity in the US.
October retail sales was a stunner to the upside. Expectations were for an increase of 0.6%, the actual reading was 0.8%. On top of the beat for the month of October, the September sales figure was revised up from 0.6% to 1%. Retail sales are now up 4.3% on a year over year basis, which is the strongest year over year reading since November 2014.
Empire State Manufacturing moved out of negative territory for the first time in four months with a reading of 1.5 that beat expectations.
October Industrial production came in close to flat on the month, rising 4 basis points sequentially. Strong sectors on the month included IT & related equipment, construction supplies, and durable materials. Weakness came from energy, nondurable consumer goods, business supplies, and space/ defense manufacturing.
Philadelphia Fed Manufacturing region was slightly weaker than expected (7.6 vs 7.8) and down slightly from last month's reading of 9.7.
Last week I put forth an indicator that many use as a sign to indicate whether the global economy is either growing or slowing, the price of copper. I too have had the idea that as the price of copper goes so goes GDP. Urban Carmel says that may not be true. His commentary has now changed my view entirely on the subject with his recent missive.

The Wall Street Journal reports;
"Job gains from new firms are at the lowest share of employment in over 20 years, another sign of the declining role entrepreneurship plays in the U.S. economy."
On that score, the latest NFIB small business survey indicates that businesses are currently citing the biggest problems they face are Government Red Tape and taxes.
The Atlanta Fed Median Wage tracker shows that wage growth is increasing and outpacing inflation by over 3%. That is good news for the labor market and the economy in general.
Not much to say on the weekly jobless claims number other than they are at a four decade low.

Homebuilder sentiment came in as expected and has been 63 or above for three straight months for first time since 2005.
Housing starts stunned analysts with a very strong report continuing the solid uptrend from the lows. The reading of 1.3 million far exceeded the consensus expectations of 1.1 million. Month over month gain of 25% was the fourth largest increase of all time, and the biggest since 1982. Building Permits weren't as robust in the October report. Overall, Permits increased just 0.3% month over month.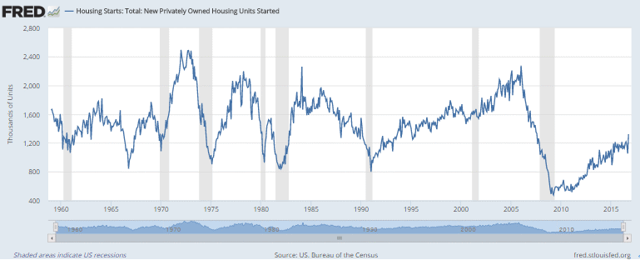 Source: Federal Reserve Economic Data
The recessionistas will need to hit the pause button on the recession is looming talk for another week or so.

Global Economy

Italy's GDP (+0.3% QoQ) grew faster than Germany's (+0.2% QoQ) per figures released during the week. Eurozone GDP as a whole grew 0.3% quarter over quarter.
U.K. delivered phenomenal retail sales growth on both a real and nominal basis over the last few months. Trailing year over year growth rates have surged impressively in what can be called a post Brexit spending ramp.

Chinese retail sales missed consensus expectations, but still remains in the 10% year over year growth range. One company that saw increased consumer spending was Alibaba (NYSE:BABA). Their "singles day" sales growth increased 32% over last year by reporting 17.7 Billion in sales this year. Putting that in perspective, U.S. Cyber Monday sales last year were 3 Billion. Now that many are overly concerned with the Trump Protectionist rhetoric sending shares of Alibaba down, it might be wise to look at a falling stock price and increased sales as an opportunity.

Earnings Observations
The third quarter earnings season officially came to an end this week with Wal-Mart's (NYSE:WMT) report before the open.
Factset Research reports;
As of Friday (with 95% of the companies in the S&P 500 reporting earnings for Q3 2016), 72% of S&P 500 companies have reported earnings above the mean estimate and 55%of S&P 500 companies have reported sales above the mean estimate. It is puzzling why the overall market was down 3.7% while this earnings season was underway. Perhaps many were expecting more than what was actually reported, or the pre-election jitters were just too much to overcome. I think the takeaway has to be that this quarter ended the earnings recession.
At the sector level, the Information Technology (89%) sector has the highest percentage of companies reporting earnings above estimates, while the Telecom Services (40%) sector has the lowest percentage of companies reporting earnings above estimates.
The Energy sector (+47.1%) and Real Estate (+32.2%) reported the largest upside aggregate differences between actual earnings and estimated earnings for the quarter. The turnaround in energy earnings will be key as we move into 2017 and a lot of that will depend on how crude oil is trading.
Earnings Growth: For Q3 2016, the blended earnings growth rate for the S&P 500 is 3.0%. That represents about a 5% beat given the analysts expectation of negative 2% that was expected.
The forward 12 month P/E ratio for the S&P 500 is 16.7. This P/E ratio is based on Thursday's closing price (2187) and forward 12 month EPS estimate ($131). Taking that information down to what my models are using suggests a PE of 17.3 based on $125- $127 earnings estimate.
There will be plenty of commentary from various analysts on how the proposals coming out of D.C. may or may not affect the economy and the stock market as we look ahead to 2017. J.P. Morgan's quant strategist Dubravko Lakos-Bujas predicted Trump's corporate tax cut has the potential to add as much as $15 to S&P 500 per share earnings.

Many now perceive that part of the sea change that will take place over time with the change to a pro growth agenda is the end of the massive bull market that has taken place in bonds. Plenty of analysts have been calling for investors to review their holdings and start to underweight their bond exposure. However, what we have seen happening is that investors have ramped up their bond exposure looking for perceived safety as indicated by the huge inflows into bond funds.
I used this commentary a while back when questioned why I wasn't so bullish on bonds;
"Bonds really? Who wants to make the assumption that a 30 year bond bought with a 2.5% yield today will produce capital appreciation and income needed to pay the bills over the next 30 years. My view is that stocks will likely substantially outperformed bonds over any rolling ten year period starting even from the current elevated levels. That 2.5% 30 year treasury bond might just barely produce a real rate of return before taxes over its lifespan. Buying bonds, including most junk bonds, at their current yields is not going to generate sufficient income or capital appreciation to help anyone meet their obligations, unless one is already very wealthy. The more likely long term outlook is a capital loss and meager income generation".
Make no mistake, bonds have a place in every investment portfolio, but investors need to understand the risks in the present backdrop, and the environment they will find themselves in the future.
This discussion then begs the question, if this is true where does one believe that money will find a home? My answer; over time, the equity market, and a possible driver for the continuation of the secular bull market.
Scott Grannis shares his views on why a Bear market in bonds can be a good situation for stocks.

Sentiment
The bulls have finally done it by recording a reading of over 40%, as the weekly data reveals bullish sentiment is at 46.7%. The last time bullish sentiment was this high was all the way back in February 2015. Bespoke Investment Group tells us that since the bull market began in 2009, there have only been two other periods where bullish sentiment saw a larger two week increase than the last two weeks.

Crude Oil
WTI sold off to the mid $42 level early in the week before rebounding. My previous view that we may have a floor in the low 40's may be correct and playing out.
The price held amidst oil inventories that continue to build above seasonal trend with inventory builds above average for three straight weeks now. Part of that has been an uptick in domestic US crude production. A stabilizing force may have come from the headlines emanating from Saudi Arabia
WTI closed Friday at $45.57 up $2.37 for the trading week. $43.20

While my ideas on crude oil seem to be working, not so for my recent thoughts on the USD. The dollar remains strong and my idea that the overbought situation would culminate with the dollar dropping after running into resistance appears to be incorrect. Interestingly the stock market has treated the rise and breakout with a yawn. Perhaps the new found mindset that a pro growth era may be in our future has made the recent rise more benign. One thing for sure the beneficiary has been the Russell 2000 (RUT), as small caps are viewed as being the place to be with little or no international exposure.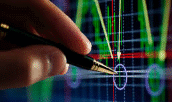 The Technical Picture
The Russell 2000 (RUT) joined the Dow with making a new all time high this week. The strength in the USD has now provided a tailwind to the small caps. This recent move left that index along with other indexes very much overbought in the near term.
Dow Transports are now about 4% from making a new high. It has come a long way off the bottom and one now has to wonder if an attempt to surpass the old high has enough energy to do so on this attempt.
The daily S&P chart reflects the index now trading in the upper band of the trading range. One of the resistance levels mentioned last week was taken out to the upside, leaving the old high of 2193 as the next level for trading range in place.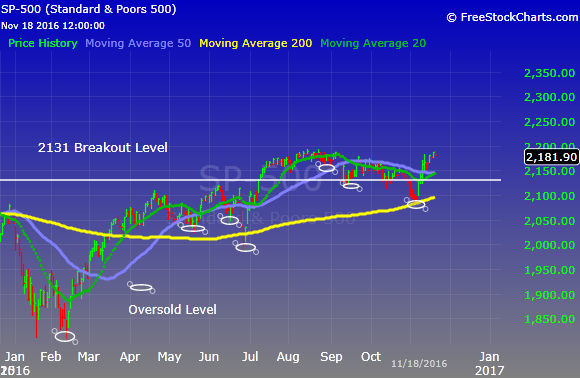 Chart courtesy of FreeStockCharts.com
Short term momentum seems exhausted so it remains to be seen if this push can take out the old high. My guess is that after a quick period of consolidation the old highs will go by the end of the year.
Short term support is at S&P 2151 and the 2131 pivot, with resistance at the old high of 2193.

Individual Stocks and Sectors
Investors have begun to focus on the potential positive impacts expected that infrastructure spending, lower taxes, less regulation, and a less divided Washington may have on the economy. Pharma/Biotech, Financials, Materials, Industrials, Defense is where the money is flowing now.
That cash is coming from the interest rate sensitive sectors due to the perception of higher interest rates. Consumer staples and auto parts, which are more exposed to globalization, as well as clean energy, and stocks with exposure to Mexico got hit hard.

Financials have been a huge winner due to the rise in the 10 year and the new found optimism from the Trump victory. Before the election, the sector was up less than 3% on the year. Trump's victory, though, has propelled the sector up by 11% in a week. To put this move in perspective, consider the fact that the spread in performance between the S&P 500's best and worst performing sectors over the last week is 17 percentage points. A good deal of the money to fuel this rally has come in part from the defensive areas like Utilities and Telecoms. In the last few trading days, Financials are up 11% while Utilities are down 6%. While I believe the banks move higher in the long term, taking some off the table or selling short duration upside calls, as I did this past week is not a bad idea. The sector has seen a quick parabolic move in a very short period of time.
Additionally, the technology sector has also come under pressure due to sector rotation and campaign rhetoric. The pullback should not come as a huge shock. At the end of October, the tech sector saw a 9.7% increase from mid July while the S&P was essentially flat.
Forget about all the noise stating that this or that is the reason for the weakness. The recent outperformance is now being worked off in both time and price. If one believes we have entered a new growth phase for corporate America, then it should be understood that these growth engines won't be slowing down. All of this weakness has now created a buying opportunity for technology.

Apple (NASDAQ:AAPL) is down to its 200 day MA because of what is perceived as negative campaign rhetoric towards Apple coming to pass. Apple will be one of the biggest beneficiaries of the repatriation of foreign money, yet the focus is on the negatives. That sentiment has been the signature of this bull market and it's on display now.
Microsoft (NASDAQ:MSFT), Cisco (NASDAQ:CSCO), Facebook (NASDAQ:FB), Google (NASDAQ:GOOG), and others fall into the same category. A tech stock that I brought to the attention of readers a while back, Harman International (NYSE:HAR) is a testament to the growth that exists in the sector. That growth was recognized as Samsung offered $112 per share this past week, a nifty 31% premium for existing shareholders.
In summary the devastation we are seeing in some sectors is benefiting other areas of the market that are perceived to be winners under a Trump Presidency. All of this is taking place as money is rotating internally and to date I do not see cash rolling into this market from the sidelines just yet.
One sector that hasn't been a benefactor of the sector rotation has been Energy. That is understandable given the weakness in the price of crude oil. However, it may be wise to view what could come to pass with the new administration in control. Mr. Trump plans to implement an 'America First' energy plan that enables the United States to become the world's dominant leader in energy production, and gets the government "out of the way of innovation within all forms of energy".

Simply stated that could mean the Environmental Protection Agency (EPA), the Endangered Species Act (ESA), and numerous executive orders that have catered to the U.S. environmental lobby will play a much lesser role in what transpires in the energy patch.
While everyone else seems to be speculating as to what is going to happen, let me join in for a moment and surmise that Iranian oil production could come under a lot of pressure if the Iran Nuclear deal is negated and sanctions are put back in place. That production increased by 750,000 Bpd once the nuclear deal was announced.
Like all of the other proposals that are now in view, it is recommended to adopt a wait and see attitude, before chasing here. In the case of energy we might have a situation that could be a huge winner that is not in favor right now. I like that sort of situation for a long term investment. Buy at reduced prices and let the others chase. Positioning in the Financial sector before the frenzy that we are witnessing proves that axiom out very well.

An interesting divergence has popped up recently in that the Real Estate sector reported the highest earnings growth of all eleven sectors at 35%, yet it is getting obliterated. Six of the eight sub industries in this sector reported earnings growth for the quarter. Five of these six sub-industries reported earnings growth of 25% or more, led by the Residential REITs (89%) and Health Care REITs (83%) sub-industries. On the other hand, the Office REITs (-66%) sub-industry reported the largest decline in earnings for the quarter.
For sure the fear of higher interest rates is playing a big part of the weakness in the REIT space, but I do not believe that the entire growth engine that is being displayed is suddenly going to disappear overnight. One other point on the interest rate situation, the 10 year treasury is at the same level today as it was in December 2015. In essence nothing has changed except investor sentiment to the space.
One stock that I own and have mentioned before is Physicians Realty Trust. Rather than spend time here, I suggest you read the latest on (NYSE:DOC) from Brad Thomas, the guru when it comes to the REIT sector. If income and growth are attractive to you, it is advisable to delve into the many recent articles that bring forth a plethora of ideas in the sector.
For those that want to look at an area that has been hit hard on the idea that Mexico will fall into the sea because of a Trump presidency, I have two ETFs that may suit you. These were brought to my attention by a follower, "tech attorney", and the charts look very interesting. Mexico Fund (NYSE:MXF) and Food and Beverage brewers of Mexico (NYSE:FMX). Both have put in double bottom patterns on the weekly charts and at the very least a relief rally may be in the offing.

I revisited the Secular Bull market theme this week for a couple of reasons. The first is because I obviously believe that we are still in the middle of this trend. The second is the possibility for a sea change that may take place with a pro growth approach to the economy. On balance, it now appears that the policy mix out that will come out of D.C. is now supportive of growth. That adds an important tailwind for market investors.
All secular Bull markets have plenty of things in common. The economy expanded, there was record low unemployment, strong wage gains and high corporate profits.

Inside of the expansion, there are waves of industrial, technological and economic progress that make their way into employees' wages, consumers' pockets and corporate profits. That happens with a backdrop of solid economic growth. That solid growth has been lacking for a variety of reasons during this bull market.
What typically occurs next is a period of improving standards of living. Investors then experience a simple result. The stock market does well because market participants become willing to pay more for a dollar of earnings as the cycle progresses.
Multiple expansion, in the form of rising price-to-earnings ratios, drives returns even more than rising profits. The curse is that bull markets will get ahead of themselves with investors piling in, which pulls years of future returns into the present. This euphoric blow off ushers in the next bear market. It is that period where the excess that were built up over time are corrected.
So while there will be bear market drawdowns in our future, the evidence isn't here to suggest it is about to happen now. Although the Fed is considering raising interest rates for the second time in this tightening cycle, there is little evidence that global liquidity will be constrained.
The U.S. profits cycle has now turned up again signaling what is probably the end of the earnings recession. Money is now rotating out of the defensive names into the cyclical sector. Finally there is no evidence to suggest investors are giddy about investing in stocks.
Of course there are many that doubt the secular bull market theme. Let me remind all that these instances become clear in hindsight. While we are living it they are very challenging to perceive. At this point in time it is easy to say 1982 to 2000 was a secular bull market, but go back and read the commentary while t was happening. It was hardly definitive.

Right now the stock market is reacting to what had happened in the past. Seventy percent of all new legislation for any administration throughout American history comes in the first 100 days in office. In reality we aren't going to know what is going to happen under Trump presidency for a while. Market participants will have to see who he appoints in terms of Supreme Court Justices, in terms of Janet Yellen at the Fed, in terms of his cabinet. So the short to intermediate term is up in the air.
What could tip the scale in favor of the bulls in the short term is the strong seasonality trends that the market is embarking on. However, as we start to get more news out of the Trump transition team, investors need to be aware of the potential impact on these seasonality trends. Whether that becomes a positive or a negative will depend on the whims of investors as they are announced.
The market sent a signal last week that it is anticipating change. That change will more than likely bring question marks and renewed uncertainty.
I ended the discussion last week with this;
"But not so fast. The next hurdle will be the angst and finger nail biting over what the Fed will do next month. Any pullback over that issue represents a buying opportunity."
The positive impact of the election is likely to be limited and short in duration. So it is important to reiterate that message today. Near term headwinds will more than likely be in the form of anxiety regarding the path of the Fed. As mentioned, we could easily see market volatility regarding a total overhaul of Washington surface. The potential for choppy economic data adds another market headwind. Just some of the reasons that excessive gains might be kept at bay for the near term.
Certain areas of the stock market are trading as if every proposal from the Trump camp has been enacted and the sea change has already occurred. I suggest that no one should jump to premature conclusions. We are in the very early stages of this development. An example of what I referring to can be seen here as the complete elimination of Obamacare which many believe was going to happen under Mr. Trump, may not come to pass. Remember, what is said on the campaign trail and what actually happens are two very different animals.

Given the short term gyrations, my outlook envisions a positive outcome for those headwinds that many investors will get nervous about, but I cannot ignore how market participants may negatively react to them. That leaves me with a trading range with limited upside and limited downside for a while.
If we do see a big unwind of the post election move in US equities, I think rotation across sectors and market groups are more likely to cause minor pain than big declines in headline indices. On the other side of the coin, remember that stocks have basically ignored a historic move higher in real yields and a big move in the dollar, so some underperformance of headline indices would make sense without very large reversals of those two trades. Regardless of these interim trade winds, this is an opportunity for anyone that is well prepared.
Because, as a long term investor it is best to be positioned to take advantage of the secular trend that is still in play and it is one that suggests higher prices for equity prices down the road.
Best of Luck to all!
Disclosure: I am/we are long AAPL, BABA, CSCO, FB, GOOG HAR MSFT.
I wrote this article myself, and it expresses my own opinions. I am not receiving compensation for it (other than from Seeking Alpha). I have no business relationship with any company whose stock is mentioned in this article.
Additional disclosure: The opinions rendered here, are just that – opinions – and along with positions can change at any time. As always I encourage readers to use common sense when it comes to managing any ideas that I decide to share with the community. Nowhere is it implied that any stock should be bought and put away until you die. Periodic reviews are mandatory to adjust to changes in the macro backdrop that will take place over time.