One way to track broader trends in the gold mining sector is to compare the performance of the VanEck Vectors Junior Gold Miners (NYSEARCA:GDXJ) to that of the VanEck Vectors Gold Miners (NYSEARCA:GDX). Basically, this is a "junior miners to senior miners" ratio.
Generally, when gold (SPDR Gold Trust (NYSEARCA:GLD), Sprott Physical Gold Trust (NYSEARCA:PHYS)) and gold miners are in a bull market, junior miners will outperform senior miners - just as small caps will tend to outperform large caps in bull markets in general. And in bear markets for gold and gold miners, the junior miners will fall farther and faster than the seniors.
The chart of the GDXJ:GDX ratio since 2010 demonstrates these trends clearly: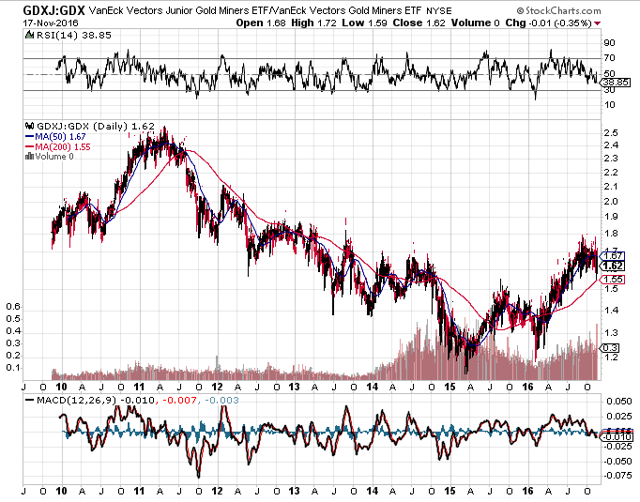 As you can see, the junior/senior ratio rose in the bull market of 2010 into the peak in early 2011, then fell sharply and kept falling for a long time in the brutal bear market of 2011-2015.
Note, however, that this ratio actually bottomed in early 2015. Astute investors might have noticed in the summer of 2015, when gold and miners were at a steep low, that this junior/senior miner ratio did not fall at that time. This may have been an early sign that the bear market was about to come to an end. Indeed, in retrospect summer 2015 was an excellent time to begin investing in many gold miners again.
The good news for gold miner investors is, this junior/senior ratio is holding up fairly well right now - it is not breaking down sharply during the selloff since the election.
Here is the bigger picture of the junior/senior ratio for all of 2016, capturing the year's big bull market move: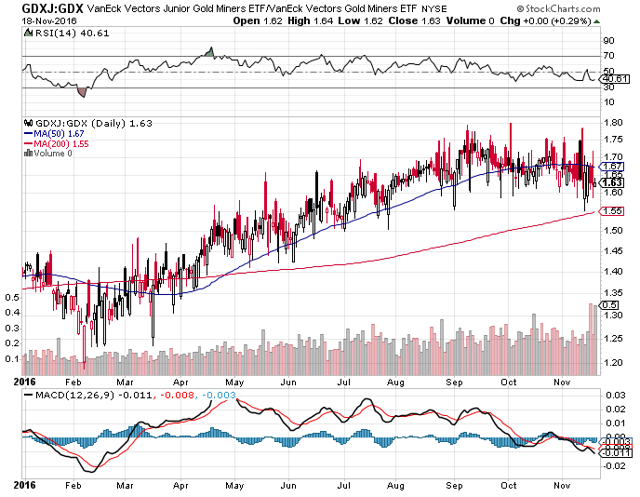 There has been a very slight pullback in this ratio since early September, but nothing sharp or drastic at all. The bull market still looks quite intact according to this view.
And a close-up of the last 3 months shows no sharp or drastic drop in this ratio since the election either: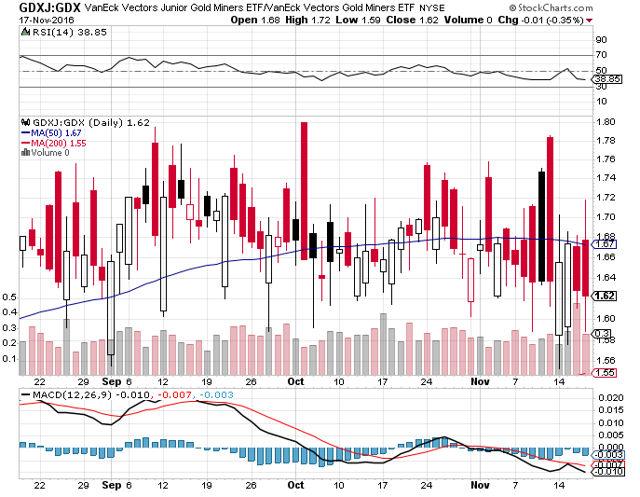 Bottom line: The signal I get from this junior/senior gold miner ratio is "no reason to panic".
As I wrote last week, it is a good time to be cautious and keep a lot of cash to ride out this gold market volatility, but I see no need to panic and sell a lot of gold miner shares here. Indeed, I bet the smart money now is looking for opportunities to step in and judiciously buy certain gold miner shares at deep discounts. They are going to make a lot of money when gold and gold miners finally turn the corner and go on their next big leg up.
Disclosure: I am/we are long PHYS.
I wrote this article myself, and it expresses my own opinions. I am not receiving compensation for it (other than from Seeking Alpha). I have no business relationship with any company whose stock is mentioned in this article.
Additional disclosure: I am long various gold miner stocks.