Towards the middle of October, natural gas prices (NYSEARCA: UNG) were consolidating around the $3.50/mcf price-level having spent most of the year well below $3.00/mcf. This was a result of positive expectations around the start of the heating season as natural gas inventories had begun converging from very high storage levels to the 5-year average. This was mostly a result of lower production volumes and favorable weather dynamics during the summer.
As the start of the heating season began to disappoint, and as the October expiration of the Henry Hub futures contract approached, natural gas prices dropped precipitously and settled at around $2.70/mcf at expiration. Since then, natural gas prices have been closer to the $2.50/mcf level than to $3.00/mcf as weather has consistently been warmer than normal and as inventories continue to pile up.
In this report, we look at current production and consumption levels, natural gas inventories and heating days and compare them against historical averages. This should give the reader a sense as to where prices could be headed depending on actual weather patterns.
Production/Supply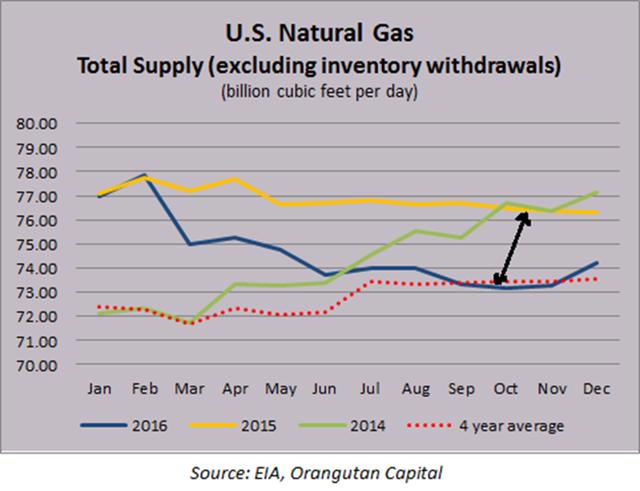 Total supply (and production levels) is down by about 3-3.5 bcf/day from last year's levels despite higher potential demand. This is partially a result of a decrease in associated gas from shale oil plays, and partially a result of low natural gas prices throughout the year that have made production outside of the Marcellus and Utica shale plays uneconomical.
Normally, a deficit of about 100bcf/month would result in higher natural gas prices, particularly at the beginning of the heating season, and for a while, prices started to climb up towards the $3.50/mcf level. This gave some comfort to producers, which added several new rigs during the month of October, not only in the Marcellus shale, but also in the Haynesville shale. The addition of these new rigs will translate into higher production levels towards the end of the year.
However, as we will discuss below, a warmer than normal start of the heating season and very high inventory levels, not only put a ceiling to natural gas prices, but drove back prices all the way down to the $2.60/mcf level. Only in the past couple of days have natural gas prices started to move up based on cooler weather.

As shown in the table below, consumption for October is well below 2015 levels and very close to the 4-year average despite higher natural gas vs. coal usage in power generation. The 2.3bcf/day differential in consumption compared to 2015 levels offsets most of the 3bcf/day differential in production levels.
As it is usually the case for this time of the year, supply exceeded consumption during the month of October by more than 10bcf/day. So far, the first 11 days of November have shown supply exceeding consumption, which has pushed inventory levels a bit higher.

Inventories
Despite lower production levels for most of the year, inventories are well above the five-year average providing a significant buffer to compensate for the shortfall in production levels. This is a result of very high inventory levels at the end of 2015's heating season and lower demand than normal during critical periods.
At current production levels, excess inventory provides a buffer of about two months of lower production before converging to the 5-year average. However, as shown before, production is expected to start climbing towards the end of the year due to several rigs that were added during the month of October.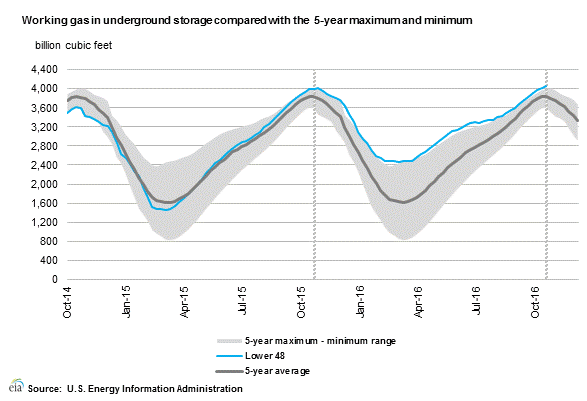 Source: EIA for week ending November 11, 2016
Heating Degree Days
The table below speaks for itself: 161 heating days in October vs. a 10-year average of 257 heating days. This has resulted in lower gas prices and higher inventory levels. While weather is always the variable that drives natural gas prices during the heating season, this year's higher-than-normal inventory levels will make volatility surrounding price levels even more path-dependent than usual.

Conclusion
Natural gas production levels are down but will be increasing towards the end of the year. Consumption has been well below normal due to lower heating days. Inventories are at very high levels. As a result, the start the heating season is more critical than ever. On a future report, that we may publish, we will examine price responses to different weather scenarios.
Disclosure: I/we have no positions in any stocks mentioned, and no plans to initiate any positions within the next 72 hours.
I wrote this article myself, and it expresses my own opinions. I am not receiving compensation for it (other than from Seeking Alpha). I have no business relationship with any company whose stock is mentioned in this article.